Communicating at home
As my sister relaxed on the couch, her head comfortably leaning against the crook of her husband's arm, her cell phone beeped.
She looked at her phone. It was a text message from her husband.
The message: 'Please Move.'
A political candidate stood on
A political candidate stood on a platform and announced to the assembled crowd that he was going to fight radicalism, socialism, communism, and anarchism.
One old man snorted and said, "I'll vote for you when you can do something about rheumatism."

"Why are hermits alwa
"Why are hermits always penniless? Because they are loaners."
Your friend compliments you on
Your friend compliments you on your new alligator shoes and you're barefoot.
You don't care where your spouse goes, just as long as you don't have to go along.
A young babe catches your fancy and your pacemaker opens the garage door.
"Getting a little action" means, "I don't need to take any fiber today."
You are cautioned to slow down by the doctor instead of the police.
An "all nighter" means not getting up to go use the bathroom!
"Getting lucky" means you find your car in the parking lot.
Are you kidding?
Reaching the end of a job interview, the Human Resources Person asked a young Engineer fresh out of MIT, "And what starting salary were you looking for?"
The Engineer said, "In the neighborhood of $125,000 a year, depending on the benefits package."
The interviewer said, "Well, what would you say to a package of 5 weeks vacation, 14 paid holidays, full medical and dental, a company matching retirement fund for 50% of your salary, and a company car leased every 2 years -- say, a red Corvette?"
The Engineer sat up straight and said, "Wow! Are you kidding?"
And the interviewer replied, "Yeah, but you started it."
#joke
There Are No Honest Lawyers
A lawyer named Impos Syble was shopping for a tombstone. After he had made his selection, the stonecutter asked him what inscription he would like on it.
"Here lies an honest man and a lawyer," responded the lawyer.
"Sorry, but I can't do that," replied the stonecutter. "In this state, it's against the law to bury two people in the same grave. However, I could put `here lies an honest lawyer'."
"But that won't let people know who it is!" protested the lawyer.
"Sure it will," retorted the stonecutter. "People will read it and exclaim, "That's impossible!"
FLEX WORDLE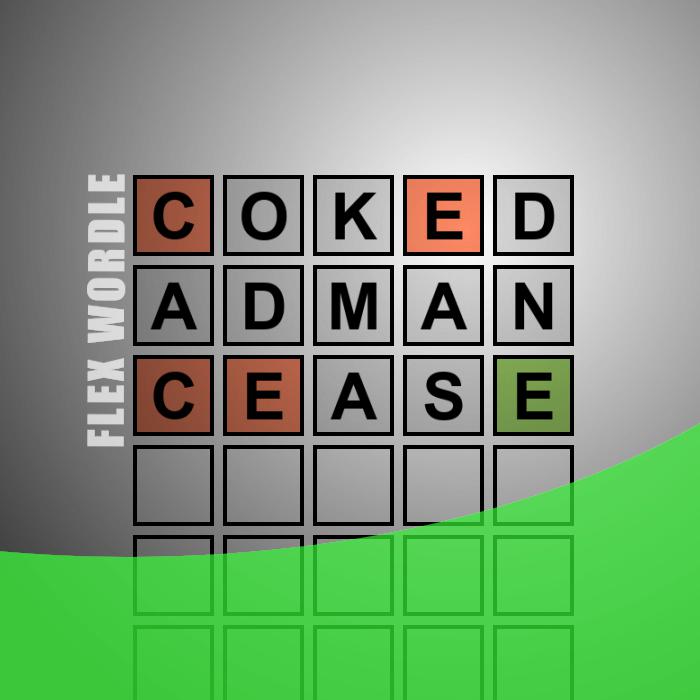 Guess the
WORDLE
in 3 tries. After each guess, the color of the tiles will change to show how close your guess was to the solution.
Hari Kondabolu: Mosh Pit at a Weezer Concert
A mosh pit at a Weezer concert is different from other mosh pits. A mosh pit at a Weezer concert is basically nerds bumping into each other and apologizing.
Fig Leaf Found
A little boy opened the large old family Bible, and he looked with fascination at the ancient pages as he turned them one by one.
He was still in Genesis when something fell out of the Bible. He picked it up and looked at it closely. It was a very large old tree leaf that had been pressed between the pages of the Bible long ago."Momma, look what I found!" the boy called out.
"What do you have there?" his mother asked.
With astonishment in his voice, the young boy answered, "I think it's Adam's underwear!"
#joke
A guy gets on a plane and find...
A guy gets on a plane and finds himself seated next to a cute blonde.
He immediately turns to her and makes his move.
"You know," he says, "I've heard that flights will go quicker if you strike up a conversation with your fellow passenger.
So let's talk."
The blonde, who had just opened her book, closes it slowly and says to the guy, " What would you like to discuss?"
"Oh, I don't know,"says the guy.
"How about nuclear power?"
"OK," says the blonde.
"That could be an interesting topic.
But let me ask you a question first.
A horse, a cow, and a deer all eat the same stuff--grass.
Yet the deer excretes little pellets, the cow turns out a flat patty, and the horse produces muffins of dried poop. Why do you suppose that is?"
The guy is dumbfounded. Finally he replies, "I haven't the slightest idea."
"So tell me," says the blonde, "How is it that you feel qualified to discuss nuclear power when you don't know shit?
Lost it!
A guy and a girl are lying in a dorm-room bed after just having sex.
The guy lies on his side of the bed and rests.
The girl rolls to her side of the bed and says to herself, "I finally did it! I'm no longer a virgin."
The guy overhears her talking to herself and asks, "Are you saying you lost your virginity to me?"
"Well," the girl explains, "I always wanted to wait until I was with the man I love to lose my virginity."
Astounded, the guy replies, "So you really love me?"
"Oh God no!" the girl says. "I just got sick of waiting."
Submitted by Calamjo
Edited by Curtis
#joke
Phone sex
I tried phone sex once, but the holes were too small.
Submitted by Calamjo
Edited by Curtis
Two men were out golfing. As o...
Two men were out golfing. As one was ready to take his shot, a funeral procession drove by the golf course. The man stopped what he was doing, put down his club, and took off his hat and placed it over his heart. His partner was moved by this and said, "That's the nicest thing I've even seen you do!" The man looked back at him and said, "Well, that's the least I could do after 20 years of marriage..."
#joke
Join us on WhatsApp