A new bride went to her doctor
A new bride went to her doctor for a check up. Lacking knowledge of the male anatomy, she asked the doctor, "What's that thing hanging between my husbands legs?"
The doctor replies, "We call that the penis."
The new bride then asks, "What's that reddish/purple thing on the end of the penis?"
The doctor replies, "We call that the head of the penis."
The bride then asks, "What are those 2 round things about 15 inches from the head of the penis?"
The doctor replies, "Lady, on him I don't know, but on me they're the cheeks of my ass!"
Who was the fattest Corleone?
Who was the fattest Corleone? Freight-o.
When the store manager returne
When the store manager returned from lunch, he noticed his clerk's hand was bandaged, but before he could ask about the bandage, the clerk had some very good news for him.
"Guess what, sir?" the clerk said. "I finally sold that terrible, ugly suit we've had so long!"
"Do you mean that repulsive pink-and-blue double-breasted thing?!" the manager asked.
"That's the one!"
"That's great!" the manager cried, "I thought we'd never get rid of that monstrosity! That had to be the ugliest suit we've ever had! But tell me, why is your hand bandaged?"
"Oh," the clerk replied, "after I sold the guy that suit, his seeing-eye dog bit me."
#joke
Black eye...
One night a man stumbled into the police station with a black eye. He claimed he had heard a noise in his back yard and went to investigate. The next he knew, he was hit in the eye and knocked out cold.
An officer was sent to his house to investigate, and he returned 1 1/2 hours later with a black eye.
"Did you get hit by the same person?" his captain asked.
"No," he replied. "I stepped on the same rake."
#joke
Too Much Analysis

Two psychiatrists were walking down a hall.
One turned to the other and said, "Hello."
The other one thought, "I wonder what he meant by that."


21st Century Newspaper
I was visiting my daughter last night when I asked if I could borrow a newspaper.
'This is the 21st century,' she said. 'We don't waste money on newspapers. Here, use my iPad.'.
I can tell you this... That fly never knew what hit him!
FLEX WORDLE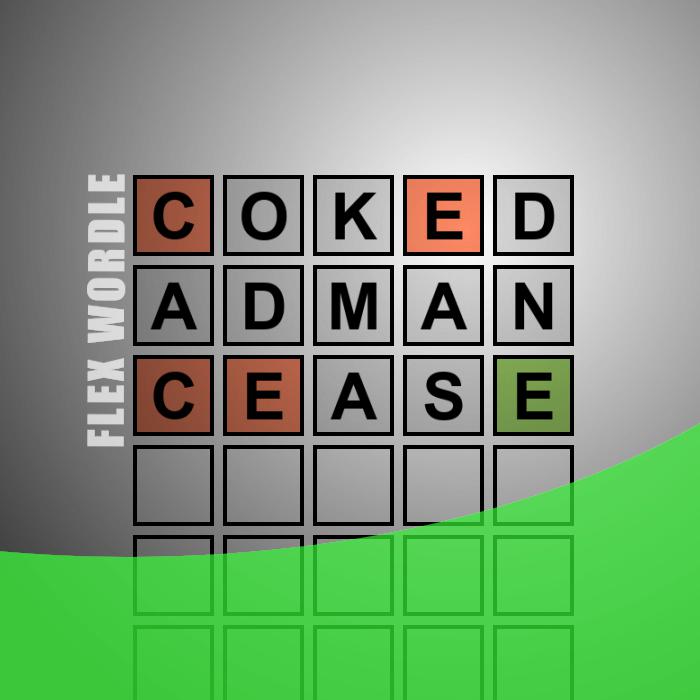 Guess the
WORDLE
in 3 tries. After each guess, the color of the tiles will change to show how close your guess was to the solution.
"I collect vintage ti
"I collect vintage time pieces. When I see one I like at online auction, I put it on my watch list."
Emily Heller: Homeless Guy
A homeless guy asked me for a dollar the other day. And I was like, 'A dollar? How about 76 cents? Because that's how much a lady hobo would make doing the same job.'
Three Jewish Mothers Compare Sons
Three Jewish mothers are sitting on a bench talking about how much their sons love them. Sadie says, "You know the Chagall painting hanging in my living room? My son, Arnold, bought that for me for my 75th birthday. What a good boy he is; he loves his mother." Minnie says,"You call that love? You know the Mercedes I just got for Mother's Day? That's from my son Bernie. What a doll." Shirley says "That's nothing. You know my son Stanley? He's in analysis with a psychoanalyst in Harley Street. Five session a week. And what does he talk about? Me."
#joke
The Happy Hangover
Jack wakes up with a huge hangover after attending his company's Christmas Party. Jack is not normally a drinker, but the drinks didn't taste like alcohol at all. He didn't even remember how he got home from the party. As bad as he was feeling, he wondered if he did something wrong.
Jack had to force himself to open his eyes, and the first thing he sees is a couple of aspirins next to a glass of water on the side table. And, next to them, a single red rose! Jack sits up and sees his clothing in front of him, all clean and pressed. He looks around the room and sees that it is in perfect order, spotlessly clean. So is the rest of the house.
He takes the aspirins, cringes when he sees a huge black eye staring back at him in the bathroom mirror. Then he notices a note hanging on the corner of the mirror written in red with little hearts on it and a kiss mark from his wife in lipstick: "Honey, breakfast is on the stove, I left early to get groceries to make your favorite dinner tonight. I love you, darling! Love, Jillian"
He stumbles into the kitchen and sure enough, there is a hot breakfast, steaming hot coffee, and the morning newspaper all waiting for him. His son is also at the table, eating. Jack asks, "Son... what happened last night?"
"Well, you came home after 3 in the morning, drunk and out of your mind. You fell over the coffee table and broke it, and then you puked in the hallway, and got that black eye when you ran into the door."
Confused, he asked his son, "So, why is everything in such perfect order and so clean? I have a rose, and breakfast is on the table waiting for me?"
His son replies, "Oh THAT! Well, Mom dragged you to the bedroom, and when she tried to take your pants off, you screamed,'Leave me alone, I'm married!'"
A Saudi Prince went to Germany...
A Saudi Prince went to Germany to study.
A month later, he sends a letter to his dad saying: "Berlin is wonderful, people are nice and I really like it here,but I'm a bit ashamed to arrive to school with my gold Mercedes when all my teachers travel by train."
Sometime later he gets a letter from his dad with a ten million dollar check saying: "Stop embarrassing us, go and get yourself a train too"!
#joke
Rosary and Two Martinis
A priest was sent to a very small church in the backwoods of Alaska. After a couple of years the Bishop decided to pay the priest a visit to see how he was doing. The priest said that it was a really lonely job and that he didn't think that he could have made it without his Rosary and two martinis each day. With that the priest said to the Bishop, "Would you like to have a martini with me?" The Bishop said, "Yes, that would be nice." The priest turned around and hollered toward the kitchen, "Rosary, would you fix us two martinis please?"
#joke
Ecumenical Greenbacks
My home church welcomes all denominations, but really prefers tens and twenties.
Join us on WhatsApp