Special childrens rate...
A little child was in church for the first time and watched as the ushers passed the offering plates.
When they neared the pew where he sat, the youngster said in a little voice loud enough for everyone to hear:
"Don't pay for me, Daddy. I'm under five."
21st Century Newspaper
I was visiting my daughter last night when I asked if I could borrow a newspaper.
'This is the 21st century,' she said. 'We don't waste money on newspapers. Here, use my iPad.'.
I can tell you this... That fly never knew what hit him!
"I collect vintage ti
"I collect vintage time pieces. When I see one I like at online auction, I put it on my watch list."
Emily Heller: Homeless Guy
A homeless guy asked me for a dollar the other day. And I was like, 'A dollar? How about 76 cents? Because that's how much a lady hobo would make doing the same job.'
FLEX WORDLE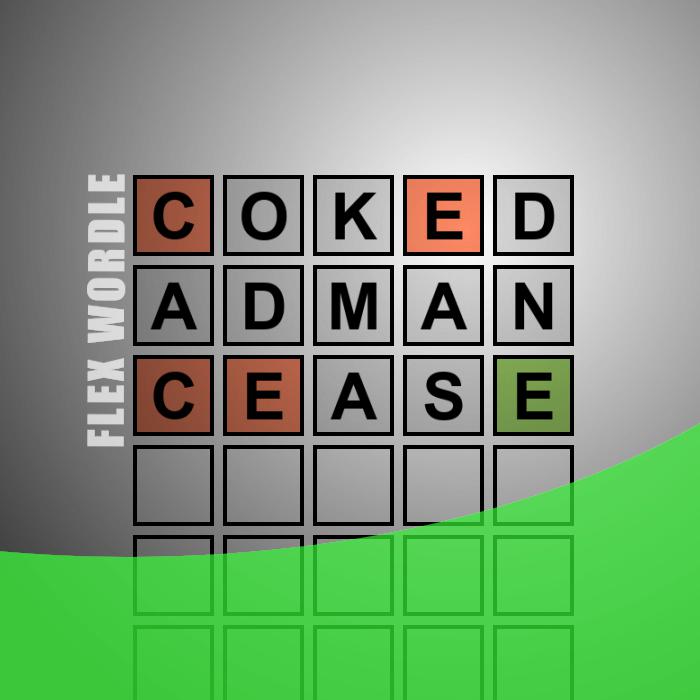 Guess the
WORDLE
in 3 tries. After each guess, the color of the tiles will change to show how close your guess was to the solution.
Three Jewish Mothers Compare Sons
Three Jewish mothers are sitting on a bench talking about how much their sons love them. Sadie says, "You know the Chagall painting hanging in my living room? My son, Arnold, bought that for me for my 75th birthday. What a good boy he is; he loves his mother." Minnie says,"You call that love? You know the Mercedes I just got for Mother's Day? That's from my son Bernie. What a doll." Shirley says "That's nothing. You know my son Stanley? He's in analysis with a psychoanalyst in Harley Street. Five session a week. And what does he talk about? Me."
#joke
A hunter was rushed into the e...
A hunter was rushed into the emergency room with a bear trap clamped onto his testicles. As the horrified doctor was examining him, he said "Man, how did this happen?"
The hunter explains that he was out in the woods and felt the call of nature. Bending down by a tree, the bear trap was triggered and snapped shut on his testicles. "Oh," exclaims the doctor, "The pain must have been excruciating!"
"It was," said the hunter. "The second worst pain in my life."
"Second worst? What could have been worse than that?"
"Coming to the end of the chain" said the hunter.
Scent Makes You Gamble

The following is supposedly a true story. To be included, besides being true, the story is most likely strange, weird, surprising, or funny.
Monday, December 7, 1992
In September, the Smell & Taste Treatment and Research Foundation reported the development of an odor that makes gamblers bet more. In a study in Las Vegas, slot machines outfitted to emit the odor racked up 45 percent more business.
The neurologist who conducted the study predicted that the scent will become widely used in Las Vegas.


God Takes a Vacation
"Hmmm," St. Peter reflected. "Well, how about Mercury?"
"No way!" God muttered. "It's way too hot for me there!"
"I've got it," St. Peter said, his face lighting up. "How about going down to Earth for your vacation?"
Chuckling, God remarked, "Are you kidding? Two thousand years ago I went there, had an affair with some nice Jewish girl, and they're STILL talking about it!"
#joke
Jeff Dunham: How Women Age
Jeff Dunham: Walter, your wife is a lovely woman.
Walter: Shes getting old.
Jeff Dunham: Well, you know, they say that women age like fine wine.
Walter: Shes aging like milk.
As the plane was flying low ov...
As the plane was flying low over some hills near Athens, a lady asked the stewardess: "What's that stuff on those hills?"


"Just snow," replied the stewardess.


"That's what I thought," said the lady, "but this fellow in front of me said it was Greece."


Jeff Dunham: Coffee as a Sex-Enhancer?
Walter: My wife and I heard that coffee is good for your sex life. Jeff Dunham: Oh, and is it? Walter: No. It kept me awake for the whole damn thing. I actually had to participate!
How Fast Was I Going?

"When I saw you driving down the road, I guessed 55 at least."
"You're wrong, officer, it's only my hat that makes me look that old."


Join us on WhatsApp