Overcharged? Sue for m
Overcharged? Sue for mal feesance.
Google's pizza
- Hello! Gordon's pizza?
- No sir it's Google's pizza.
- So it's a wrong number? Sorry
- No sir, Google bought it.
- OK. Take my order please
- Well sir, you want the usual?
- The usual? You know me?
- According to our caller ID data sheet, in the last 12 times, you ordered pizzawith cheeses, sausage, thick crust.
- OK! This is it ...
- May I suggest to you this time ricotta, arugula with dry tomato.?
- What? I hate vegetables.
- Your cholesterol is not good, sir.
- How do you know?
- We crossed the number of your fixed line with your name, through the subscribers guide.
We have the result of your blood tests for the last 7 years.
- Okay, but I do not want this pizza!,I already take medicine ...
-Excuse me, but you have not taken the medicine regularly, from our commercial database, 4 months ago, you only purchased a box with 30 cholesterol tablets at Drugsale Network.
- I bought more from another drugstore.
- It's not showing on your credit card statement
- I paid in cash
- But you did not withdraw that much cash according to your bank statement
- I have have other source of cash
- This is not showing as per you last Tax form unless you bought them from undeclared income source.
-WHAT THE HELL?
- I'm sorry, sir, we use such information only with the intention of helping you.
- Enough! I'm sick of google, facebook, twitter, WhatsApp. I'm going to an Island without internet, cable TV, where there is no cell phone line and no one to watch me or spy on me
- I understand sir but you need to renew your passport first as it has expired 5 weeks ago
#joke
I'll Call Back Later
A man was the first to arrive at work one morning. The phone rang and he answered. When the caller asked for some specific information, the man explained that it was before normal business hours but that he would help if he could.
'What's your job there?' the caller asked.
The man replied, 'I'm the company president.'
There was a pause. Then the caller said, 'I'll call back later. I need to talk to someone who knows something about what's going on.'
#joke
The ten commandments of marriage
Commandment 1. Marriages are made in heaven. But so again are thunder and lightning.
Commandment 2. If you want your wife to listen and pay strict attention to every word you say, talk in your sleep.
Commandment 3. Marriage is grand — and divorce is at least 100 grand!
Commandment 4. Married life is very frustrating. In the first year of marriage, the man speaks and the woman listens. In the second year, the woman speaks and the man listens. In the third year, they both speak and the neighbors listen.
Commandment 5. When a man opens the door of his car for his wife, you can be sure of one thing: Either the car is new or the wife is.
Commandment 6. Marriage is when a man and woman become as one; The trouble starts when they try to decide which one.
Commandment 7. Before marriage, a man will lie awake all night thinking about something you say. After marriage, he will fall asleep before you finish.
Commandment 8. Every man wants a wife who is beautiful, understanding, economical, and a good cook. But the law allows only one wife.
Commandment 9. Marriage and love are purely matter of chemistry. That is why wife treats husband like toxic waste.
Commandment 10. A man is incomplete until he is married. After that, he is finished.
#joke
"The petroleum indust
"The petroleum industry is exploiting shale to extract fuel or a reasonable fracksimile."
What would you like for your birthday....
A middle-aged guy is out to dinner with his wife to celebrate her fortieth birthday. He says, "So what would you like, Julie? A Jaguar? A sable coat? A diamond necklace?"
She says, "Bernie, I want a divorce."
"My goodness," he says, "I wasn't planning on spending that much."
#joke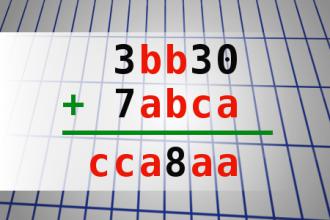 Find number abc
If 3bb30 + 7abca = cca8aa find number abc. Multiple solutions may exist.
Clinton Is Vacationing
Last summer, the President and Mrs. Clinton were vacationing in their home state of Arkansas. On a venture one day, they stopped at a service station to fill up the car with gas. It seemed that the owner of the station was once Hillary's high school love.
They exchanged hellos, and went on their way.
As they were driving on to their destination, Bill put his arm around Hillary and said, "Well, honey, if you had stayed with him, you would be the wife of a service station owner today."
She smirked and replied, "No, if I had stayed with him, he would be President of the United States."
#joke
Fighting for Business
The shopkeeper was dismayed when a brand new business much like his own opened up next door and erected a huge sign which read BEST DEALS.
He was horrified when another competitor opened up on his right, and announced its arrival with an even larger sign, reading LOWEST PRICES.
The shopkeeper was panicked, until he got an idea. He put the biggest sign of all over his own shop-it read…
Main entrance.
#joke
Jesus loves you...but everyone
Jesus loves you...but everyone else thinks you are an ass.
Impotence...Nature's way of saying "No hard feelings,"
Everyone has a photographic memory ...some just don't have any film.
Your ridiculous little opinion has been noted.
I used to have a handle on life...but it broke off.
WANTED: Meaningful overnight relationship.
Guys...just because you have one, doesn't mean you have to be one.
If you can read this...I can slam on my brakes and sue you.
Some people are only alive because it is illegal to shoot them.
Try not to let your mind wander...It is too small and fragile to be out by itself.
And The Number One Bumper Sticker you'd Like To See!!
Welcome to America ...now speak English
#joke
Chuck Norris can drink an enti...
Chuck Norris can drink an entire gallon of milk in thirty-seven seconds.
What's white and if it fell ou...
What's white and if it fell out of a tree would kill you?
A fridge.
Owen Benjamin: Public Restrooms for Guys
Its not an enjoyable place. We get a urinal; we dont get real estate. Its a little, creepy urinal, right? Ladies, you know what it feels like in the elevator when youre in complete silence with a bunch of strangers? Now put your penis in your hand.
What Is This?
A priest, a minister and a rabbi walk into a bar.
The bartender looks up and says:
- What is this, a joke?
Harmonica
"Thanks for the harmonica you gave me for Christmas," little Joshua said to his uncle the first time he saw him after the holidays. "It's the best present I ever got."
"That's great," said his uncle. "Do you know how to play it?"
"Oh, I don't play it," the little fellow said. "My mom gives me a dollar a day not to play it during the day and my dad gives me five dollars a week not to play it at night.
Join us on WhatsApp