The farmer and his wife had wo
The farmer and his wife had worked hard, they scrimped and saved to send their son to college. As soon as he had enrolled, he started to grow a beard. Next he grew a large mustache and sideburns. Being pleased with his new hirsute adornment, he had his picture taken and sent it off to his parents.
On the back of the photo he scrawled, "How do you like it? Don't I look like a count?"
Shortly after, the son received this terse note: "You idiot, it cost us a fortune to send you to college, and you can't even spell!"
#joke
Cows don't grow on trees
Cows don't grow on trees. Unless they're heifergreen.
First day at school
The child comes home from his first day at school.
His Mother asks, "Well, what did you learn today?"
The kid replies, "Not enough. They want me to come back tomorrow."
Wyoming Crazy Law
You may not take a picture of a rabbit during the month of June.

It is illegal to wear a hat that obstructs people's view in a public theater or place of amusement.

It is illegal for women to stand within five feet of a bar while drinking.

Cheyenne
Citizens may not take showers on Wednesdays.



#joke
The Importance of Punctuation
I'm not the easiest guy in the world to get along with. So when our anniversary rolled around, I wanted my wife to know how much I appreciated her tolerating me for the past 20 years. I ordered flowers and told the florist to enclose a card that read, 'Thanks for putting up with me so long.'
When my wife got the delivery, she called me at work.
'Just where do you think you going?' she asked.
'What do you mean?' I said.
She read the card aloud as the florist had written it: 'Thanks for putting up with me. So long.'
#joke
"A quarter-acre of un
"A quarter-acre of undeveloped land may not seem like much to some people, but to me it's a lot."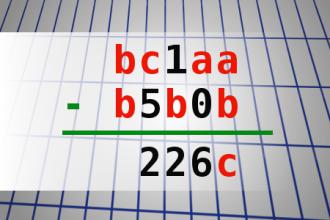 Find number abc
If bc1aa - b5b0b = 226c find number abc. Multiple solutions may exist.
Al Madrigal: Sketchy Waterfall
Near my house in Los Angeles is a waterfall. I love to take the wife and kids, but it's also near a sketchy neighborhood. So there's a lot of gang members that hang out at the waterfall. It's like somebody took an Ansel Adams photo and then put a Cypress Hill video inside it.
Fighting for Business
The shopkeeper was dismayed when a brand new business much like his own opened up next door and erected a huge sign which read BEST DEALS.
He was horrified when another competitor opened up on his right, and announced its arrival with an even larger sign, reading LOWEST PRICES.
The shopkeeper was panicked, until he got an idea. He put the biggest sign of all over his own shop-it read…
Main entrance.
#joke
There were two lovers, who wer
There were two lovers, who were really into spiritualism and reincarnation. They vowed that if either died, the other one remaining would try to contact the partner in the other world exactly 30 days after their death.Unfortunately, a few weeks later, the young man died in a car wreck. True to her word, his sweetheart tried to contact him in the spirit world exactly 30 days later. At the seance, she called out, "John, John, this is Martha. Do you hear me?"
A ghostly voice answered her, "Yes Martha, this is John. I can hear you."
Martha tearfully asked, "Oh John, what is it like where you are?"
"It's beautiful. There are azure skies, a soft breeze, sunshine most of the time."
"What do you do all day?" asked Martha.
"Well, Martha, we get up before sunrise, eat some good breakfast, and there's nothing but making love until noon. After lunch, we nap until two and then make love again until about five. After dinner, we go at it again until we fall asleep about 11 p.m."
Martha was somewhat taken aback. "Is that what heaven really is like?"
"Heaven? I'm not in heaven, Martha."
"Well, then, where are you?"
"I'm a rabbit in Arizona."
#joke
According to Einstein's theory...
According to Einstein's theory of relativity, Chuck Norris can actually roundhouse kick you yesterday.
The Cat and the Saus
One day a little cat was walking through the park when he came across a pond. He peered into the pond and noticed that at the bottom of the pond there was a little cocktail sausage.
The cat was feeling quite happy so as the water wasn't that deep he reached in with his little paw, hooked the sausage out and ate it.
The next day the cat was walking through the park again and peered into the pond. There was another sausage in the pond but this time it was a normal sized one, so the cat reached in. This time he had to put his whole arm into the pond. The cat hooked the sausage out and ate it.
The next day things go basically the same and the cat again looks into the pond. There he found an enormous Cumberland sausage at the bottom for the pond. It looked so delicious but it was so deep that he had to really stretch to get it, then SPLASH - he fell in.
The moral of the story is: The Bigger the Sausage, The Wetter the Pussy!
#joke
Give Bubba a Chance
It was graduation night at Cox High School and they were about halfway through the ceremony when the principal said, "Ladies and Gentlemen, we have a problem, Bubba is a few credits short and won't be able to graduate tonight."
Well now, Bubba was the starting right guard for Cox's football team, and when the student body heard that he wasn't going to graduate, they all jumped up and started to chant, "Give Bubba another chance, give Bubba another chance!"
Pat Dye and the principal had a quick conference and afterward, the principal announced that they have decided to give Bubba another chance. Bubba is told that he will be given a "One Question" math test and if he passes, he can graduate.
The question is, "What is 2 plus 3?" Bubba thinks for about 20 minutes and finally says, "I have it! The answer is 5!"
There is complete silence in the auditorium for a couple of seconds and then the entire Cox High School football team jumps up and begins to chant, "Give Bubba one more chance. Give Bubba one more Chance!"
#joke
Ben Bailey: Restless Leg Syndrome
Restless leg syndrome. Cmon, what kind of horseshit is that? Its a syndrome? Restless leg syndrome? I have no idea what constitutes a syndrome, but its a hell of a lot more serious than some freakin wiggly legs.
Join us on WhatsApp