Back-Up Sensor
Inventor of the automobile back-up Sensor -
I bet you think it was Ford, maybe GM, how about Chrysler? No, then how about Mercedes Benz?
No, not at all, it was a Chinese farmer!
Most of the newest cars have a Back-Up Sensor that warns the driver before the rear bumper actually comes in contact with something. Most people probably think that this valuable feature came out of the minds of great engineers, but it was recently disclosed that the concept was first developed by a Chinese farmer. His invention was simple and effective. It emits a high-pitched squeal when the vehicle backs into something.
#joke
A rich man was trying to find...
A rich man was trying to find his daughter a birthday gift when he saw a poor man with a beautiful white horse. He told the man that he would give him $500 for the horse.
The poor man replied, "I don't know mister, it don't look so good," and walked away.
The next day the rich man came back and offered the poor man $1000 for the horse.
The poor man said, "I don't know mister, it don't look so good."
On the third day the rich man offered the poor man $2000 for the horse, and said he wouldn't take no for an answer. The poor man agreed, and the rich man took the horse home.
The rich man's daughter loved her present. She climbed onto the horse, then galloped right into a tree.
The rich man rushed back over to the poor man's house, demanding an explanation for the horse's blindness.
The poor man replied, "I told you. It don't look so good."
#joke
"When I promise to co
"When I promise to come up with a maternity pun, I deliver!"
How to avoid a parking ticket
How to avoid a parking ticket in NYC? Da fine intervention.
How old are the dinosaur bones...
Some tourists in the Chicago Museum of Natural History are marveling at the dinosaur bones. One of them asks the guard, "Can you tell me how old the dinosaur bones are?"
The guard replies, "They are 3 million, four years, and six months old."
"That's an awfully exact number," says the tourist. "How do you know their age so precisely?"
The guard answers, "Well, the dinosaur bones were three million years old when I started working here, and that was four and a half years ago."
#joke
Stuck Under A Bridge
A truck driver was driving along on the freeway. A sign comes up that reads "low bridge ahead." Before he knows it the bridge is right ahead of him and he gets stuck under the bridge.
Cars are backed up for miles.
Finally, a police car comes up. The cop gets out of his car and walks around to the truck driver, puts his hands on his hips and says, "Got stuck, huh?"
The truck driver says, "No, I was delivering this bridge and ran out of gas."
#joke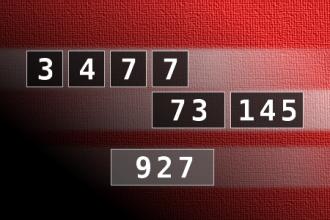 Calculate the number 927
NUMBERMANIA: Calculate the number 927 using numbers [3, 4, 7, 7, 73, 145] and basic arithmetic operations (+, -, *, /). Each of the numbers can be used only once.
A man is dining in a fancy res...
A man is dining in a fancy restaurant, and there is a gorgeous redhead sitting at the next table. He had been checking her out since he sat down, but lacked the nerve to talk with her.
Suddenly she sneezes and her glass eye comes flying out of its socket towards the man. He reflexively reaches out, grabs it out of the air, and hands it back.
"Oh my, I am so sorry," the woman says as she pops her eye back in place. "Let me buy you dessert to make it up to you."
They enjoy a wonderful dessert together, and afterwards, the woman invites him to the theater followed by drinks. After paying for everything, she asks him if he would like to come to her place for a nightcap...and stay for breakfast the next morning.
The next morning, she cooks a gourmet meal with all the trimmings. The guy is amazed! Everything has been incredible!
"You know," he said, "you are the perfect woman. Are you this nice to every guy you meet?"
"No," she replies...
... "You just happened to catch my eye
#joke
Shane Mauss: Freak Accident
I went to a Six Flags. Theres this new ride there; I had to wait in line for, like, four hours to get on this thing. Finally got on it, it was fine enough. But then I see a couple of weeks later in the news, this girl goes on the exact same ride and, in some freak accident, her legs got lopped off at the knees. I was like, What a terrible thing to happen to all of those people waiting in line.
#joke
If, by some incredible space-t...
If, by some incredible space-time paradox, Chuck Norris would ever fight himself, he'd win. Period.
Planning WWIII
President Bush and Colin Powell are sitting in a bar.
A guy walks in and asks the barman, "Isn't that Bush and Powell sitting over there?"
The barman says, "Yep, that's them."
So the guy walks over and says, "Wow, this is a real honor. What are you guys doing in here?"
Bush says, "We're planning WW III."
And the guy says, "Really? What's going to happen?"
Bush says, "Well, we're going to kill 140 million Iraqis this time and one blonde with big tits."
The guy exclaimed, "A blonde with big tits?" "Why kill a blonde with big tits?"
Bush turns to Powell and says, "See, I told you no one would worry about the 140 million Iraqis!"
Submitted by Calamjo
Edited by Curtis
Mid Semester Final Exam
One night Jack Evans, along with his 3 university friends went out drinkinig till late night, as many college students are prone to do, and didn't study for their test, which, of course, was scheduled for the next day.
In the morning they thought of a plan. They made themselves look as dirty and weird as they could with grease and dirt.
They went up to the dean and explained that they had gone out to a wedding last night and on their return the tire of their car burst. They continued to explain how they had to push the car all the way back and that they were in no condition to appear for the test.
The dean, being a compassionate human being said that they could take the test after 3 days. The students graciously replied that they'd be ready by that time.
On the third day, they appeared before the dean. The dean explained that since this was a special test all four were required to sit in separate classrooms for the duration of the exam.
They all agreed as they had prepared well in the last three days. The test consisted of 5 questions with total of 100 points:
MID SEMESTER COURSEWORK EXAMINATION
INSTRUCTIONS : All questions are required. Any inconsistencies on any of the questions among the four students will result in all the candidates getting a zero mark.
Q.1. Write down your name. ----- (2 POINTS) Q.2. Write the name of the bride and groom at the wedding you attended. ----- (30 POINTS) Q.3. What type of a car were you driving? ------(20 POINTS) Q.4. Which tire burst? ------- (28 POINTS) Q.5. Who was driving? ------ (20 POINTS)
#joke
Brendon Walsh: Badge
The last job I had, I had to wear this badge around my neck all day -- like, a laminated badge. Its like a backstage pass to the crappiest concert ever invented.