16 Reasons Why Some Men Have Dogs and Not Wives
1. The later you are, the more excited your dog is to see you.
2. Dogs don't notice if you call them by another dog's name.
3. Dogs like it if you leave lots of things on the floor.
4. Dogs' parents never visit.
5. Dogs agree that you have to raise your voice to get your point across.
6. You never have to wait for a dog; they're ready to go, instantly, 24 hours a day.
7. Dogs find you amusing when you're pissed.
8. Dogs like to go hunting and fishing.
9. Dogs won't wake you up at night to ask: "If I died, would you get another dog?"
10. If a dog has babies, you can put an ad in the paper and sell 'em.
11. When you drop a silent one, dogs don't run around frantically with room spray
13. Dogs never tell you to stop scratching your balls. Instead, they sit wondering why you don't lick 'them.
14. Dogs will let you put a studded collar on them, without calling you a pervert.
15. If a dog smells another dog on you, it won't kick you in the crotch; it just finds it interesting.
16. If a dog runs off and leaves you, it won't take half your stuff.
To verify these statements: Lock your wife and your dog in the garage for an hour. Then open the door, and observe who's happy to see you!
#joke
A melting ice cream cone is on
A melting ice cream cone is one that has been left dairy licked.
Three engineering students wer
Three engineering students were gathered together discussing who must have designed the human body.
One said, "It was a mechanical engineer. Just look at all the joints."
Another said, "No, it was an electrical engineer. The nervous system has many thousands of electrical connections."
The last one said, "No, actually it had to have been a civil engineer. Who else would run a toxic waste pipeline through a recreational area?"
#joke
Bush and Moses...
George W. Bush, in an airport lobby, noticed a man in a long, flowing, white robe with a long, flowing, white beard and flowing, white hair. The man had a staff in one hand and some stone tablets under the other arm.
George W. approached the man and inquired, "Aren't you Moses?"
The man ignored George W. and stared at the ceiling.
George W. positioned himself more directly in the man's view and asked again, "Aren't you Moses?"
The man continued to peruse the ceiling.
George W. tugged at the man's sleeve and asked once again, "Aren't you Moses?"
The man finally responded in an irritated voice, "Yes, I am."
George W. asked him why he was so uppity, and Moses replied, "The last time I spoke to a Bush I had to spend forty years in the desert."
#joke
Follow up to Obamacare?
The American Medical Association has weighed in on Trump's health care package:
The Allergists were in favor of scratching it, but the Dermatologists advised not to make any rash moves.
The Gastroenterologists had sort of a gut feeling about it, but the Neurologists thought the Administration had a lot of nerve.
Meanwhile, Obstetricians felt certain everyone was laboring under a misconception, while the Ophthalmologists considered the idea shortsighted.
Pathologists yelled, 'Over my dead body!' while the Pediatricians said, 'Oh, grow up!'
The Psychiatrists thought the whole idea was madness, while the Radiologists could see right through it.
Surgeons decided to wash their hands of the whole thing and the Internists claimed it would indeed be a bitter pill to swallow.
The Plastic Surgeons opined that this proposal would 'put a whole new face on the matter.'
The Podiatrists thought it was a step forward, but the Urologists were pissed off at the whole idea.
Anesthesiologists thought the whole idea was a gas, and those lofty Cardiologists didn't have the heart to say 'No.'
In the end, the Proctologists won out, leaving the entire decision up to the assholes in Washington.
#joke
"I have trouble diges
"I have trouble digesting chick peas - whenever I eat hummus, I falafel."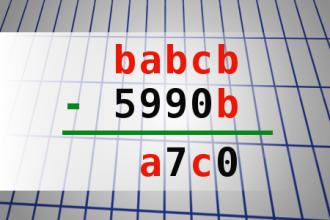 Find number abc
If babcb - 5990b = a7c0 find number abc. Multiple solutions may exist.
John Oliver: Still the King
I think the best analogy for where we are right now is that America is Elvis Presley -- the most beautiful, talented, rebellious nation in the history of Earth. And now, you're in your Vegas years. You've squeezed yourself into a white jumpsuit, you're wheezing your way through 'Love Me Tender' and you might be about to pass away bloated on the toilet. But you're still the King.
#joke
How Old Are You?
A woman walked up to a little old man rocking in a chair on his porch.
"I couldn't help noticing how happy you look," she said. "What's your secret for a long happy life?"
"I smoke three packs of cigarettes a day," he said. "I also drink a case of whiskey a week, eat fatty foods, and never exercise."
"That's amazing," the woman said. "How old are you?'
"Twenty-six," he said.
#joke
Ticket Trouble
A minister was pulled over for speeding. As the cop was about to write the ticket, the minister said to him, "Blessed are the merciful for they shall obtain mercy."The cop handed the minister the ticket and said, "Go thou and sin no more."
#joke
Chuck Norris sleeps with a pil...
Chuck Norris sleeps with a pillow under his gun.
AOL Support Call
AOL: America Online, this is Sue speaking.
Caller: Hi, I have some questions about American Online
before I join.
AOL: Okay, ma'am, what's your question?
Caller: Well, some of my friends who have AOL say they get
something called "cybersex". Does this cost extra?
AOL: :::quiet laugh in the background::: Well ma'am... I
don't know how to explain this, but cybersex is not part of
America Online.
Caller: Oh really? My friends said they got it from AOL.
AOL: Well it's something members typically do when they go
to a chat room.
Caller: Hmmmm . . . I don't understand, what is cybersex??
AOL: I'm sorry, I really don't know how to explain it.
Caller: Hmmm . . . well, have you ever had cybersex?
AOL: Ma'am, I don't think that's an appropriate question to
be asking me. Is there anything else you need?
Caller: Sorry, like I said I don't even know what it is.
AOL: That's okay ma'am, anything else?
Caller: Yes, I have one more question.
AOL: Go ahead . . .
Caller: What are you wearing?
AOL:
#joke
Talking Dog For Sale
This guy sees a sign in front of a house "Talking Dog for Sale." He rings the bell and the owner tells him the dog is in the back yard. The guy goes into the back yard and sees a mutt sitting there."You talk?" he asks."Yep," the mutt replies."So, what's your story?"The mutt looks up and says "Well, I discovered this gift pretty young and I wanted to help the government, so I told the CIA about my gift, and in no time they had me jetting from country to country, sitting in rooms with spies and world leader, cause no one figured a dog would be eavesdropping. I was one of their most valuable spies eight years running. The jetting around really tired me out, and I knew I wasn't getting any younger and I wanted to settle down. So I signed up for a job at the airport to do some undercover security work, mostly wandering near suspicious characters and listening in. I uncovered some incredible dealings there and was awarded a batch of medals.Had a wife, a mess of puppies, and now I'm just retired."The guy is amazed. He goes back in and asks the owner what hewants for the dog. The owner says "Ten dollars." The guy says he'll buy him but asks the owner, "This dog is amazing. Why on earth are you selling him?" The owner replies, "He's such a fucking liar."
#joke
Diaper change...
After a young couple brought their new baby home, the wife suggested that her husband should try his hand at changing diapers.
"I'm busy," he said, "I'll do the next one."
The next time came around and she asked again. The husband looked puzzled, "Oh! I didn't mean the next diaper. I meant the next baby...!"
#joke
Join us on WhatsApp