Pony with a sore throat
What did the pony say when he had a sore throat?
- Sorry, I'm a little horse.
60 Things Not to Say to a N
60 Things Not to Say to a Naked Guy
1. I've smoked fatter joints than that.
2. Ahh, it's cute.
3. Wow, and your feet are so big.
4. Why don't we just cuddle?
5. You know they have surgery to fix that.
6. It's more fun to look at.
7. Make it dance.
8. You know, there's a tower in Italy like that.
9. Can I paint a smiley face on that?
10. It looks like a night crawler.
11. Who circumcised you?
12. My last boyfriend was 4" bigger.
13. It's ok, we'll work around it.
14. Is this a mild or a spicy Slim Jim?
15. Eww, there's an inch worm on your thigh.
16. Will it squeak if I squeeze it?
17. Oh no, a flash headache.
18. (giggle and point)
19. Can I be honest with you?
20. My 8-year-old brother has one like that.
21. Let me go get my tweezers.
22. How sweet, you brought incense.
23. This explains your car.
24. You must be a growing boy.
25. Maybe if we water it, it'll grow.
26. Thanks, I needed a toothpick.
27. Are you one of those pygmies?
28. Have you ever thought of working in a sideshow?
29. Every heard of clearasil?
30. All right, a treasure hunt!
31. I didn't know they came that small.
32. Why is God punishing you?
33. At least this won't take long.
34. I never saw one like that before.
35. What do you call this?
36. But it still works, right?
37. Damn, I hate baby-sitting.
38. It looks so unused.
39. Do you take steroids?
40. I hear excessive masturbation shrinks it.
41. Maybe it looks better in natural light.
42. Why don't we skip right to the cigarettes?
43. Oh, I didn't know you were in an accident.
44. Did you date Lorena Bobbitt?
45. Aww, it's hiding.
46. Are you cold?
47. If you get me real drunk first.
48. Is that an optical illusion?
49. What is that?
50. I'll go get the ketchup for your french fry.
51. Were you neutered?
52. It's a good thing you have so many other talents.
53. Does it come with an air pump?
54. So this is why you're supposed to judge people on personality.
55. Where are the puppet strings?
56. Your big gun is more like a BB gun.
57. Look, it fits my Barbie clothes.
58. Never mind, why bother.
59. Is that a second belly button?
60. Where's the rest of it?
#joke
Jesus teaching his Father how
Jesus teaching his Father how to use a computer mouse: "Jehovah the cursor over the icon!"
Thigns...
In the men's room at work, the boss placed a sign directly above the sink. It had a single word on it: "Think!"
The next day, when he went to the men's room, he looked at the sign, and right below it, immediately above the soap dispenser, someone had carefully lettered another sign which read, "Thoap!"
#joke
Knock Knock Collection 203
Knock Knock
Who's there?
Zoom!
Zoom who?
Zoom did you expect!
Knock Knock
Who's there?
Zsa Zsa!
Zsa Zsa who?
Zsa Zsa last Knock Knock joke!
Knock Knock
Who's there?
Zubin!
Zubin who?
Zubin eating garlic again!
#joke
How does it work that
My wife gave birth 4 times and still fits into her prom dress from high school.
I gave birth 0 times and I don't fit into my pants from 2 weeks ago?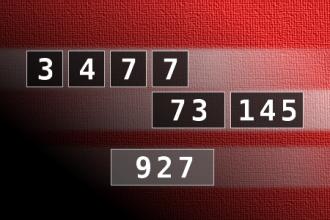 Calculate the number 927
NUMBERMANIA: Calculate the number 927 using numbers [3, 4, 7, 7, 73, 145] and basic arithmetic operations (+, -, *, /). Each of the numbers can be used only once.
"I made a clock mad.
"I made a clock mad. It was ticked."
Kyle Kinane: Loving Parents
I can't believe I made it anywhere creatively, though, because I was raised by two loving and supportive parents. Nothing squashes creativity more than unconditional love and support from a functional household. If you have kids, sh*t on their dreams a little bit.
Back to the Honeymoon
A couple married thirty years were revisiting the same places they went to on their honeymoon. Driving through the secluded countryside, they passed a ranch with a tall deer fence running along the road.
The woman said, "Sweetheart, let's do the same thing we did here thirty years ago."
The guy stopped the car. His wife backed against the fence, and they made love like never before.
Back in the car, the guy says, "Darling, you sure never moved like That thirty years ago, or any time since that I can remember!"
The woman says, "thirty years ago that fence wasn't electrified!"
#joke
Two Irish nuns have just arriv
Two Irish nuns have just arrived in USA by boat and one says to theother, "I hear that the people in this country actually eat dogs."
"Odd," her companion replies, "but if we shall live in America, we mightas well do as the Americans do."
Nodding emphatically, the mother superior points to a hot dog vendor andthey both walk towards the cart.
"Two dogs, please," says one.
The vendor is only too pleased to oblige and he wraps both hot dogs infoil and hands them over the counter. Excited, the nuns hurry over to abench and begin to unwrap their "dogs."
The mother superior is first to open hers.She begins to blush and then,staring at it for a moment, leans over to the other nun and whispers...cautiously: "What part did you get?
#joke
Chuck Norris knows Victoria's ...
Chuck Norris knows Victoria's Secret.
Writing letters to son
The following is supposedly a true story. To be included, besides being true, the story is most likely strange, weird, surprising, or funny.
One student fell into a cycle of classes, studying, working and sleeping.
Didn't realize how long he had neglected writing home until he received the following note:
"Dear Son, Your mother and I enjoyed your last letter. Of course, we were much younger then, and more impressionable. Love, Dad."
#joke
You Might Be A Redneck If 50
You might be a redneck if...
You think cur is a breed of dog.
People hear your car long before they see it.
Your four-year-old is a member of the NRA.
Your satellite dish payment delays buying school clothes for the kids.
Your most expensive shoes have numbers on the heels.
Your wife has ever burned out an electric razor.
Your birth announcement included the word "rug rat".
You've ever hitchhiked naked.
You're turned on by a woman who can field dress a deer.
Your wife keeps a can of Vienna sausage in her purse.
#joke
Dan St. Germain: Video Game Nuptials
A friend of mine had a Super Mario Brothers-themed wedding two years ago. Then, a year after that, he had a regular-themed divorce.