Be rady for Thanksgiving
, check out our latest
Thanksgiving jokes of 2021
on:
Thanksgiving jokes collection
Unexpected cold snaps had dest...
Unexpected cold snaps had destroyed the buds on a man's peach tree for two years in a row. This spring, he was ready. He replanted the sapling in a large box, mounted it on wheels, and put the tree in the garage whenever the temperature dropped.
One warm April day, the man was wheeling the tree out into the yard, and he stopped to give his dog a drink from the garden hose.
A neighbor watched the scene with amusement. "Frank," he finally commented, "you're the only man I know who walks his tree and waters his dog!"
#joke
COSTCO DOCTOR
One day, in line at the company cafeteria, Joe says to Mike behind him, 'My elbow hurts like heck. I guess I'd better see a doctor.'
'Listen, you don't have to spend that kind of money,' Mike replies.
There's a diagnostic computer down at Costco. Just give it a urine sample, and the computer will tell you what's wrong and what to do about it.
It takes ten seconds and costs ten dollars - a lot cheaper than a doctor.
So, Joe deposits a urine sample in a small jar and takes it to Costco.
He deposits ten dollars and the computer lights up and asks for the urine sample. He pours the sample into the slot and waits.
Ten seconds later, the computer ejects a printout:'You have tennis elbow.
Soak your arm in warm water and avoid heavy activity. It will improve in two weeks.
Thank you for shopping @ Costco'
That evening, while thinking how amazing this new technology was, Joe began wondering if the computer could be fooled.
He mixed some tap water, a stool sample from his dog, urine samples from his wife and daughter, and a sperm sample from himself for good measure.
Joe hurries back to Costco, eager to check the results.
He deposits ten dollars, pours in his concoction, and awaits the results.
The computer prints the following:
1. Your tap water is too hard. Get a water softener. (Aisle 9)
2. Your dog has ringworm. Bathe him with anti-fungal shampoo. (Aisle 7)
3. Your daughter has a cocaine habit. Get her into rehab.
4. Your wife is pregnant -- Twins. They aren't yours. Get a lawyer.
5. If you don't stop playing with yourself, your elbow will never get better!
Thank you for shopping @ Costco!
"Alternative facts ar
"Alternative facts are aversion of the truth."
The disorganized Pride parade
The disorganized Pride parade planner had a bit of a wandering gays.
Horoscope humor...
How many members of your sign does it take to change a light bulb?
ARIES:
Just one. You want to make something of it?
TAURUS:
One, but just try to convince them that the burned-out bulb is useless and should be thrown away.
GEMINI:
Two, but the job never gets done-they just keep discussing who is supposed to do it and how it's supposed to be done!
CANCER:
Just one. But it takes a therapist three years to help them through the grieving process.
LEO:
Leos don't change light bulbs, although sometimes their agent will get a Virgo in to do the job for them while they're out.
VIRGO:
Approximately 1.000000 with an error of +/- 1 millionth.
LIBRA:
ER, two. Or maybe one. No, on second thought, make that two. Is that OK with you?
SCORPIO:
That information is strictly secret and shared only with the Enlightened Ones in the Star Chamber of the Ancient Hierarchical Order.
SAGITTARIUS:
The sun is shining, the day is young, we've got our whole lives ahead of us, and you're inside worrying about a stupid burned- out light bulb?
CAPRICORN:
I don't waste my time with these childish jokes.
AQUARIUS:
Well, you have to remember that everything is energy, so....
PISCES:
Light bulb? What light bulb?
#joke
Signs The Car Is A Lemon
Signs Your Car Might Be A Lemon


Motor Trend never mentioned a "Chevrolet Caca."

Manufactured in Zchkynk, Crzyktjkystan.

Passenger-side "airbag" is actually Rush Limbaugh crammed inside your glove box.

Two Words: Pontiac Sunkist

Changing the pre-set radio stations voids the warranty.

Oil spills on your driveway prompt a visit from Greenpeace.

Car has spent more time on "60 Minutes" than on the road.

Disqualified from Soapbox Derby for lack of structural integrity.

Turn on the wipers and two guys climb out of the trunk with squeegees.

Disqualified from Soapbox Derby for lack of structural integrity.

Bicycle pump required to inflate airbags.


"Jaws of Life" in trunk.

The hood ornament? An ostrich with its head in the sand.

When you sit behind the wheel, a nerdy billionaire voice asks, "Where do you want to go today?"

You realize too late that it *is* your father's Oldsmobile.

Ralph Nader's home phone number written on dashboard.

The telltale green-and-yellow-make-blue Zip-Lok seals on your air bags.

#joke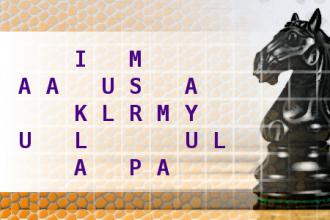 Chess Knight Move
Find the country and its capital city, using the move of a chess knight. First letter is M. Length of words in solution: 8,5,6.
Big People Words
A group of kindergartners were trying to become accustomed to the first grade. The biggest hurdle they faced was that the teacher insisted on no baby talk.
"You need to use 'big people' words," she'd always remind them. She asked Chris what he had done over the weekend. "I went to visit my Nana."
"No, you went to visit your GRANDMOTHER. Use big people words!" She then asked Mitchell what he had done. "I took a ride on a choo-choo."
She said, "No, you took a ride on a TRAIN. Use big people words." She then asked Bobby what he had done. "I read a book," he replied.
"That's WONDERFUL!" the teacher said. "What book did you read?" Bobby thought about it, then puffed out his little chest with great pride and said, "Winnie the Shit."
#joke
Brenda O'Malley is home makin...
Brenda O'Malley is home making dinner, as usual, when Tim Finnegan arrives at her door. "Brenda, may I come in?" he asks. "I've somethin' to tell ya."
"Of course you can come in, you're always welcome, Tim. But where's my husband?"
"That's what I'm here to be tellin' ya, Brenda. There was an accident down at the Guinness brewery..."
"Oh, God no!" cries Brenda. "Please don't tell me...."
"I must, Brenda. Your husband Shamus is dead and gone. I'm sorry." Finally, she looked up at Tim.
"How did it happen, Tim?"
"It was terrible, Brenda. He fell into a vat of Guinness Stout and drowned."
"Oh my dear Jesus! But you must tell me true, Tim. Did he at least go quickly?"
"Well, no Brenda... no. Fact is, he got out three times to pee."
#joke
Putting Out a Fire...by Fire
During an ecumenical assembly, a secretary rushed in shouting, "The building is on fire!"The Methodists prayed in a corner.The Baptists wondered where they could find water.The Quakers quietly praised God for the blessings that fire brings.The Lutherans posted a notice on the door announcing the fire was evil.The Roman Catholics passed the plate to cover the cost of the damage.The Jews posted symbols on the door in hopes the fire would pass.The Congregationalists shouted, "Every man for himself!"The Fundamentalists proclaimed, "It's the vengeance of God!"The Episcopalians formed a procession and protested.The Christian Scientists denied that there was a fire. The Presbyterians appointed a chairperson to form a committee to look into the matter and submit a written report.The secretary grabbed the fire extinguisher and put the fire out.From "
The Book of Church Jokes
," published by
Barbour Publishing, Inc.
, Uhrichsville, Ohio. Copyright 2009. Used by permission of Barbour Publishing, Inc.
#joke
big stuff
there was a girl who had the most sexy dick and tits there was a guy who had the most sexy dick and they got married naked showing there big stuff and there babys had big stuff 2
Chuck Norris is what Willis wa...
Chuck Norris is what Willis was talking about.
Five Jewish Men
Five Jewish men influenced the history of Western civilization.
Moses said the law is everything.
Jesus said love is everything.
Marx said capital is everything.
Freud said sex is everything.
Einstein said everything is relative.

Deserted island
Harry was shipwrecked on a deserted island. For several months, he longed for someone to talk to; searched the horizons for even the suggestion of a ship.
One day, his committment was rewarded: A beautiful woman was washed up onto the beach, floating on a large steamer trunk. Harry got her all settled, and fed, and dried off and they started talking.
April asked Harry, "what is something you've REALLY missed being out here on a desserted island for so long?"
"A clean shirt," was Harry's response. With a huff, April reached into the steamer trunk and tossed Harry a shirt.
April let out a short huff, but persevered: "Surely there's SOMETHING you've really missed out here...all alone...on an island with NOBODY all this time?"
"Oh wow, YEAH, there sure is: I'd REALLY like a dry pillow to sleep on."
April reached into her steamer trunk once again and tossed Harry a pillow; and she would not be put off. Striking her most alluring pose, she asked in her most provocative voice, "C'mon, Harry, wouldn't you like to play around?"
Harry got all excited and started jumping up and down. "Don't tell me you have a set of GOLF CLUBS in there, too?!???!?!"
#joke
Why Ask Why 01
Do you need a silencer if you are going to shoot a mime?
If the 7-11 is open 24 hours a day, 365 days a year, why are there locks on the doors?
If you tied buttered toast to the back of a cat and dropped it from a height, what would happen?
If a cow laughed, would milk come out her nose?
If nothing ever sticks to teflon, how do they make teflon stick to the pan?
If you're in a vehicle going the speed of light, what happens when you turn on the headlights?
Why do you need a driver's license to buy liquor when you can't drink and drive?
Have you ever imagined a world with no hypothetical situations?
How does the guy who drives the snowplow get to work in the mornings?
#joke