Error Messages in Japan
In Japan, they have replaced the impersonal and unhelpful Microsoft Error messages with Haiku poetry messages.
Haiku poetry has strict construction rules.
Each poem has only 3 lines, 17 syllables: five syllables in the first line, seven in the second, five in the third.
Haikus are used to communicate a timeless message, often achieving a wistful, yearning, and powerful insight  through extreme brevity -- the essence of Zen.
Your file was too big.
It might be very useful.
But now it is gone.
-------------------------------
The Web site you seek
Cannot be located, but
Countless more exist.
------------------------------
Chaos reigns within.
Reflect, repent, and reboot.
Order shall return.
-----------------------------
Program aborting:
Close all that you have worked on.
You ask far too much.
------------------------------
Windows 10 crashed.
I am the Blue Screen of Death.
No one hears your screams.
------------------------------
Yesterday it worked.
Today it is not working.
Windows is like that.
#joke
A blonde walks into a bank in...
A blonde walks into a bank in New York City and asks for the loan officer. She says she's going to Europe on business for two weeks and needs to borrow $5,000.
The bank officer says the bank will need some kind of security for the loan, so the blonde hands over the keys to a new Rolls Royce. The car is parked on the street in front of the bank, she has the title and everything checks out. The bank agrees to accept the car as collateral for the loan.
The bank's president and its officers all enjoy a good laugh at the blonde for using a $250,000 Rolls as collateral against a $5,000 loan. An employee of the bank then proceeds to drive the Rolls into the bank's underground garage and parks it there.
Two weeks later, the blonde returns, repays the $5,000 and the interest, which comes to $15.41.
The loan officer says, "Miss, we are very happy to have had your business, and this transaction has worked out very nicely, but we are a little puzzled. While you were away, we checked you out and found that you are a multimillionaire. What puzzles us is, why would you bother to borrow $5,000?"
The blonde replies, "Where else in New York City can I park my car for two weeks for only $15.41 and expect it to be there when I return?"
"A storyteller is a g
"A storyteller is a gossipy bank employee."
House painting is very traditi
House painting is very traditional, and its conventions well-coatified.
Just like mom
Manny is almost 29 years old. His friends have already gotten married, but Manny still just dates and dates.
Finally, a friend asks him, "What's the matter, are you looking for the perfect woman? Are you that particular? Can't you find anyone who suits you?"
"No," Manny replies. "I meet many nice girls, but as soon as I bring them home to meet my parents, my Mother doesn't like them. So I keep on looking!"
"Listen," his friend suggests, "Why don't you find a girl who's just like your dear ole Mother?"
Many weeks go by and again Manny and his friend get together. "So, Manny, did you find that perfect girl yet--one that's just like your Mother?"
Manny shrugs his shoulders, "Yes, I found one just like Mom. And my mother loved her, and they became fast friends."
So should I congratulate you? "Are you and this girl engaged, yet?"
"I'm afraid not. My Father can't stand her!"
#joke
It was the annual homecoming d...
It was the annual homecoming dance at the local high school gym. Most of the young folk were out on the dance floor but a few young men and women lined the sides of the gym, hoping for a dance partner to ask them out onto the dance floor.
After waiting anxiously for quite a while, a rather awkward freshman finally got up the nerve to ask a pretty junior for a dance at the homecoming.
She gave him the once-over and said, "Sorry, I won't dance with a child."
"Please forgive me," responded the underclassman. "I didn't realize you were pregnant."
#joke
FLEX WORDLE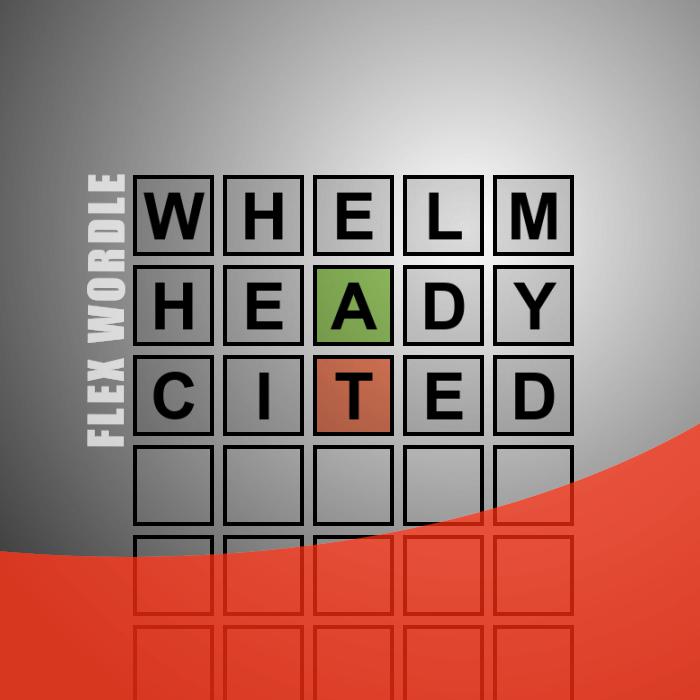 Guess the
WORDLE
in 3 tries. After each guess, the color of the tiles will change to show how close your guess was to the solution.
Big People Words
A group of kindergartners were trying to become accustomed to the first grade. The biggest hurdle they faced was that the teacher insisted on no baby talk.
"You need to use 'big people' words," she'd always remind them. She asked Chris what he had done over the weekend. "I went to visit my Nana."
"No, you went to visit your GRANDMOTHER. Use big people words!" She then asked Mitchell what he had done. "I took a ride on a choo-choo."
She said, "No, you took a ride on a TRAIN. Use big people words." She then asked Bobby what he had done. "I read a book," he replied.
"That's WONDERFUL!" the teacher said. "What book did you read?" Bobby thought about it, then puffed out his little chest with great pride and said, "Winnie the Shit."
#joke
I Dare You
At a church meeting, a very wealthy man rose to tell the rest of those present about his Christian faith. "I'm a millionaire," he said, "and I attribute it all to the rich blessings of God in my life. I remember that turning point in my faith. I had just earned my first dollar and I went to a church meeting that night. The speaker was a missionary who told about his work. I knew that I only had a dollar bill and I had to either give it all to God's work or give nothing at all. So at that moment, I decided to give my whole dollar to God. I believe that God blessed that decision, and that is why I am a rich man today." When he finished and moved toward his seat, there was an awed silence As he sat down, a little old lady sitting in the same pew leaned over and said to him, "I dare you to do it again."
#joke
This Wife Is Too Jealous
There was once a wife so jealous that when her husband came home one night and she couldn't find hairs on his jackets she yelled at him, "Great, so now you're cheating on me with a bald woman!"
The next night, when she didn't smell any perfume, she yelled again by saying, "She's not only bald, but she's too cheap to buy any perfume!"
#joke
It was the kindergarten teache...
It was the kindergarten teachers birthday and the students decided that they would each buy their teacher a gift.
The first student, whose parents own a florist shop, gave her a present. She held it and said "I guess that it is flowers".
"How did you guess?" asked the little boy. She laughed and thanked him.
The second student, whose parents own a candy store, gave her a present. She held it and said, "I guess that is some candy."
"How did you guess?" asked the little boy. She again laughed and thanked him also.
The third student, whose parents own a bottle shop, gave her a box which was leaking. The teacher touched the liquid with her finger and tasted it. "Mmmmm is it wine?" she asked.
"No," said the little girl.
So she tasted it again. "Is it champaigne?" she asked.
"No," replied the little girl, "It is a puppy.
#joke
Cruise Control
My family has a tradition of naming the cruise control on our cars. We were used to hearing my father proclaim, "Take it, Max," as he flipped on the cruise control during long trips in our station wagon.
Recently, I was travelling with my parents in their new car when we hit a wide-open expanse of highway. My dad leaned back and said, "I think I'll let Tom drive for a while."
"Tom who?" I asked.
My mother translated for me: "Tom Cruise, of course."
#joke
Ted Alexandro: Personal Trainer
My sisters a personal trainer. Thats a tough job. I dont think I can do that. You gotta help people with their fitness goals. Can you help me define my abs? Yeah -- disgusting, sloppy, gelatinous.
Kyle Kinane: Not a Hobby
At this age, its really not a hobby, its just a drinking problem now.
How much?
A man meets a woman at a bar and asks her
"Would you have sex with me for 10 million dollars?"
Without skipping a beat she screams
"Yes!"
The man then asks
"What about for $20?"
She looks at him sideways and says
"What do you think I am, a whore?"
The man says
"We've already established that you are, now we're just negotiating."
#joke
Join us on WhatsApp