Happy New Year 2021!!
Error Messages In Japan – Continued
First snow, then silence.
This thousand dollar screen dies
So beautifully.
-----------------------------
With searching comes loss
And the presence of absence:
'My Novel' not found.
-----------------------------
The Tao that is seen
Is not the true Tao-until
You bring fresh toner.
-----------------------------
Stay the patient course.
Of little worth is your ire.
The network is down.
-----------------------------
A crash reduces
Your expensive computer
To a simple stone.
----------------------------
Three things are certain:
Death, taxes and lost data.
Guess which has occurred.
----------------------------
You step in the stream,
But the water has moved on.
This page is not here.
----------------------------
Out of memory.
We wish to hold the whole sky,
But we never will.
----------------------------
Having been erased,
The document you're seeking
Must now be retyped.
*Editors Note
Zen is not easy. It takes effort to attain nothingness.
....... And then what do you have? Bupkes.
#joke
"The outrageous color
"The outrageous colors of our game day uniforms were so mismatched they were dubbed 'clash action suits'."
A father asked his little...
A father asked his little boy if he knew how a person gets saved."We'll be saved by going to our church every Sunday," the boy said without hesitation.His father explained that going to their church each week would not save them."Well, then, we better find another church!" replied the boy.
#joke
Acting is tough. Many retired
Acting is tough. Many retired performers have post-dramatic stress.
A compliment....
Bob was sitting at the table one morning, reading the paper after breakfast. He came across an article about a beautiful actress who was about to marry a football player known for his lack of IQ.
He turned to his wife and said, "I'll never understand why the biggest jerks get the most attractive wives."
She replied, "Why, thank you, Dear!"
#joke
A Way To Save Your Marriage

A young husband with an inferiority complex insisted he was just a little pebble on a vast beach.
The marriage counselor, trying to be creative, told him, "If you wish to save your marriage, you'd better be a little boulder."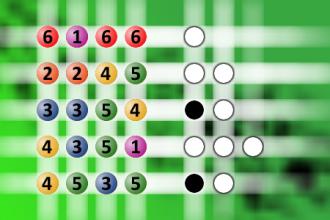 What a winning combination?
The computer chose a secret code (sequence of 4 digits from 1 to 6). Your goal is to find that code. Black circles indicate the number of hits on the right spot. White circles indicate the number of hits on the wrong spot.
An elderly man in Phoenix call...
An elderly man in Phoenix calls his son in New York and says, "I hate to ruin your day, but I have to tell you that your mother and I are divorcing, forty-five years of misery is enough."
"Pop, what are you talking about?" the son screams.
"We can't stand the sight of each other any longer," the old man says.
"We're sick of each other, and I'm sick of talking about this, so you call your sister in Chicago and tell her," and he hangs up.
Frantic, the son calls his sister, who explodes on the phone. "Like heck they're getting divorced," she shouts, "I'll take care of this." She calls Phoenix immediately, and screams at the old man, "You are NOT getting divorced. Don't do a single thing until I get there. I'm calling my brother back, and we'll both be there tomorrow. Until then, don't do a thing, DO YOU HEAR ME?" and hangs up.
The old man hangs up his phone and turns to his wife. "Okay," he says, "They're coming for Thanksgiving and paying their own fares Now what do we tell them for Christmas?
Big People Words
A group of kindergartners were trying to become accustomed to the first grade. The biggest hurdle they faced was that the teacher insisted on no baby talk.
"You need to use 'big people' words," she'd always remind them. She asked Chris what he had done over the weekend. "I went to visit my Nana."
"No, you went to visit your GRANDMOTHER. Use big people words!" She then asked Mitchell what he had done. "I took a ride on a choo-choo."
She said, "No, you took a ride on a TRAIN. Use big people words." She then asked Bobby what he had done. "I read a book," he replied.
"That's WONDERFUL!" the teacher said. "What book did you read?" Bobby thought about it, then puffed out his little chest with great pride and said, "Winnie the Shit."
#joke
A man went to his lawyer and t...
A man went to his lawyer and told him, "My neighbor owes me $500 and he doesn't want to pay up. What should I do?"
"Do you have any proof?" asked the lawyer.
"Nope," replied the man.
"Okay, then write him a letter asking him for the $1000 he owed you," said the lawyer.
"But it's only $500," replied the man.
"Precisely. That's what he will reply and we will have the proof we need to nail him."
Chuck Norris was once in a kni...
Chuck Norris was once in a knife fight. The knife lost.
Robert Schmidt 01
I planted some bird seed. A bird came up. Now I don't know what to feed it.
I made a chocolate cake with white chocolate. Then I took it to a potluck. I stood in line for some cake. They said, "Do you want white cake or chocolate cake?" I said, "Yes".
I saw a vegetarian wearing a furry coat. So I looked closer. It was made of grass.
My aunt gave me a walkie-talkie for my birthday. She says if I'm good, she'll give me the other one next year.
I eat Swiss cheese from the inside out. But I only nibble on it. I make the holes bigger.
I had amnesia once or twice.
I bought a million lottery tickets. I won a dollar.
I rented a lottery ticket. I won a million dollars. But I had to give it back.
I got a chain letter by FAX. It's very simple. You just FAX a dollar bill to everybody on the list.
#joke
Fifty Fun Things To Do During An Exam
You should not attempt these things during an actual exam. The following is meant for entertainment purposes only.
1. Bring a pillow. Fall asleep (or pretend to) until the last 15 minutes. Wake up, say "oh geez, better get cracking" and do some gibberish work. Turn it in a few minutes early.
2. Get a copy of the exam, run out screaming "Andre, Andre, I've got the secret documents!!"
3. If it is a math/science exam, answer in essay form. If it is long answer/essay form, answer with numbers and symbols. Be creative. Use the integral symbol.
4. Make paper airplanes out of the exam. Aim them at the instructor's left nostril.
5. Talk the entire way through the exam. Read questions aloud, debate your answers with yourself out loud. If asked to stop, yell out, "I'm so sure you can hear me thinking. " Then start talking about what a jerk the instructor is.
6. Bring cheerleaders.
7. Walk in, get the exam, sit down. About five minutes into it, loudly say to the instructor, "I don't understand any of this. I've been to every lecture all semester long! What's the deal? And who are you? Where's the regular guy?"
8. Bring a Game Boy (or Game Gear, etc. . . ). Play with the volume at max level.
9. On the answer sheet (book, whatever) find a new, interesting way to refuse to answer every question. For example: I refuse to answer this question on the grounds that it conflicts with my religious beliefs. Be creative.
10. Bring pets.
11. Run into the exam room looking about frantically. Breathe a sigh of relief. Go to the instructor, say "They've found me, I have to leave the country" and run off.
12. Fifteen minutes into the exam, stand up, rip up all the papers into very small pieces, throw them into the air and yell out "Merry Christmas. "If you're really daring, ask for another copy of the exam. Say you lost the first one. Repeat this process every fifteen minutes.
13. Do the exam with crayons, paint, or fluorescent markers.
14. Come into the exam wearing slippers, a bathrobe, a towel on your head, and nothing else.
15. Come down with a BAD case of Turet's Syndrome during the exam. Be as vulgar as possible.
16. Do the entire exam in another language. If you don't know one, make one up! For math/science exams, try using Roman numerals.
17. Bring things to throw at the instructor when s/he's not looking. Blame it on the person nearest to you.
18. As soon as the instructor hands you the exam, eat it.
19. Walk into the exam with an entourage. Claim you are going to be taping your next video during the exam. Try to get the instructor to let them stay, be persuasive. Tell the instructor to expect a percentage of the profits if they are allowed to stay.
20. Every five minutes, stand up, collect all your things, move to another seat, continue with the exam.
21. Turn in the exam approximately 30 minutes into it. As you walk out, start commenting on how easy it was.
22. Do the entire exam as if it was multiple choice and true/false. If it is a multiple choice exam, spell out interesting things (DCCAB. BABE. etc. . ).
23. Bring a black marker. Return the exam with all questions and answers completely blacked out.
24. Get the exam. Twenty minutes into it, throw your papers down violently, scream out "Forget this!" and walk out triumphantly.
25. Arrange a protest before the exam starts (i. e. Threaten the instructor that whether or not everyone's done, they are all leaving after one hour to go drink)
26. Show up completely drunk. (Completely drunk means at some point during the exam, you should start crying for mommy).
27. Every now and then, clap twice rapidly. If the instructor asks why, tell him/her in a very derogatory tone, "the light bulb that goes on above my head when I get an idea is hooked up to a clapper. DUH!"
28. Comment on how sexy the instructor is looking that day.
29. Come to the exam wearing a black cloak. After about 30 minutes, put on a white mask and start yelling "I'm here, the phantom of the opera" until they drag you away.
30. Go to an exam for a class you have no clue about, where you know the class is very small, and the instructor would recognize you if you belonged. Claim that you have been to every lecture. Fight for your right to take the exam.
31. Upon receiving the exam, look it over, while laughing loudly, say "you don't really expect me to waste my time on this drivel? Days of our Lives is on!!!"
32. Bring a water pistol with you.
33. From the moment the exam begins, hum the theme to Jeopardy. Ignore the instructor's requests for you to stop. When they finally get you to leave one way or another, begin whistling the theme to the Bridge on the River Kwai.
34. Start a brawl in the middle of the exam.
35. If the exam is math/science related, make up the longest proofs you could possibly think of. Get pi and imaginary numbers into most equations. If it is a written exam, relate everything to your own life story.
36. Come in wearing a full knight's outfit, complete with sword and shield.
37. Bring a friend to give you a back massage the entire way through the exam. Insist this person is needed, because you have bad circulation.
38. Bring cheat sheets for another class (make sure this is obvious. . . like history notes for a calculus exam. . . otherwise you're not just failing, you're getting kicked out too) and staple them to the exam, with the comment "Please use the attached notes for references as you see fit. "
39. When you walk in, complain about the heat.
40. After you get the exam, call the instructor over, point to any question, ask for the answer. Try to work it out of him/her.
41. One word: Wrestlemania.
42. Bring balloons, blow them up, start throwing them around like they do before concerts start.
43. Try to get people in the room to do the wave.
44. Play frisbee with a friend at the other side of the room.
45. Bring one pencil with a very sharp point. Break the point off your paper. Sharpen the pencil. Repeat this process for one hour.
46. Get deliveries of candy, flowers, balloons, telegrams, etc. . . sent to you every few minutes throughout the exam.
47. During the exam, take apart everything around you. Desks, chairs, anything you can reach.
48. Complete the exam with everything you write being backwards at a 90 degree angle.
49. Bring a musical instrument with you, play various tunes. If you are asked to stop, say "it helps me think. " Bring a copy of the Student Handbook with you, challenging the instructor to find the section on musical instruments during finals. Don't forget to use the phrase "Told you so".
50. Answer the exam with the "Top Ten Reasons Why Professor xxxx is a Terrible Teacher"
Tig: Going on a Binge
I went on a hard core drinking and smoking binge, and it lasted right about nine months. And then, as soon as I was born, I was like, Whew! Do not go in there.
Miracle mile
A priest is driving down to New York and gets stopped for speeding in Connecticut. The state trooper smells alcohol on the priest's breath and then sees an empty wine bottle on the floor of the car.
He says, "Sir, have you been drinking?"
"Just water," says the priest. The trooper says, "Then why do I smell wine?"
The priest looks at the bottle and says, "Good Lord! He's done it again!"
#joke