In the future, there will be n
In the future, there will be no more cows. At least, that's what I've herd.
The Perfect Dress
Jennifer's wedding day was fast approaching. Her parents divorced, but that never stopped her from wanting to get married. Her mother had found the perfect dress to wear. A week later, Jennifer was horrified to learn that her father's new young wife had bought the exact same dress as her mother. Jennifer asked her stepmother to exchange it, but she refused. 'Absolutely not. I look like a million bucks in this dress and I'm wearing it,' she replied.
Jennifer told her mother who graciously said, 'Never mind sweetheart. I'll get another dress. After all, it's your special day.'
A few days later, they went shopping and did find another gorgeous dress. When they stopped for lunch, Jennifer asked her mother, 'Aren't you going to return the other dress? You really don't have another occasion where you could wear it.'
Her mother just smiled and replied, 'Of course I do, dear. I'm wearing it to the rehearsal dinner, the night before the wedding.'
#joke
"When the Park Warden
"When the Park Warden spotted a Dalmatian off the leash, the owner received a spot fine!"
"My fellow Americans, I've si
"My fellow Americans, I've signed legislation that will outlaw Russia forever. We begin bombing in five minutes." -- Ronald Reagan, about to go on the air for a radio broadcast, unaware that the microphone was already on.
"I want to make sure everybody who has a job wants a job" -- George Bush, during his first Presidential campaign.
"This is a great day for France!" -- Richard Nixon, while attending Charles De Gaulle's funeral.
"Now, like, I'm President. It would be pretty hard for some drug guy to come into the White House and start offering it up, you know? ... I bet if they did, I hope I would say, 'Hey, get lost. We don't want any of that.'" -- George Bush, talking about drug abuse to a group of students.
"For seven and a half years I've worked alongside President Reagan. We've had triumphs. Made some mistakes. We've had some sex ... uh...setbacks." -- George Bush
"I believe we are on an irreversible trend toward more freedom and democracy. But that could change." -- Dan Quayle
"Hawaii has always been a very pivotal role in the Pacific. It is in the Pacific. It is a part of the United States that is an island that is right here." --Dan Quayle during a visit to Hawaii in 1989.
"What a waste it is to lose one's mind-or not to have a mind. How true that is." -- Dan Quayle addressing the United Negro College Fund.
"I am honored today to begin my first term as the Governor of Baltimore-that is Maryland." -- William Donald Schaefer, first inaugural address.
"The caribou love it. They rub against it and they have babies. There are more caribou in Alaska than you can shake a stick at." -- George Bush, on the Alaska pipeline
"I hope I stand for anti-bigotry, anti-Semitism, anti-racism. This is what drives me." -- George Bush
"If I listened to Michael Dukakis long enough I would be convinced that we're in an economic downturn and people are homeless and going without food and medical attention and that we've got to do something about the unemployed." -- Ronald Reagan
"Now we are trying to get unemployment to go up and I think we're going to succeed." -- Ronald Reagan
#joke
What a talent...
A family was visiting an Indian reservation when they happened upon an old tribesman lying face down in the middle of the road with his ear pressed firmly against the blacktop.
The father of the family asked the old tribeman what he was doing. The tribesman began to speak..."woman, late thirties, three kids, one barking dog in late model, white, four-door station wagon, traveling at 65 m.p.h.
"That's amazing!" exclaimed the father. "You can tell all that just by listening to the ground?"
"No," said the old tribesman, weakly. "They just ran over me five minutes ago!"
#joke
Answering Machine Message 153

Hi there. This is Joe speaking. I'm home right now, and in a moment, I'll have a decision to make. Leave your name and number and I'll be thinking about it...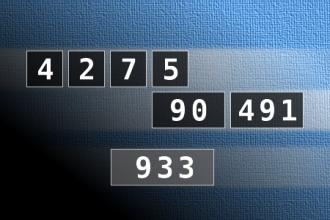 Calculate the number 933
NUMBERMANIA: Calculate the number 933 using numbers [4, 2, 7, 5, 90, 491] and basic arithmetic operations (+, -, *, /). Each of the numbers can be used only once.
The 6th grade science teacher...
The 6th grade science teacher, Mrs. Parks, asked her class, "Which human body part increases to ten times its size when stimulated?"
No one answered until little Mary stood up and said, "You should not be asking sixth-graders a question like that! I'm going to tell my parents, and they will go and tell the principal, who will then fire you!"
Mrs. Parks ignored her and asked the question again, "Which body part increases to 10 times its size when stimulated?"
Little Mary's mouth fell open. Then she said to those around her, "Boy, is she going to get in big trouble!"
The teacher continued to ignore her and said to the class, "Anybody?"
Finally, Billy stood up, looked around nervously, and said, "The body part that increases 10 times its size when stimulated is the pupil of the eye."
Mrs. Parks said, "Very good, Billy," then turned to Mary and
continued. "As for you, young lady, I have three things to say: One, you have a dirty mind. Two, you didn't read your homework. And three, one day you are going to be very, very disappointed."
#joke
All the organs of the body wer...
All the organs of the body were having a meeting, trying to decide who was the one in charge.
"I should be in charge," said the brain, "Because I run all the body's systems, so without me nothing would happen."
"I should be in charge," said the blood, "Because I circulate oxygen all over so without me you'd all waste away."
"I should be in charge," said the stomach," Because I process food and give all of you energy."
"I should be in charge," said the legs, "because I carry the body wherever it needs to go."
"I should be in charge," said the eyes, "Because I allow the body to see where it goes."
"I should be in charge," said the rectum, "Because I'm responsible for waste removal."
All the other body parts laughed at the rectum and insulted him, so in a huff, he shut down tight.
Within a few days, the brain had a terrible headache, the stomach was bloated, the legs got wobbly, the eyes got watery, and the blood was toxic. They all decided that the rectum should be the boss.
The moral of the story? Even though the others do all the work... the @$$hole is usually in charge.
#joke
Kathleen Madigan: Smoking in Public
I was out last Sunday -- I didnt see any signs, nobody to ask, so I lit a cigarette. This woman lost all control of her bodily functions. Put it out, please, put it out. I turned around -- she was three pews away!
Question time
Mr. Smythe had been giving his second-grade students a short lesson on science. He had explained about magnets and showed them how they would pick up nails and other bits of iron. And now it was question time....
"Class," he said, "my name begins with the letter 'M,' and I pick up things....What am I?"
A little boy on the front row said, "You're a mother."
#joke
What Men Call their Women
What's in a name? Apparently, a lot more than you (or I) ever thought there was. Here's what his pet name for you really means…..
Darling — Depends on how he says it. If he stresses the first syllable, then he's probably done something wrong or wants money.
Dear — Probably a leftover from his parents. Expect him to wear woolly cardigans, smoke a pipe and prefer a mug of Ovaltine to lager.
Sweetheart — If it's said patronizingly, it's not so sweet. But when uttered in earnest, it may send your own sweet heart aflutter.
Babe — Not to be confused with the film of the same name. Check for flares or signs that he's a 70s throwback. He's a bit of a medallion man. Chances are he's got his initials on his chunky ring. Leave immediately if he tries to sell you a second-hand car.
Baby doll — This type of man will probably require you to wear transparent frilly nighties even in the dead of winter. He doesn't want you to grow up, and obviously can't deal with real women.
Princess — Never trust a man who calls you princess. You may think you're being treated like royalty, but beware of Prince Charmings – they may be secretly plotting your over- throw.
Sexy — Fine if you're sexy. If you're not, who cares? He probably thinks you are anyway!!
My girlfriend — He's honest, open and probably glad to have you around. The next thing you know he'll be using your name!
The wife — If you're married then he probably thinks he owns you. If you're not, he probably thinks you act like his wife, in which case, he thinks he owns you.
My other half — You complete the set – he's only half a man without you. But it may make you feel as though you are losing your identity somewhere.
The missus — See The Wife.
My partner — He's right on. Probably likes eating tofu and hugging trees.
My significant other — He's even more right on. Probably thinks it's cruel to eat tofu and that trees need their own space.
She who must be obeyed — He thinks you're a nag, but probably doesn't lift a finger around the house.
#joke
The Blind Skydiver
A blind man was describing his favorite sport, parachuting. When asked how this was accomplished, he said that things were all done for him: "I am placed in the door with my seeing eye dog and told when to jump. My hand is placed on my release ring for me and out I go with the dog."
"But how do you know when you are going to land?" he was asked. "I have a very keen sense of smell, and I can smell the trees and grass when I am 300 feet from the ground" he answered.
"But how do you know when to lift your legs for the final arrival on the ground?" he was again asked. He quickly answered: "Oh, the dog's leash goes slack."
#joke