Our Dog Daisy!!
Our dog Daisy, sleeps about 20 hours a day.
Her food prepared for her. She can eat whenever she wants, 24/7/365. Her meals are provided at no cost to her .
She visits the Dr. once a year for her checkup, and again during the year if any medical needs arise.
For this she pays nothing and nothing is required of her. She lives in a nice neighborhood on Park Ave., in an Apartment that is much larger than she needs, and she is not required to do any upkeep.
If she makes a mess, someone else cleans it up.
She has her choice of luxurious places to sleep.
She receives these accommodations absolutely free.
She is living like a Queen, and has absolutely no expenses whatsoever.
All of her costs are picked up by others who go out and earn a living every day.
I was just thinking about all this, and suddenly it hit me like a brick in the head,
............Our dog Daisy is a Democrat!
#joke
Three men were talking about w...
Three men were talking about what their children would be saying about them thirty years from now.
"I would like my children to say, 'He was successful in business'," declared the first man.
"Thirty years from now," said the second, "I want them to say, 'He was a loyal family man'."
Turning to the third man, the first one asked, "So what do you want them to say about you in thirty years?"
"Me?" the third man replied, "I want them all to say, 'He certainly looks good for his age'!"
#joke
Funny video of the day - PEOPLE ARE AWESOME 2017 | BEST OF THE MONTH (MAY)
Mermaids are excelle...
"Mermaids are excellent journeyers because they can avoid pier pressure, make a splash, ride the waves, and seas the day."
I stole some asphalt from a ro
I stole some asphalt from a road crew, and now there's a tar get on my back.
AMEN, BROTHER!
Two elderly, excited women were sitting together in the front pew of church listening to a fiery preacher. When this preacher condemned the sin of lust, these two ladies cried out at the tops of their lungs..."AMEN, BROTHER!"
When the preacher condemned the sin of stealing, they yelled again..."PREACH IT, REVEREND!"
And when the preacher condemned the sin of lying...they jumped to their feet and screamed, "RIGHT ON, BROTHER...TELL IT LIKE IT IS...AMEN!"
But when the preacher condemned the sin of gossip, the two got very quiet, and one turned to the other and said, "He's done quit preaching and now he's meddlin'."
#joke
A Collection Of Insults
A brief synopsis...
When you're at a loss for words but want to tell someone that he or she is stupid, remember some these quips from our collection here at Aha! Jokes.
---
Batteries not included.
Been napping in front of the ion shield again.
Been playing with his wand too much.
Been playing with the pharmacy section again.
Been short on oxygen one time too many.
Been using her head as a mass driver.
Blew his O-rings.
Blew the hatch before the lock sealed.
Blocked one too many hockey pucks / soccer balls / punches with his head.
Blown/leaking head gasket.
Born a day late and like that ever since.
Born during low tide in the gene pool / swimming in the shallow end of the gene pool.
Born ugly and built to last.
Both oars in the water, but on the same side of the boat.
Brain is running on empty.
#joke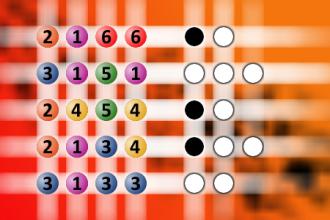 Find the right combination
The computer chose a secret code (sequence of 4 digits from 1 to 6). Your goal is to find that code. Black circles indicate the number of hits on the right spot. White circles indicate the number of hits on the wrong spot.
Once there was a little boy th...
Once there was a little boy that lived in the country. They had to use an outhouse, and the little boy hated it because it was hot in the summer and cold in the winter and stank all the time.The outhouse was sitting on the bank of a creek and the boy determined that one day he would push that outhouse into the creek. One day after a spring rain, the creek was swollen so the little boy decided today was the day to push the outhouse into the creek. So he got a large stick and started pushing. Finally,the outhouse toppled into the creek and floated away. That night his dad told him they were going to the woodshed after supper.Knowing that meant a spanking, the little boy asked why.
The dad replied, "Someone pushed the outhouse into the creek today.It was you, wasn't it son?"
The boy answered yes. Then he thought a moment and said, "Dad, I read in school today that George Washington chopped down a cherry tree and didn't get into trouble because he told the truth."
The dad replied, "Well, son, George Washington's father wasn't in the cherry tree."
#joke
Dane Cook: Time Travel
Know what I would like to do? Id travel back to when my mom and dad had sex to have me. And Id just run into the bedroom, right when theyre doing it, and just spank my dad on the ass: Im your son from the future!
A little head
A huge muscular man walks into a bar and orders a beer.
The bartender can't help but stare at the guy because in contrast to his large muscles, the man has a head that is the size of an orange.
The bartender hands the guy his beer and says, "You know, I'm not gay but I want to compliment you on your physique, it really is phenomenal! But I have a question, why is your head so small?"
The big guy nods slowly. He's obviously fielded this question many times. "One day," he begins, "I was hunting and got lost in the woods. I heard someone crying for help. I followed the cries and they led me to a frog that was sitting next to a stream."
"No shit?" says the bartender, thoroughly intrigued.
"Yeah, so I picked up the frog and it said, Kiss me. Kiss me and I will turn into a genie and grant you three wishes."
"Keep going!"
I looked around to make sure I was alone and gave the frog a kiss. POOF! The frog turned into a beautiful, voluptuous, naked woman.
She said, "You now have three wishes."
I looked down at my scrawny 115 pound body and said, "I want a body like Arnold Schwarzenneger."
She nodded, snapped her fingers, and POOF there I was, so huge that I ripped out of my clothes and was standing there naked!
She then asked, "What will be your second wish?"
"What next?" begged the bartender.
I looked hungrily at her beautiful body and replied, "I want to make sensuous love with you here by this stream." She nodded, laid down, and beckoned to me. We made love right there by that stream for hours!
Afterwards, as we lay there next to each other, sweating from our glorious lovemaking, she whispered into my ear, "You know, you do have one more wish. What will it be?"
I looked at her and replied, "How 'bout a little head?"
#joke #walksintoabar
#beer
The new CEO...
Morris had just been hired as the new CEO of a large high tech corporation. The CEO who was stepping down met with him privately and presented him with three envelopes number 1, 2 and 3. "Open these if you run up against a problem you don't think you can solve," the departing CEO said.
Things went along pretty smoothly, but six months later, sales took a downturn and Morris was really catching a lot of heat. About at his wit's end, he remembered the envelopes. He went to his drawer and took out the first envelope. The message read, "Blame your predecessor." Morris called a press conference and tactfully laid the blame at the feet of the previous CEO. Satisfied with his comments, the press, and Wall Street, responded positively, sales began to pick up and the problem was soon behind him.
About a year later, the company was again experiencing a slight dip in sales, combined with serious product problems. Having learned from his previous experience, the CEO quickly opened the second envelope. The message read, "Reorganize." This he did, and the company quickly rebounded.
After several consecutive profitable quarters, the company once again fell on difficult times. Morris went to his office, closed the door and opened the third envelope. The message said, "Prepare three envelopes."
#joke
Porch or Lexus?
A blonde wanting to earn extra money decided to do odd jobs for her wealthy neighbors. At the first house, the owner said,"Well, you can paint my porch. How much will you charge?
"$50" she replies
The man agrees and gives her the paint and brushes and goes back in the house. The man's wife overheard their conversation and asked him if she had realized that the porch goes all around the house. "She should. She was standing on it"
A short time later the blonde came to the door to collect her money. "You've finished already?" the man asked.
"Yeah, and i had paint left over so i gave two coats."
Impressed the man reaches for the money. "And by the way," the blonde added, "it's not a porch. Its a Lexus."