Jokes of the day for Tuesday, 27 June 2017
Funny jokes, funny photo and funny video collected from the internet on Tuesday, 27 June 2017
"William Tell and his
"William Tell and his family used to be league bowlers - but now that the records have been lost, it is difficult to determine for whom the Tells bowled."
Baby cows make good friends, a
Baby cows make good friends, as heifer buddy knows.
The following headlines were a
The following headlines were actually printed in newspapers. The irony in some of these are absolutely astonishing, hilariously funny (thoughsometimes awkward). Check them out:
- Never Withhold Herpes Infection from Loved One
- Miners Refuse to Work after Death
- Include Your Children when Baking Cookies
- Enfields Couple Slain; Police Suspect Homicide
- Typhoon Rips Through Cemetery; Hundreds Dead
- Something Went Wrong in Jet Crash, Expert Says
- Police Begin Campaign to Run Down Jaywalkers
- Safety Experts Say School Bus Passengers Should Be Belted
- Drunk Gets Nine Months in Violin Case
- Survivor of Siamese Twins Joins Parents
- Iraqi Head Seeks Arms
- Prostitutes Appeal to Pope
- Panda Mating Fails; Veterinarian Takes Over
- British Left Waffles on Falkland Islands
- Lung Cancer in Women Mushrooms
- Enraged Cow Injures Farmer With Axe
- Plane Too Close to Ground, Crash Probe Told
- Juvenile Court to Try Shooting Defendant
- War Dims Hope for Peace
- Cold Wave Linked to Temperatures
- Deer Kill 17,000
- Stolen Painting Found by Tree
- Chef Throws His Heart into Helping Feed Needy
- Arson Suspect Held in Massachusetts Fire
- Ban On Soliciting Dead in Trotwood
- Local High School Drop-outs Cut in Half
- New Vaccine May Contain Rabies
- Hospitals are Sued by 7 Foot Doctors
- Two Sisters Reunited After 18 Years in Checkout Counter
- Killer Sentenced to Die for Second Time in 10 Years
- Red Tape Holds Up New Bridges
- Man Struck By Lightning Faces Battery Charge
- New Study of Obesity Looks for Larger Test Group
- Astronaut Takes Blame for Gas in Spacecraft
- Kids Make Nutritious Snacks
- Eye Drops Off Shelf
- Teachers Strike Idle Kids
- Clinton Wins on Budget, But More Lies Ahead
- Princess Diana Was Alive Hours Before She Died
The new lawyer...
Joe grew up in a small town, then moved away to attend college and law school. He decided to come back to the small town because he could be a big man in this small town. He really wanted to impress everyone.
He opened his new law office, but business was very slow at first. One day, he saw a man coming up the sidewalk. He decided to make a big impression on this new client when he arrived.
As the man came to the door, Joe picked up the phone. He motioned the man in, all the while talking...
"No. Absolutely not. You tell those clowns in New York that I won't settle this case for less than one million..."
"Yes. The Appeals Court has agreed to hear that case next week. I'll be handling the primary argument and the other members of my team will provide support..."
"Okay. Tell the DA that I'll meet with him next week to discuss the details..."
This sort of thing went on for almost 5 minutes. All the while the man sat patiently as Joe rattled instructions.
Finally, Joe put down the phone and turned to the man.
"I'm sorry for the delay, but as you can see, I'm very busy. What can I do for you?"
The man replied "I'm from the phone company...I came to hook up your phone."
Two Roaches Having A Discussion
Two roaches were munching on garbage in an alley when one engages a discussion about a new restaurant.
"I was in that new restaurant across the street," said one. "It's so clean! The kitchen is spotless, and the floors are gleaming white. There is no dirt anywhere--it's so sanitary that the whole place shines."
"Please," said the other roach frowning. "Not while I'm eating!"
#joke
Am I A Bad Father?
Johnathan asked his young son, 'Greg, do you think I'm a bad father?'
'My name is Andrew,' replied his son.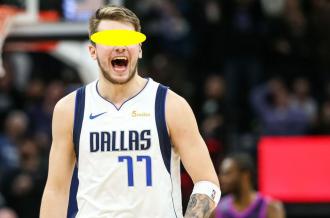 Can you name the athletes by the picture?
Can you name the athletes by the picture?
Angelic Assistance?
An old-time pastor was riding furiously down the road, hurrying to get to church on time. Suddenly, his horse stumbled and threw him to the ground.Lying in the dirt, his body wracked with pain, the pastor called out, "All you angels in heaven, help me get up on my horse!"With extraordinary strength, he leaped onto the horse's back—and fell off the other side.From the ground again, he called out, "All right, just half of you angels this time!"
#joke
Drinking age should be eighteen
The drinking age should be eighteen. When you're eighteen you're old enough to vote. You should be old enough to drink.
Look who we have to vote for! You need a drink!
Sinking boat
There's a boat sinking out at sea with men, women and children on it, along with a minister, a rabbi, and a priest.
The minister said, "Oh my god, will somebody think of the children."
The rabbi said, "fuck the children."
The priest said, "Do we have time?"
Nagasaki never had a bomb drop...
Nagasaki never had a bomb dropped on it. Chuck Norris jumped out of a plane and punched the ground.
Cake
Scientists have discovered a food that diminishes a woman's sex drive by up to 90%.
It's called wedding cake.
Submitted by Calamjo
Edited by Curtis
Jim Gaffigan: Easier for Attractive People
Life is a little easier for attractive people. Think about it: if a stranger smiles at you and theyre attractive, you think, Oh, theyre nice, but if a strangers ugly, youre like, What do they want? Get away from me, weirdo.
Jon Reep: Southern Accents
People think youre an idiot. I dont know where they get that idea. But when they hear my accent for the first time, I can tell theyre looking at me and theyre just waiting for me to say something like, What are shoes for?