Mrs. Cohn went to see her doct...
Mrs. Cohn went to see her doctor. When he inquired about her complaint she replied that she suffered from a discharge.
He said: "Get undressed, Mrs. Cohn, and lie down on the examining table."
She did, whereupon the doctor put on rubber gloves and began to massage her "private parts."
After a couple of minutes he asked: "How does that feel?"
"Wonderful," she replied, "But the discharge is from the ear."
Passport
An old lady had always wanted to travel abroad. Now that she was getting on in years, she thought she would really like to do so before she died.
Until now, she'd never even been out of the country. So she began by going in person to the Passport Office and asking how long it would take to have one issued.
"You must take the loyalty oath first," responded the passport clerk. "Raise your right hand, please. "The old gal raised her right hand.
"Do you swear to defend the Constitution of the United States against all its enemies, domestic or foreign?" was the first question.
The little old lady's face paled and her voice trembled as she asked in a small voice, "Uhhh . . . all by myself?"
#joke
Holmes Investigation
Sherlock Holmes and Dr Watson went on a camping trip. After a good meal and a bottle of wine they laid down for the night, and went to sleep. Some hours later, Holmes awoke and nudged his faithful friend.
"Watson, look up at the sky and tell me what you see."
Watson replied, "I see millions and millions of stars."
"What does that tell you?"
Watson pondered for a minute.
"Astronomically, it tells me that there are millions of galaxies and potentially billions of planets. Astrologically, I observe that Saturn is in Leo. Horologically, I deduce that the time is approximately a quarter past three. Theologically, I can see that God is all-powerful and that we are small and insignificant. Meteorologically, I suspect that we will have a beautiful day tomorrow. What does it tell you?"
Holmes was silent for a minute, then spoke. "It tells me that someone has stolen our tent."
#joke
"I couldn't see a go
"I couldn't see a good cow pun if it was steering me in the face."
At Sunday School they were tea...
At Sunday School they were teaching how God created everything, including human beings. Little Johnny seemed especially intent when they told him how Eve was created out of one of Adam's ribs.
Later in the week his mother noticed him lying down as though he were ill, and she said, 'Johnny, what is the matter?'
Little Johnny responded, 'I have pain in my side. I think I'm going to have a wife.'
#joke
Persevere!
A young pastor was sitting in a restaurant eating lunch. He opened a letter he'd just received that morning from his mom. As he opened it a twenty-dollar bill fell out. He thought to himself, Thanks, Mom, I sure needed that right now.As he finished his feel, he noticed a beggar outside on the sidewalk leaning against the light post. Thinking that the poor man could probably use the twenty dollars more than he, he crossed out the names on the envelope and wrote across the top in large letters, PERSEVERE!So as not to make a scene, he put the envelope under his arm and dropped it as he walked past the man. The man picked it up and read the message and smiled. The next day, as the pastor enjoyed his meal, the same man tapped him on the shoulder and handed him a big wad of bills. Surprised, the young pastor asked him what that was for. The man replied, "This is your half of the winnings. Persevere came in first in the fourth race at the track yesterday and paid thirty to one."
#joke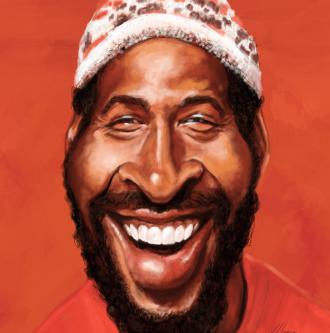 Guess the name of musician
Look carefully caricature and guess the name of musician.
John Oliver: Falling in Love with America
It was like falling in love with a girl who was just throwing up all over herself -- softly holding her hair back and whispering to her that everything was going to be alright. To me, thats what the last eight years were like, here in America: projectile vomiting all over yourself as the rest of the world rubbed your back, saying, Sssshhh, thats it. Let it all out.
#joke
An old man lived alone in Idah...
An old man lived alone in Idaho. He wanted to spade his potato garden, but it was very hard work. His only son, Bubba, who used to help him, was in prison. The old man wrote a letter to his son and described his predicament.
Dear Bubba:
I am feeling pretty bad because it looks like I won't be able to plant my potato garden this year. I'm just getting too old to be digging up a garden plot. If you were here, all my troubles would be over. I know you would dig the plot for me.
Love, Dad
A few days later, he received a letter from his son.
Dear Dad:
For heaven's sake, Dad, don't dig up that garden. That's where I buried the BODIES.
Love, Bubba
At 4 a.m. the next morning, FBI agents and local Police showed up and dug up the entire area without finding any bodies. They apologized to the old man and left.
That same day, the old man received another letter from his son.
Dear Dad:
Go ahead and plant the potatoes now. It's the best I could do under the circumstances.
Love, Bubba
#joke
French fries
There was once a sheep farmer who had a French farmhand working with him to help castrate his sheep.
As the farmer castrated the first sheep, the French farmhand took the parts and was about to throw them into the trash.
"No!" yelled the farmer, "Don't throw those away! My wife fries them up, and we eat them, they're delicious! They're called Sheep Fries!"
The farmhand saved the parts and took them to the farmer's wife who cooked them up for supper. This went on for three days....and each evening they had Sheep Fries for supper.
On the fourth night the farmer came in to the house for supper.
He asked his wife where the farmhand was, and she replied, "It's the strangest thing! When he came in and asked what was for supper, I told him French Fries, and he ran like hell!"
Submitted by Calamjo
EDited by Tanilazing
#joke
Ralphie May - Dora the Explorer
Have you seen this show? If you havent, its about a five-year-old little Mexican girl thats always lost. It should be called Dora the Amber Alert.
Rudolph the Red Nosed Reindeer
A Russian couple was walking down the street in St. Petersburg the other night, when the man felt a drop hit his nose. "I think it's raining," he said to his wife.
"No, that felt more like snow to me," she replied. "No, I'm sure it was just rain, he said." Well, as these things go, they were about to have a major argument about whether it was raining or snowing. Just then they saw a minor communist party official walking toward them. "Let's not fight about it," the man said, "let's ask Comrade Rudolph whether it's officially raining or snowing."
As the official approached, the man said, "Tell us, Comrade Rudolph, is it officially raining or snowing?"
"It's raining, of course," he answered and walked on. But the woman insisted: "I know that felt like snow!" To which the man quietly replied: "Rudolph the Red knows rain, dear!"
#joke