The medics rushed Mr. Steinber...
The medics rushed Mr. Steinberg to the hospital in the middle of the night, apparently with a massive heart attack. The doctors work on him all night and morning and finally discharge him to Intensive Care Unit, where therapy continues.
After a couple of days, Mr. Steinberg's physician comes into his room and says, "Sol, I'm happy to tell you that you are completely well. You have the heart function that you did when you were a fifteen-year-old lad. We're going to send you home tomorrow. You don't have to worry about your heart; do any physical exercise that you like."
Mr. Steinberg goes home and that evening is talking with his wife. "Doris, you'll never believe it! I'm completely well. I have no worries with my heart. Tonight, Darling, you and I are going to make love like you've never had before - wild, passionate sex! You'll love it!"
Doris thinks for a minute and says, "I don't know, Sol. I've heard about active sex and heart conditions. I don't want it to be on my conscience if you die while we are making love. Maybe, just maybe, if your doctor wrote a note to me saying that everything was okay, maybe I would have such sex with you."
Mr. Steinberg was dejected, but the next day he was in his doctor's office. His doctor tells him, "Sure, sure, Sol, no problem, I'll write the note. Let's see, here's my prescription pad: 'Mr. Sol Steinberg, a patient of mine, has the heart function of a fifteen-year-old lad, and can have mad, passionate, adventurous sex any time that he so desires, signed, Dr. Aaron Katz.' Now, I'll just address this. By the way, Sol, what's your wife's first name?"
"Uh, Doctor, could you just make that, 'To Whom It May Concern'?"
QUOTES TAKEN FROM ACTUAL FEDER...
QUOTES TAKEN FROM ACTUAL FEDERAL EMPLOYEE PERFORMANCE EVALUATIONS:
1. "Since my last report, this employee has reached rock bottom and has started to dig."
2. "His men would follow him anywhere, but only out of morbid curiosity."
3. "I would not allow this employee to breed."
4. "This employee is really not so much of a has-been, but more of a definite won't be."
5. "Works well when under constant supervision and when cornered like a rat in a trap."
6. "When she opens her mouth, it seems that it is only to change feet."
7. "He would be out of his depth in a parking lot puddle."
8. "This young lady has delusions of adequacy."
9. "He sets low personal standards and then consistently fails to achieve them."
10. "This employee is depriving a village somewhere of an idiot."
11. "This employee should go far, and the sooner he starts, the better."
12. "Got a full 6-pack, but lacks the plastic thing to hold it all together."
13. "A gross ignoramus -- 144 times worse than an ordinary ignoramus."
14. "He certainly takes a long time to make his pointless."
15. "He doesn't have ulcers, but he's a carrier."
16. "I would like to go hunting with him sometime."
17. "He's been working with glue too much."
18. "He would argue with a signpost."
19. "He has a knack for making strangers immediately."
20. "He brings joy whenever he leaves the room."
21. "When his IQ reaches 50, he should sell."
22. "If you see two people talking and one looks bored, he's the other one."
23. "A photographic memory but with the lens cover glued on."
24. "A prime candidate for natural de-selection."
25. "Donated his brain to science before he was done using it."
26. "Gates are down, the lights are flashing, but the train isn't coming."
27. "Has two brains: one is lost and the other is out looking for it."
28. "If he were any more stupid, he'd have to be watered twice a week."
29. "If you give him a penny for his thoughts, you'd get change."
30. "If you stand close enough to him, you can hear the ocean."
31. "It's hard to believe that he/she beat out 1,000,000 other sperm."
32. "One neuron short of a synapse."
33. "Some drink from the fountain of knowledge; he only gargled."
34. "Takes him 2 hours to watch 60 minutes."
#joke
Empire State Building Fall
Two men are sitting drinking at a bar at the top of the Empire State Building when the first man turns to the other and says, "You know, last week I discovered that if you jump from the top of this building, by the time you fall to the 10th floor, the winds around the building are so intense that they carry you around the building and back into the window."
The bartender just shakes his head in disapproval while wiping the bar.
The second guy says, "What are you a nut? There is no way that could happen."
"No, it's true," said the first man, let me prove it to you." He gets up from the bar, jumps over the balcony, and plummets to the street below. When he passes the 10th floor, the high wind whips him around the building and back into the 10th floor window and he takes the elevator back up to the bar.
He met the second man, who looked quite astonished. "You know, I saw that with my own eyes, but that must have been a one time fluke."
"No, I'll prove it again," says the first man as he jumps. Again just as he is hurling toward the street, the 10th floor wind gently carries him around the building and into the window.
Once upstairs he urges his fellow drinker to try it. "Well, what the hey," the second guy says, "it works, I'll try it!" He jumps over the balcony plunges downward, passes the 11th, 10th, 9th, 8th floors ...and hits the sidewalk with a 'splat.'
Back upstairs the Bartender turns to the other drinker, saying "You know, Superman, sometimes you can be a real jerk."
#joke
Holmes Investigation
Sherlock Holmes and Dr Watson went on a camping trip. After a good meal and a bottle of wine they laid down for the night, and went to sleep. Some hours later, Holmes awoke and nudged his faithful friend.
"Watson, look up at the sky and tell me what you see."
Watson replied, "I see millions and millions of stars."
"What does that tell you?"
Watson pondered for a minute.
"Astronomically, it tells me that there are millions of galaxies and potentially billions of planets. Astrologically, I observe that Saturn is in Leo. Horologically, I deduce that the time is approximately a quarter past three. Theologically, I can see that God is all-powerful and that we are small and insignificant. Meteorologically, I suspect that we will have a beautiful day tomorrow. What does it tell you?"
Holmes was silent for a minute, then spoke. "It tells me that someone has stolen our tent."
#joke
"I couldn't see a go
"I couldn't see a good cow pun if it was steering me in the face."
A bishop, a priest...
A bishop, a priest, and a deacon, were about to be executed for preaching the Gospel in a foreign land. They bring out the bishop first and the guard shots, "Ready… aim…" and suddenly the bishop yells, "EARTHQUAKE!" When everyone looks around, the bishop runs off. Next they bring out the priest. They guard shouts, "Ready… aim…" and suddenly the priest yells, "TORNADO!" When everyone ducks, the priest runs off. By then, of course, the deacon had it figured out. They bring him out and when the guard shouts, "Ready… aim…," suddenly the deacon yells, "FIRE!"
#joke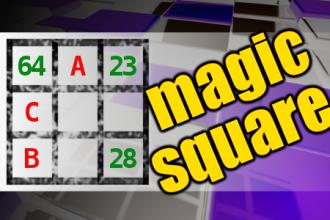 MAGIC SQUARE: Calculate A-B+C
The aim is to place the some numbers from the list (14, 17, 23, 25, 26, 28, 34, 61, 64, 70) into the empty squares and squares marked with A, B an C. Sum of each row and column should be equal. All the numbers of the magic square must be different. Find values for A, B, and C. Solution is A-B+C.
Weekend at Daves..
Starting the car for the long trip back into the city, Thorn and Bill said their final good-byes to their good friend, Curly David.
"Thanks for puttin' us up for the weekend, pal," said Thorn.
"The food was great, the booze and dope were superb, and I really enjoyed fucking your wife."
Shortly after hitting the road, Bill turned to Thorn and said, "I hope you weren't serious about enjoying fucking his wife!"
"No, I wasn't serious. She was lousy."
#joke
Jay Mohr: Why the English Hate Americans
I dont know if youve ever been to England, but as soon as they find out youre from America, they hate you. They just think theyre more sophisticated than we are. Theyre so pissed at us. You know what it is? Theyre mad because they lost the Revolutionary War, and they should be because there was only like nine of us.
#joke
Cheapest Meat
Q. What is the cheapest meat?
A. Deer balls, there under a buck.
Lightbulb Joke Collection 94
Q: How many archaeologists does does it take to change a lightbulb?
A: Three. One to change it and two to argue about how old the old one is.
Q: How many preservation society members does it take to screw in a lightbulb?
A: One, but it takes a year to find an antique Edison light bulb so it'll be architecturally accurate.
Q: How many aerobics instructors does it take to change a lightbulb ?
A: Five. Four to do it in perfect synchrony and one to stand there going "To the left, and to the left, and to the left, and to the left, and take it out, and put it down, and pick it up, and put it in, and to the right, and to the right, and to the right, and to the right..."
Q: How many science fiction writers does it take to change a lightbulb?
A: Two. One to screw in the light bulb, and one to say, "In 1876, Jules Verne had the first intimations that electrostatic power was a viable energy alternative. Hitherto, the only sources ..."
Q: How many science fiction writers does it take to change a lightbulb?
A: Two, but it's actually the same person doing it. He went back in time and met himself in the doorway and then the first one sat on the other one's shoulder so that they were able to reach it. Then a major time paradox occurred and the entire room, lightbulb, changer and all was blown out of existence. They co-existed in a parallel universe, though.
Q: How many signal processing engineers does it take to change a lightbulb ?
A: Three. One to Fouriev transform the lightbulb, one to apply a complex exponential rotational shifting operator, and one to inverse transform the removed lightbulb.
Q: How many aerospace engineers does it take to change a light bulb?
A: None. It doesn't take a rocket scientist, you know.
Q: How many Einsteins does it take to change a lightbulb?
A: That depends on the speed of the changer, and the mass of the bulb. Or vice versa, of course. Then it just might be easier to leave the bulb alone and change the room. It's all relative.
#joke