REPLY TO THE NOTICE OF REVOCATION OF INDEPENDENCE
July 5, 2017
To the Subjects of Her Majesty, the Queen of England,
In the light of your failure to prevent us from kicking you out in the 18th century and doing as we damn well please, we hereby notify you that you can keep it down over there before we take notice. Sure, historically America really doesn't pay much attention to the rest of the world. But when someone does catch our eye, we tend to carpet bomb them to a pre-industrial state. It may not be right, or fair, but it is a trend. I suggest you keep it in mind. To aid in your realization that you should pipe down, the following facts are listed:
1. American English is distinct from British English. Our aluminum is a lovely silver color, and we do not 'armour' our tanks, thank you.
2. When you can tell the difference between an Alabama and Louisiana accent, I'll pay attention to the difference between a Londoner's and a Yorkshireman's accents.
3. Rather than 'God save the Queen'; you should learn 'The Battle Hymn of the Republic'. After all, if it weren't for American soldiers you'd speak German today, twice over. And if it weren't for American bread, butter, etc., you would have been starving while we saved your little old island from the Hun.
4. If I were to throw an American football block on football player, he'd be out of the game and I'd be ejected. If I were to throw a real tackle on a rugby player, he'd be maimed. The pads in American football are to keep you from being crippled or killed. Just because rugby players tear their ears in a group hug called a 'scrum'doesn't make them tough. You want tough? You put YOUR arms in the air while a 322 pound (46 stone) man slams into you at a dead sprint and still catch the ball. That's tough.
5. If you can't settle the French's hash, find someone else. After all, they have lost to everyone *but* the British this century.
6. The irony of a Brit complaining about American cars is too much. I've driven British cars and they're like a Hyundai, but poorly made. When someone else comes up with an idea as good as the muscle car, we'll think about it.
To sum it all up, we really aren't interested.
#joke
John went to visit his 90-year...
John went to visit his 90-year-old grandfather in a very secluded, rural area of West Virginia. After spending a great evening chatting the night away, John's grandfather prepared breakfast of bacon, eggs and toast.
However, John noticed a film like substance on his plate, and questioned his grandfather asking, "Are these plates clean?"
His grandfather replied, "They're as clean as cold water can get em. Just you go ahead and finish your meal, Sonny!"
For lunch the old man made hamburgers. Again, John was concerned about the plates as his appeared to have tiny specks around the edge that looked like dried egg and asked, "Are you sure these plates are clean?"
Without looking up the old man said, "I told you before, Sonny, those dishes are as clean as cold water can get them. Now don't you fret, I don't want to hear another word about it!"
Later that afternoon, John was on his way to a nearby town and as he was leaving, his grandfather's dog started to growl, and wouldn't let him pass.
John yelled and said, "Grandpa, your dog won't let me get to my car."
Without diverting his attention from the football game he was watching on TV, the old man shouted, "Coldwater, go lay down now, yah hear me!!!"
#joke
"Cost of living ballo
"Cost of living balloons due to high inflation!"
Bad Math...
Rick, fresh out of accounting school, went to a interview for a good paying job. The company boss asked various questions about him and his education, but then asked him,
"What is three times seven?"
"22," Rick replied.
After he left, he double-checked it on his calculator (he *knew* he should have taken it to the interview!) and realized he wouldn't get the job.
About two weeks later, he got a letter that said he was hired for the job! He was not one to look a gift horse in the mouth, but was still very curious. The next day, he went in and asked why he got the job, even though he got such a simple question wrong. The boss shrugged and said, "Well, you were the closest."
#joke
Scary Collection 14
A cannibal joke
What did the cannibal say to the explorer?
''Nice to meat you''!
A cannibal joke
Why was the cannibal fined$50 by the judge?
He was caught poaching!
A ghost joke
What do ghosts dance to?
Soul music!
A demon joke
What do demons have for breakfast?
Devilled eggs!
A Halloween joke
Why did the ghost go trick or treating on the top floor?
He was in high spirits!
A skeleton joke
What is a skeletons favourite drink?
Milk - it's so good for the bones!
A werewolf joke
Why shouldn't you grab a werewolf by it's tail?
It might be the werewolf's tail but it could be the end of you!
One morning a blind bunny was...
One morning a blind bunny was hopping down the bunny trail and tripped over a large snake and fell, kerplop right on his twitchy little nose.
'Oh please excuse me,' said the bunny. 'I didn't mean to trip over you, but I'm blind and can't see.'
'That's perfectly all right,' replied the snake. 'To be sure, it was my fault. I didn't mean to trip you, but I'm blind too, and I didn't see you coming. By the way what kind of animal are you?'
'Well, I really don't know,' said the bunny. 'I'm blind, and I've never seen myself. Maybe you could examine me and find out.'
So the snake felt the bunny all over, and he said, 'Well, you're soft, and cuddly, and you have long silky ears, and a little fluffy tail and a dear twitch little nose. You must be a bunny rabbit.'
The bunny said, 'I can't thank you enough. But, by the way, what kind of animal are you?'
The snake replied that he didn't know either, and the bunny agreed to examine him, and when the bunny was finished the snake asked, 'Well, what kind of animal am I?'
The bunny had felt the snake all over, and he replied, 'You're cold, you're slippery, and you haven't any balls............You must be a politician!'
#joke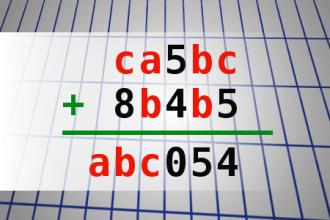 Find number abc
If ca5bc + 8b4b5 = abc054 find number abc. Multiple solutions may exist.
Simon Says?
The new minister stood at the church door greeting the members as they left the Sunday morning service. While most of the people told the minster how much they liked his message, one man seemingly had a different opinion. "That was a very dull and boring sermon, Pastor," he said. The pastor was a bit baffled by this, but he continued shaking hands.A few minutes later, the same man again appeared in line and said, "I don't think you did much in the way of preparation for your message."Once again, the man circled back and appeared in line, this time muttering, "You really blew it. You didn't have a thing to say, Pastor."Finally, the minister could stand it no longer. He went to one of the deacons and inquired about the man. "Oh, don't let that guy bother you," said the deacon. "He's a little slow. All he does is go around repeating whatever he hears other people saying."From "
The Book of Church Jokes
," published by
Barbour Publishing, Inc.
, Uhrichsville, Ohio. Copyright 2009. Used by permission of Barbour Publishing, Inc.
#joke
Kevin Hart: When You Lost a Fight to Your Woman
One time, she got me so mad, we got into a fist fight. You know how you know when you lost a fight to your woman? When the cops come to your house and ask you do you want to press charges. Thats how you know it didnt go as you planned.
Birth control pills
An elderly woman went into the doctor's office. When the doctor asked why she was there, she replied, "I'd like to have some birth-control pills."
Taken aback, the doctor thought for a minute and then said, "Excuse me, Mrs. Smith, but you're 72 years old. What possible use could you have for birth control pills?"
The woman responded, "They help me sleep better."
The doctor thought some more and continued, "How in the world do birth control pills help you to sleep?"
The woman said, "Simple. I put them in my granddaughter's orange juice every morning and I sleep better at night."
Chuck Norris has to use a stun...
Chuck Norris has to use a stunt double when he does crying scenes.
Answering Machine Message 208

(Gameshow-announcer voice:) Hello, and welcome to Phone Tag! (Cheers in background.) If you'd like to join the game, please leave your name and number at the beep, and we'll try to reach you when you're not around. And thanks once again for playing Phone Tag!