In a dark and hazy room, peeri
In a dark and hazy room, peering into a crystal ball, the mystic delivered grave news:
"There's no easy way to say this, so I'll just be blunt - prepare yourself to be a widow. Your husband will die a violent and horrible death this year."
Visibly shaken, Laura stared at the woman's lined face, then at the single flickering candle, then down at her hands. She took a few deep breaths to compose herself.
She simply had to know. She met the fortune teller's gaze, steadied her voice, and asked:
"Will I be acquitted?"
#joke
"Tectonic plates - ge
"Tectonic plates - geologists eat their dinner off these."
Bubba had shingles. Those of...
Bubba had shingles. Those of us who spend much time in a doctor's office should appreciate this! Doesn't it seem more and more that physicians are running their practices like an assembly line?
Here's what happened to Bubba:
Bubba walked into a doctor's office and the receptionist asked him what he had. Bubba said: 'Shingles.' So she wrote down his name, address, medical insurance number and told him to have a seat.
Fifteen minutes later a nurse's aide came out and asked Bubba what he had.
Bubba said, 'Shingles' So she wrote down his height, weight, a complete medical history and told Bubba to wait in the examining room.
A half hour later a nurse came in and asked Bubba what he had. Bubba said, 'Shingles...' So the nurse gave Bubba a blood test, a blood pressure test, an electrocardiogram, and told Bubba to take off all his clothes and wait for the doctor.
An hour later the doctor came in and found Bubba sitting patiently in the nude and asked Bubba what he had.
Bubba said, 'Shingles.' The doctor asked, 'Where?'
Bubba said, 'Outside on the truck. Where do you want me to unload 'em??'
Whats My Name?
The manager of a large office noticed a new man one day and told him to come into his office. "What's your name?" he asked the new guy.
"John," the new guy replied.
The manager scowled, "Look... I don't know what kind of a namby-pamby place you worked before, but I don't call anyone by their first name. It breeds familiarity and that leads to a breakdown in authority. I refer to my employees by their last name only ... Smith, Jones, Baker ... That's all. I am to be referred to only as Mr. Robertson. Now that we got that straight, what is your last name?"
The new guy sighed, "Darling. My name is John Darling."
"Okay John, the next thing I want to tell you is . . . "
#joke
Declaration To Annex The British Isles to the USA
July 6, 2017
To the imperialist British colonizers.
In the light of your indecision over joining a common European Currency, your dissatisfaction with the European Union, your bickering with European Governments and the fact that you already almost speak our language and refuse to speak any other European languages, you are to be annexed as a State of America. Your state code will be GB. Zip codes will be assigned to replace your old postal districts. The state capital will be Stratford-upon-Avon which is a lot prettier than London. Princess Diana will be declared a saint. You have already assimilated so much American culture that you are unlikely to notice the transition. To aid in the assimilation, the following rules are introduced with immediate effect:
1. Look up 'aluminum' in any good American Dictionary. Check the spelling and pronunciation guide. We discovered it, we named it, you are mispronouncing it. Learn to live with it. You are, of course welcome to your idiosyncratic and illogical place-names such as Edinburgh, if you wanted it pronounced 'Eddinburra' you have spelled it that way in the first place. You will quit using words such as 'fortnight'. The correct term is 'a two week period'. You will learn words such as 'credenza', 'intern' and 'chad'.
2. There is no such thing as 'UK English'. UK English is the relic of a defunct colonialist power which attempted to impose British English linguistic superiority on a nation which has a higher number of English speakers.
3. Your film-makers should learn to distinguish the American and Canadian accents. American accents are not limited to redneck drawls or New York accents. Mainland Americans have more than enough accents to cope with in our own country, so all British dramas will now bear subtitles, especially those made in impenetrable dialects such as Scottish, Scouse or Geordie. To make life easier for mainland America, all British films and TV programs must use American vocabulary and accents; Scotch characters will wear plaid, Irish characters will have shamrocks on them, Welsh characters will not be used since we don't have Welsh Americans, and English characters will wear bowler hats and pinstripes.
4. The British film industry will no longer portray all Americans as cowboys, rednecks, trailer trash or Beverly Hills billionaires. Hollywood will continue to use 'Mockney' and 'Posh' British accents as this makes it easier for viewers to identify which characters are British. You can have Hugh Grant back. He's a lousy actor and we don't want him either. All British films will be made in Hollywood where the weather and scenery are better. Your film industry is already unable to make a halfway-decent film which doesn't contain a American in the starring role. All American characters should be 'good guys'.
5. You will learn your new national anthem 'The Star Spangled Banner'. It shall be sung every morning at kindergarten, high school, university and your places of work. Your Union Flag will be hung up any damn way we wish so stop bitching about it being upside down. If there was meant to be a right way up you should have made it simpler. All Union flags will be replaced by the Stars and Stripes over a 12 month period of time.
6. You should stop playing soccer and rugby. There is no need to have two games, one of which is confusingly like Football and one of which is called football but patently isn't real football. If it doesn't require 45 pounds of padding, it isn't football. You should also stop playing cricket. Americans can't understand the rules. If you insist on playing this game which is only played by former British colonies, you will introduce a simplified scoring system, timeouts, colored strips and cheerleaders to make it more interesting. Any match which takes longer than 90 minutes will be declared a draw.
7. In films, as in real life, we decide who the bad guys are. The bad guys are those guys who don't do as we tell them. They are also the guys who attract the biggest audiences into movie theaters. You will cease using the word 'cinema'. They are 'movie theaters'. The snippets of forthcoming films are not 'trailers' they are 'teasers'.
8. November 5th is no longer a day for fireworks. July 4th is the appropriate fireworks festival. If you want a big fireworks party on November 5th, we will help you to blow up your Houses of Parliament. You won't be needing them any longer; Disneyland London will be situated there. Hunting with packs of dogs is also banned. Instead, you will go hunting with a pick-up truck, some six-packs of beer, two coon hounds and enough guns and ammo to equip a private militia. There is also no such activity as 'caravanning'. It is properly called 'camping'. The thing boy scouts do with tents and bedrolls is called 'tenting'.
9. Roundabouts will be banned. What is the point of turning left in order to turn right? They are confusing to Americans and are death traps. You will start driving on the right with immediate effect. Most of the world drives on the right already. You will be allowed to turn right on a red light if safe to do so though you must check local county legislation as this is not permitted in all areas.
10. Those things which you call chips are cholesterol-soaked abominations. You will start to eat fries - light fluffy potato in crisp coating. If you want to eat British-style fried potato sticks you will need a certificate from your doctor and good medical insurance. Beer is to be served cold. The warm, flat drink you call beer is properly termed 'ale' and the FDA have determined it to be unfit for human consumption. You will also learn the difference between crackers, cookies and biscuits to avoid causing unnecessary confusion to mainland Americans.
11. All inter-personal communications between family members, even if resident in the same house, must be through a lawyer. It is compulsory to sue somebody at least once per year - be inventive. It is compulsory to have therapy three times each week and to recover false memories of your childhood which allow you to sue your parents and/or your therapist. Therapy will take the place of speaking to family members. You will be given compulsory courses on how to become dysfunctional. Name your children after interesting medical conditions.
12. You will not have guns. In the eyes of Mainland Americans you are wayward children. Children are not permitted to play with firearms unless they have a legitimate reason to do so i.e. they plan to gun down the population of a small town (self-defense) or slaughter every living creature within a mile radius (hunting).
Thank you for your co-operation. You will be assimilated.
Footnote: Resistance is futile. Just ask Hawaii. By the way, Ireland and Scotland should be separate states. They have entirely different cultures and languages from the Norman fops. To avoid supporting third world countries and welfare states (the reason for NOT annexing Mexico), Canada, Australia, New Zealand, should become independent nations. The Falkland Islands should become an 'American Protectorate' like Puerto Rico, Samoa, The Philippines, Guam and other places that are neat to vacation. America should take back Hong Kong immediately.
A bishop, a priest...
A bishop, a priest, and a deacon, were about to be executed for preaching the Gospel in a foreign land. They bring out the bishop first and the guard shots, "Ready… aim…" and suddenly the bishop yells, "EARTHQUAKE!" When everyone looks around, the bishop runs off. Next they bring out the priest. They guard shouts, "Ready… aim…" and suddenly the priest yells, "TORNADO!" When everyone ducks, the priest runs off. By then, of course, the deacon had it figured out. They bring him out and when the guard shouts, "Ready… aim…," suddenly the deacon yells, "FIRE!"
#joke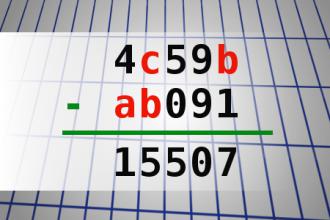 Find number abc
If 4c59b - ab091 = 15507 find number abc. Multiple solutions may exist.
Economists In Parades
There is also a joke about the last Mayday parade in the Soviet Union.
After the tanks and the troops and the planes and the missiles rolled by there came ten men dressed in black.
"Are they Spies?" Asked Gorby?
"They are economists," replies the KGB director, "imagine the havoc they will wreak when we set them loose on the Americans"
#joke
Mitch Hedberg: Fore!
I never got a hole in one -- but I did hit a guy, and thats way more satisfying. Youre supposed to yell Fore, but I was too busy mumbling There aint no way thats gonna hit him.
Son : Mom, when I was on the b...
Son : Mom, when I was on the bus with Dad this morning, he told me to give up my seat to a lady.

Mom : Well, you have done the right thing.

Son : But Mom, I was sitting on Daddy's lap!
Lawyer Vacancy
There was a job opening in the country's most prestigious law firm and it finally comes down to Robert and Paul.
Both graduated magna cum laude from law school. Both come from good families. Both are equally attractive and well spoken. It's up to the senior partner to choose one, so he takes each aside and asks, "Why did you become a lawyer?"
In seconds, he chooses Paul.
Baffled, Robert takes Paul aside.
"I don't understand why I was rejected. When Mr. Armstrong asked me why I became a lawyer, I said that I had the greatest respect for the law, that I'd lay down my life for the Constitution and that all I wanted was to do right by my clients. What in the world did you tell him?"
"I said I became a lawyer because of my hands," Robert replies.
"Your hands? What do you mean?"
"Well, I took a look one day and there wasn't any money in either of them!"
What she Really Means...
What she Really Means
I need = I want
We need = I want
It's your decision = The correct decision should be obvious by now
Do whatever you want = You are going to pay for this later
We need to talk = I need to complain
Sure...go ahead = I don't want you to
I'm not upset = Of course I'm upset, you moron!
You're so manly = You need a shave and you sweat a lot
You're certainly attentive tonight = Is sex all you ever think about?
I'm not emotional! And I'm not overreacting! = I have a severe case of PMS
Be romantic, turn out the lights = I have flabby thighs
This kitchen is so inconvenient = I want a new house
I want new curtains = I want new curtains, new carpeting, new furniture, new wallpaper...
I need new shoes = the other 40 pairs are simply the wrong shade
I heard a noise = I noticed you were almost asleep
Do you love me? = I'm going to ask for something expensive
How much do you love me? = I did something today you're really going to hate
I'll be ready in a minute = Kick off your shoes and find a good game on T.V.
Is my butt fat? = Tell me I'm beautiful
You have to learn to communicate = Just agree with me
Are you listening to me? = Too late, you're dead
Yes = No
No = No
Maybe = No
I'm sorry = You'll be sorry
I was wrong = Not as wrong as you
Do you like this recipe? = It's easy to fix, so you'd better get used to it
Was that the baby? = Why don't you get out of bed and walk him until he goes to sleep
I'm not yelling! = Of course I'm yelling, this is important!
#joke
Kangaroo + Leap Year =
What do you get when you cross a kangaroo with a calendar?
A leap year!