A beautiful blonde goes into a
A beautiful blonde goes into a bar and sits down next to a guy that's so homely looking, he hasn't had a date in over a year, also, he's so dumb that one night he slept with a ruler next to his head to see how long he slept.
So he figures that he has absolutely no chance in the world to score a date with this ravishing buxom blonde.
Then suddenly she strikes up a conversation with him and soon they become rather chummy. It starts to get late and the bartender calls out last drink for alcohol, then the blonde leans over to the guy and says, "Let's have this last drink at my apartment."
Taken back by her request, and trembling, the guy finally utters the word, "OK."
They get up from the bar stool arm and arm headed for the door, when the blonde stops him and says, "Before we go back to my apartment there's one thing I have to tell you, I'm on my menstrual cycle."
He says, "That's ok, I'll follow you in my Honda."
Things to do in an elevator
1) When there's only one other person in the elvator, tap them on the shoulder and then pretend it wasn't you.
2) Push the buttons and pretend they give you a shock. Smile, and go back for more.
3) Ask if you can push the button for other people, but push the wrong ones.
4) Call the Psychic Hotline from your cell phone and ask if they know what floor your on.
5) Hold the doors open and say your saiting for a friend. After a while, let the doors close, and say, 'Hi Greg. How's your day been?'
6) Drop a pen and wait until someone goes to pick it up, then scream, 'That's mine!'
7) Bring a camera and take pictures of everyone in the elevator.
8) Move your desk into the elevator and whenever anyone gets on, ask if they have an apointment.
9) Lay down the twister mat and ask people if they would like to play.
10) Leave a box in the corner, and when someone gets on, ask them if they can hear ticking.
11) Pretend you are a flight attendant and review emergency procedures and exits with the passengers.
12) Ask, 'Did you feel that?'
13) Stand really close to someone, sniffing them occasionally.
14) When the doors close, announce to the others, 'It's okay, don't panic, they open again!'
15) Swat at flies that don't exist.
16) Tell people that you can see their aura.
17) Call out, 'Group Hug!' and then enforce it.
18) Grimace painfully while smacking your forehead and muttering, 'Shut up, all of you, just shut up!'
19) Crack open your briefcase or purse, and while peering inside, ask, 'Got enough air in there?'
20) Stand silently and motionless in the corner, facing the wall, without getting off.
21) Stare at another passenger for a while, then announce in horror, 'Your one of THEM!' and back away slowly.
22) Wear a puppet on your hand and use it to talk to the other passengers.
23) Listen to the elevator walls with your stethoscope.
24) Make explosion noises when anyone presses a button.
25) Stare, grinning at another passenger for a while, then announce, 'I have new underware on'.
26) Draw a little square on the floor with chalk and announce to the other passnegers, 'This is MY personal space!'
#joke
A Collection Of Insults
A brief synopsis... When you're at a loss for words but want to tell someone that he or she is stupid, remember some these quips from our collection here at Aha! Jokes.
---
His watch dog is sleeping.
His wisdom is stolen from bumper-stickers and T-shirts.
Hitler's evil twin.
Hyperspatially interconnected / permanently disconnected neural net.
Hypnotized as a child and couldn't be woken.
I'd like to buy him for what he's worth and sell him for what he thinks he's worth.
If brains were bird droppings, he'd have a clean cage.
If brains were dynamite, she wouldn't have enough to blow her nose / her hat off / the wax out of her ears.
If brains were gasoline, he wouldn't have enough to drive a dinky car around the inside of a cheerio.
If brains were grains of sand, he couldn't fill a dixie cup.
If brains were lard, he'd be hard pressed to grease a small pan.
If brains were taxed, he'd get a rebate.
If brains were water, hers wouldn't be enough to baptize a flea.
If God tried to help him, we'd have an eight day week.
If he donated his brain to science it'd set civilization back 50 years.
#joke
"Tectonic plates - ge
"Tectonic plates - geologists eat their dinner off these."
Bubba had shingles. Those of...
Bubba had shingles. Those of us who spend much time in a doctor's office should appreciate this! Doesn't it seem more and more that physicians are running their practices like an assembly line?
Here's what happened to Bubba:
Bubba walked into a doctor's office and the receptionist asked him what he had. Bubba said: 'Shingles.' So she wrote down his name, address, medical insurance number and told him to have a seat.
Fifteen minutes later a nurse's aide came out and asked Bubba what he had.
Bubba said, 'Shingles' So she wrote down his height, weight, a complete medical history and told Bubba to wait in the examining room.
A half hour later a nurse came in and asked Bubba what he had. Bubba said, 'Shingles...' So the nurse gave Bubba a blood test, a blood pressure test, an electrocardiogram, and told Bubba to take off all his clothes and wait for the doctor.
An hour later the doctor came in and found Bubba sitting patiently in the nude and asked Bubba what he had.
Bubba said, 'Shingles.' The doctor asked, 'Where?'
Bubba said, 'Outside on the truck. Where do you want me to unload 'em??'
Declaration To Annex The British Isles to the USA
July 6, 2017
To the imperialist British colonizers.
In the light of your indecision over joining a common European Currency, your dissatisfaction with the European Union, your bickering with European Governments and the fact that you already almost speak our language and refuse to speak any other European languages, you are to be annexed as a State of America. Your state code will be GB. Zip codes will be assigned to replace your old postal districts. The state capital will be Stratford-upon-Avon which is a lot prettier than London. Princess Diana will be declared a saint. You have already assimilated so much American culture that you are unlikely to notice the transition. To aid in the assimilation, the following rules are introduced with immediate effect:
1. Look up 'aluminum' in any good American Dictionary. Check the spelling and pronunciation guide. We discovered it, we named it, you are mispronouncing it. Learn to live with it. You are, of course welcome to your idiosyncratic and illogical place-names such as Edinburgh, if you wanted it pronounced 'Eddinburra' you have spelled it that way in the first place. You will quit using words such as 'fortnight'. The correct term is 'a two week period'. You will learn words such as 'credenza', 'intern' and 'chad'.
2. There is no such thing as 'UK English'. UK English is the relic of a defunct colonialist power which attempted to impose British English linguistic superiority on a nation which has a higher number of English speakers.
3. Your film-makers should learn to distinguish the American and Canadian accents. American accents are not limited to redneck drawls or New York accents. Mainland Americans have more than enough accents to cope with in our own country, so all British dramas will now bear subtitles, especially those made in impenetrable dialects such as Scottish, Scouse or Geordie. To make life easier for mainland America, all British films and TV programs must use American vocabulary and accents; Scotch characters will wear plaid, Irish characters will have shamrocks on them, Welsh characters will not be used since we don't have Welsh Americans, and English characters will wear bowler hats and pinstripes.
4. The British film industry will no longer portray all Americans as cowboys, rednecks, trailer trash or Beverly Hills billionaires. Hollywood will continue to use 'Mockney' and 'Posh' British accents as this makes it easier for viewers to identify which characters are British. You can have Hugh Grant back. He's a lousy actor and we don't want him either. All British films will be made in Hollywood where the weather and scenery are better. Your film industry is already unable to make a halfway-decent film which doesn't contain a American in the starring role. All American characters should be 'good guys'.
5. You will learn your new national anthem 'The Star Spangled Banner'. It shall be sung every morning at kindergarten, high school, university and your places of work. Your Union Flag will be hung up any damn way we wish so stop bitching about it being upside down. If there was meant to be a right way up you should have made it simpler. All Union flags will be replaced by the Stars and Stripes over a 12 month period of time.
6. You should stop playing soccer and rugby. There is no need to have two games, one of which is confusingly like Football and one of which is called football but patently isn't real football. If it doesn't require 45 pounds of padding, it isn't football. You should also stop playing cricket. Americans can't understand the rules. If you insist on playing this game which is only played by former British colonies, you will introduce a simplified scoring system, timeouts, colored strips and cheerleaders to make it more interesting. Any match which takes longer than 90 minutes will be declared a draw.
7. In films, as in real life, we decide who the bad guys are. The bad guys are those guys who don't do as we tell them. They are also the guys who attract the biggest audiences into movie theaters. You will cease using the word 'cinema'. They are 'movie theaters'. The snippets of forthcoming films are not 'trailers' they are 'teasers'.
8. November 5th is no longer a day for fireworks. July 4th is the appropriate fireworks festival. If you want a big fireworks party on November 5th, we will help you to blow up your Houses of Parliament. You won't be needing them any longer; Disneyland London will be situated there. Hunting with packs of dogs is also banned. Instead, you will go hunting with a pick-up truck, some six-packs of beer, two coon hounds and enough guns and ammo to equip a private militia. There is also no such activity as 'caravanning'. It is properly called 'camping'. The thing boy scouts do with tents and bedrolls is called 'tenting'.
9. Roundabouts will be banned. What is the point of turning left in order to turn right? They are confusing to Americans and are death traps. You will start driving on the right with immediate effect. Most of the world drives on the right already. You will be allowed to turn right on a red light if safe to do so though you must check local county legislation as this is not permitted in all areas.
10. Those things which you call chips are cholesterol-soaked abominations. You will start to eat fries - light fluffy potato in crisp coating. If you want to eat British-style fried potato sticks you will need a certificate from your doctor and good medical insurance. Beer is to be served cold. The warm, flat drink you call beer is properly termed 'ale' and the FDA have determined it to be unfit for human consumption. You will also learn the difference between crackers, cookies and biscuits to avoid causing unnecessary confusion to mainland Americans.
11. All inter-personal communications between family members, even if resident in the same house, must be through a lawyer. It is compulsory to sue somebody at least once per year - be inventive. It is compulsory to have therapy three times each week and to recover false memories of your childhood which allow you to sue your parents and/or your therapist. Therapy will take the place of speaking to family members. You will be given compulsory courses on how to become dysfunctional. Name your children after interesting medical conditions.
12. You will not have guns. In the eyes of Mainland Americans you are wayward children. Children are not permitted to play with firearms unless they have a legitimate reason to do so i.e. they plan to gun down the population of a small town (self-defense) or slaughter every living creature within a mile radius (hunting).
Thank you for your co-operation. You will be assimilated.
Footnote: Resistance is futile. Just ask Hawaii. By the way, Ireland and Scotland should be separate states. They have entirely different cultures and languages from the Norman fops. To avoid supporting third world countries and welfare states (the reason for NOT annexing Mexico), Canada, Australia, New Zealand, should become independent nations. The Falkland Islands should become an 'American Protectorate' like Puerto Rico, Samoa, The Philippines, Guam and other places that are neat to vacation. America should take back Hong Kong immediately.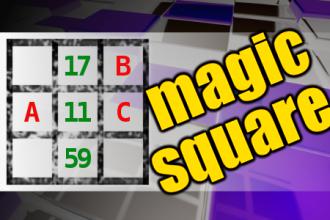 MAGIC SQUARE: Calculate A+B-C
The aim is to place the some numbers from the list (7, 10, 11, 12, 15, 16, 17, 59, 60, 61) into the empty squares and squares marked with A, B an C. Sum of each row and column should be equal. All the numbers of the magic square must be different. Find values for A, B, and C. Solution is A+B-C.
Why Did Baby Jesus Go to Jerusalem?
A catechist asked her class why Joseph and Mary took Jesus with them to Jerusalem.A small child replied, "They couldn't get a baby-sitter?"
Do Your Boobs?
One day this guy named Dan was sitting in class next to a really hot girl named Jen. He was a dork but had a huge chrush on Jen. Dan wanted to tell her about his chrush on her but didn't know how to. So he said "Are your boobs so hard that when you touch them your fingers start bleeding?"
Jen was totally grossed out and said in reply "I guess you've never seen boobs before" **The End**
#joke
First hand job
A guy has been asking the prettiest girl in town for a date and finally she agrees to go out with him.
He takes her to a nice restaurant and buys her a fancy dinner with expensive wine.
On the way home, he pulls over to the side of the road in a secluded spot.
They start necking and he's getting pretty excited. He starts to reach under her skirt and she stops him, saying she's a virgin and wants to stay that way.
"Well, okay," he says, "how about a blow job?"
"Yuck!" she screams. "I'm not putting that thing in my mouth!"
He says, "Well, then, how about a hand job?"
"I've never done that," she says. "What do I have to do?"
"Well," he answers, "remember when you were a kid and you used to shake up a Coke bottle and spray your brother with it?"
She nods.
"Well, it's just like that."
So, he pulls it out and she grabs hold of it and starts shaking it.
A few seconds later, his head flops back on the headrest, his eyes close, snot starts to run out of his nose, wax blows out of his ear and he screams out in pain.
"What's wrong?!" she cries out.
"Take your thumb off the end!!"
#joke
Hamburger
A man walks into a hamburger shop and orders a regular meal. Later, the waitress brings his meal to him. He takes a bite out of it, and notices there's a small hair in the hamburger. He begins yelling frantically at the waitress, "Waitress, there's a hair in my hamburger! I demand to see what is going on!"
So, the waitress takes him back where the cook is and to his demise, he sees the cook take the meat patty and flatten it under his arm pit. He says, "That's disgusting!"
Then the waitress says, "You think that's disgusting you should see him make donuts."
#joke
Chuck Norris' favourite cut of...
Chuck Norris' favourite cut of meat is the roundhouse.
Ben Bailey: Slow People in the Subway
The thing I hate the most about the subway is every time I get off the train and Im trying to get out of the station and back up to the street, I end up getting stuck behind these really slow people on the stairs. It happens to me every time I take the subway. Its been happening to me for years. And my question is this: how the hell do they keep beating me to the stairway?
#joke