Overheard ….. 2 Women Talking
One of my friends is pregnant. And I'm really excited.
Not for the baby but because she's one of my skinniest friends.
Waiter: I have stewed liver, b
Waiter: I have stewed liver, boiled tongue and frog's leg.
Customer: Don't tell me your problems. Give me the menu.

Buying A Chainsaw
This fellow is looking to buy a saw to cut down some trees in his back yard. He goes to a chainsaw shop and asks about various chainsaws. The dealer tells him, "Look, I have a lot of models, but why don't you save yourself a lot of time and aggravation and get the top-of-the-line model. This chainsaw will cut a hundred cords of wood for you in one day."
So, the man takes the chainsaw home and begins working on the trees. After cutting for several hours and only cutting two cords, he decides to quit. He thinks there is something wrong with the chainsaw. "How can I cut for hours and only cut two cords?" the man asks himself. "I will begin first thing in the morning and cut all day," the man tells himself. So, the next morning the man gets up at 4 am in the morning and cuts and cuts, and cuts till nightfall, and still he only manages to cut five cords.
The man is convinced this is a bad saw. "The dealer told me it would cut one hundred cords of wood in a day, no problem. I will take this saw back to the dealer," the man says to himself.
The very next day the man brings the saw back to the dealer and explains the problem. The dealer, baffled by the man's claim, removes the chainsaw from the case. The dealer says, "Hmm, it looks fine."
Then the dealer starts the chainsaw, to which the man responds, "What's that noise?
#joke
"Pay for irony is wry
"Pay for irony is wry bread."
What's the best time to
What's the best time to practise your arithmetic? A: Summer.
Quiet in church...
A Sunday school teacher asked her little children, as they were on the way to church service,
"And why is it necessary to be quiet in church?"
One bright little girl replied, "Because people are sleeping."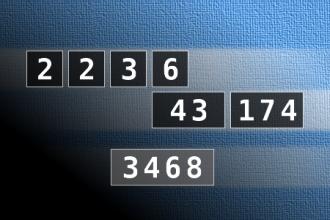 Calculate the number 3468
NUMBERMANIA: Calculate the number 3468 using numbers [2, 2, 3, 6, 43, 174] and basic arithmetic operations (+, -, *, /). Each of the numbers can be used only once.
Hari Kondabolu: Mosh Pit at a Weezer Concert
A mosh pit at a Weezer concert is different from other mosh pits. A mosh pit at a Weezer concert is basically nerds bumping into each other and apologizing.
A girl from New York and a gir...
A girl from New York and a girl from the west coast were seated side byside on an airplane.
The girl from New York, being friendly and all said, "So, where ya from?"
The west coast girl said, "From a place where they know better than touse a preposition at the end of a sentence."
The girl from New York, sat quietly for a few moments and then replied:
"So, where ya from.... bitch?"
#joke
Jimmy Carr: Why Men Use Viagra
The reason old men use Viagra is not because theyre impotent. Its because old women are so very ugly.
Neverland search
Police raided the Neverland ranch of Michael Jackson again.
He was reported to be so upset, he dangled himself over a balcony.
Demetri Martin: Rock, Paper, Scissors
I like rock, paper, scissors -- two-thirds. Rock breaks scissors: these scissors are bent, theyre destroyed, I cant cut stuff -- I lose. Scissor cuts paper: this is strips, this is not even paper, this can take me forever to put this back together -- you got me. Paper covers rock: rock is fine, no structural damage to rock. Rock can break through paper at any point, just say the word. Paper sucks. It should be rock, dynamite with a cuttable wick, scissors.
#joke
The Laws Of Golf
LAW 1: No matter how bad your last shot was, the worst is yet to come. This law does not expire on the 18th hole, since it has the supernatural tendency to extend over the course of a tournament, a summer and, eventually, a lifetime.
LAW 2: Your best round of golf will be followed almost immediately by your worst round ever. The probability of the latter increases with the number of people you tell about the former.
LAW 3: Brand new golf balls are water-magnetic. Though this cannot be proven in the lab, it is a known fact that the more expensive the golf ball, the greater its attraction to water.
LAW 4: Golf balls never bounce off of trees back into play. If one does, the tree is breaking a law of the universe and should be cut down.
LAW 5: No matter what causes a golfer to muff a shot, all his playing partners must solemnly chant "You looked up," or invoke the wrath of the universe.
LAW 6: The higher a golfer's handicap, the more qualified he deems himself as an instructor.
LAW 7: Every par-three hole in the world has a secret desire to humiliate golfers. The shorter the hole, the greater its desire.
LAW 8: Topping a 3-iron is the most painful torture known to man.
LAW 9: Palm trees eat golf balls.
LAW 10: Sand is alive. If it isn't, how do you explain the way it works against you?
LAW 11: Golf carts always run out of juice at the farthest point from the clubhouse.
LAW 12: A golfer hitting into your group will always be bigger than anyone in your group. Likewise, a group you accidentally hit into will consist of a football player, a professional wrestler, a convicted murderer and an IRS agent -- or some similar combination.
LAW 13: All 3-woods are demon-possessed.
LAW 14: Golf balls from the same "sleeve" tend to follow one another, particularly out of bounds or into the water (See Law three).
LAW 15: A severe slice is a thing of awesome power and beauty.
LAW 16: "Nice lag" can usually be translated to "lousy putt." Similarly, "tough break" can usually be translated "way to miss an easy one, sucker."
LAW 17: The person you would most hate to lose to will always be the one who beats you.
LAW 18: The last three holes of a round will automatically adjust your score to what it really should be.
LAW 19: Golf should be given up at least twice per month.
LAW 20: All vows taken on a golf course shall be valid only until the sunset.
#joke
When Chuck Norris was a child,...
When Chuck Norris was a child, he made his mother finish his vegetables.