Thank You, UPS
After my wife landed a coveted job offer from UPS, we went out of town to celebrate.
While on our trip, she was contacted by the company's Human Resources department with an urgent request to complete and send back her tax forms.
'No problem,' she said. 'I'll FedEx them right over.'
#joke
A tough U.S. Marine sergeant g
A tough U.S. Marine sergeant got word that the father of one of his men had passed away. At roll call he snapped, "Hey, Smith, your father died!" The Marine fainted on the spot.
A week later the sister of another Marine died, and the sergeant once again called his men together. "Jones," he yelled out, "your sister died last night!" The Marine burst into tears.
Finally, word got back to the general about the sergeant's insensitivity, and he was called on the carpet and told to be less direct and gruff when one of his men suffered a tragedy.
A week later the sergeant was notified that Private Miller had just lost his mother.
Remembering what the general had said, he lined up his troop and ordered "Everyone whose mother is alive, please take one step forward - not so fast, Miller!"
#joke
"Something about subt
"Something about subtraction just doesn't add up."
Dicaprio looks stupid in ro
Dicaprio looks stupid in Leotards.
Wish granted???
A couple had been married for 35 years, and the pair was also celebrating their 60th birthdays. During the celebration, a fairy godmother appeared and said that because they had been such a loving couple all those years, she would give them each one wish.
The wife said she wanted to travel around the world. The fairy godmother waved her magic wand and BOOM! The wife had the tickets in her hand.
Then it was the husband's turn. He paused for a moment, then said boldly, "Well, I'd like to have a wife 30 years younger than I." The fairy godmother picked up her wand and BOOM! He was now 90.
#joke
Business One-liners 05
A memorandum is written not to inform the reader, but to protect the writer.
A pat on the back is only a few inches from a kick in the pants.
A pipe gives a wise man time to think and a fool something to put in his mouth.
A penny saved has not been spent.
A penny saved is an economic breakthrough.
A penny saved is ridiculous.
A problem cannot be solved using the same level of thinking that created it. (In other words, if you screw it up, you can't fix it.)
A real person has two reasons for doing anything...a good reason and the real reason.
A short cut is the longest distance between two points.
A short line outside a building becomes a long line inside.
#joke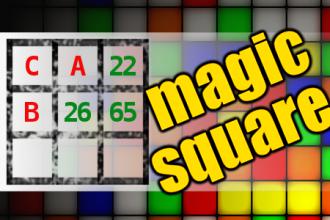 MAGIC SQUARE: Calculate A+B*C
The aim is to place the some numbers from the list (6, 7, 10, 22, 23, 26, 45, 64, 65, 68) into the empty squares and squares marked with A, B an C. Sum of each row and column should be equal. All the numbers of the magic square must be different. Find values for A, B, and C. Solution is A+B*C.
Al Madrigal: Sketchy Waterfall
Near my house in Los Angeles is a waterfall. I love to take the wife and kids, but it's also near a sketchy neighborhood. So there's a lot of gang members that hang out at the waterfall. It's like somebody took an Ansel Adams photo and then put a Cypress Hill video inside it.
1. If it is all the same to yo
1. If it is all the same to you I won't be coming in to work. The voices told me to clean all the guns today.
2. When I got up this morning I took two Ex-Lax in addition to my Prozac. I can't get off the john, but I feel good about it.
3. I set half the clocks in my house ahead an hour and the other half back an hour Saturday and spent 18 hours in some kind of space-time continuum loop, reliving Sunday (right up until the explosion). I was able to exit the loop only by reversing the polarity of the power source exactly e*log(pi) clocks in the house while simultaneously rapping my dog on the snout with a rolled up Times. Accordingly, I will be in late, or early.
4. My stigmata's acting up.
5. I can't come in to work today because I'll be stalking my previous boss, who fired me for not showing up for work. OK?
6. I have a rare case of 48-hour projectile leprosy, but I know we have that deadline to meet...
7. I am stuck in the blood pressure machine down at the Food Giant.
8. Yes, I seem to have contracted some attention-deficit disorder and, hey, how about them Dodgers, huh? So, I won't be able to, yes, could I help you? No, no, I'll be sticking with Sprint, but thank you for calling.
9. Constipation has made me a walking time bomb.
10. I just found out that I was switched at birth. Legally, I shouldn't come to work knowing my employee records may now contain false information.
11. The psychiatrist said it was an excellent session. He even gave me this jaw restraint so I won't bite things when I am startled.
12. The dog ate my car keys. We're going to hitchhike to the vet.
13. I prefer to remain an enigma.
14. My step-mother has come back as one of the Undead and we must track her to her coffin to drive a stake through her heart and give her eternal peace. One day should do it.
15. I can't come to work today because the EPA has determined that my house is completely surrounded by wetlands and I have to arrange for helicopter transportation.
16. I am converting my calendar from Julian to Gregorian.
17. I am extremely sensitive to a rise in the interest rates.
18. I refuse to travel to my jobuntil there is a commuter tax. I insist on paying my fair share.
#joke
Rachel Feinstein: Whore Friends
Were at this bar, and Im talking to this guy. Hes kind of leaning in like maybe hes intrigued by me, or something. All of a sudden, I look up and I notice, out of the corner of my eye, my friend that I came there with is doing some sort of a titty dance on the bar, right above us. And you cant really compete with that. Cause I think that every man hopes and prays that a titty jig is just going to erupt at any moment in their lives.
#joke
Church Cake!
Have you ever told a white lie? You are going to love this — especially all the ladies who bake for church events
Alice was to bake a cake for the church ladies' group bake sale, but she forgot to do it until the last minute.
She baked an angel food cake and when she took it from the oven, the center had dropped flat.
She said, "Oh dear, there's no time to bake another cake."
So, she looked around the house for something to build up the center of the cake.
Alice found it in the bathroom … a roll of toilet paper.
She plunked it in and covered it with icing.
The finished product looked beautiful, so she rushed it to the church. Before she left the house, Alice had given her daughter some money and specific instructions to be at the bake sale the minute it opened, and to buy that cake and bring it home.
When the daughter arrived at the sale, the attractive cake had already been sold.
Alice was beside herself.
The next day, Alice was invited to a friend's home where two tables of bridge were to be played that afternoon.
After the game, a fancy lunch was served, and to top it off, the cake in question was presented for dessert.
Alice saw the cake, she started to get out of her chair to rush into the kitchen to tell her hostess all about it, but before she could get to her feet, one of the other ladies said, "What a beautiful cake!"
Alice sat back in her chair when she heard the hostess (who was a prominent church member) say,
"Thank you, I baked it myself."
#joke
Answering Machine Message 97
"Camptown Races":
I can't come to the telephone; doo-dah, doo-dah.
Leave your message when you hear the tone; oh, de doo-dah day.
Might be gone all night... Might be gone all day...
So leave a message when you hear the tone.
I'll call you back someday...
#joke
How good was I?
A guy meets a girl out at a nightclub and she invites him back to her place for the night, her parents are out of town and this is the perfect opportunity.
They get back to her house and they go into her bedroom, and when the guy walks in the door he notices all these fluffy toys.
There's hundreds of them, fluffy toys on top of the wardrobe, fluffy toys on the bookshelf and window sill, there's more on the floor, and of course fluffy toys all over the bed.
Later, after they've had sex, he turns to her and asks, "So, how was I?"
She says, "Well, you can take anything from the bottom shelf."
#joke
New Secretary
The real estate boss got a hot new secretary. Afraid of sexual harrassment issues he held himself off for a week, but finally overcome with lust, he decided to put some moves on her. But within a few weeks, he is feeling displeased at the way she is working, not caring, coming to work late, and so on. So, he pulls her aside, and has a little talk with her. "Listen, baby, we may have gone to bed together a few times, but who said you could start coming in late and slacking off?" Looking him in the eyes, she replied, "My lawyer!"