And The 3 Year Old Said
A friend hosted a dinner party for people from work and everyone was encouraged to bring their children. All during the sit-down dinner one co-worker's three-year-old girl stared at the man sitting across from her. The girl could hardly eat her food from staring.
The man checked his tie, felt his face for food, patted his hair in place, but nothing stopped her from staring at him. He tried his best to just ignore her but finally it was too much for him. He asked her, 'Excuse me little girl, but why do you keep staring at me?'
Everyone at the table had noticed her behavior, and the table went quiet for her response. The little girl said, 'I just want to see how you drink like a fish.'
#joke
You've all heard of the Air F...
You've all heard of the Air Force's ultra-high-security, super-secret base in Nevada, known simply as "Area 51"?
Well, late one afternoon, the Air Force folks out at Area 51 were very surprised to see a Cessna landing at their "secret" base. They immediately impounded the aircraft and hauled the pilot into an interrogation room.
The pilot's story was that he took off from Las Vegas, got lost, and spotted the Base just as he was about to run out of fuel. The Air Force started a full FBI background check on the pilot and held him overnight during the investigation.
By the next day, they were finally convinced that the pilot really was lost and wasn't a spy. They gassed up his airplane, gave him a terrifying "you-did-not-see-a-base" briefing, complete with threats of spending the rest of his life in prison, told him Las Vegas was that-a-way on such-and-such a heading, and sent him on his way.
The next day, to the total disbelief of the Air Force, the same Cessna showed up again. Once again, the MP's surrounded the plane ... only this time there were two people in the plane.
The same pilot jumped out and said, "Do anything you want to me, but my wife is in the plane and you have to tell her where I was last night!"
#joke
"When I took first pl
"When I took first place in the sewing competition, I thought that I had better quilt while I was ahead."
I can't stand my spouse&
I can't stand my spouse's family and she can't stand mine. We're kin dread souls.
A mother and her young son wer...
A mother and her young son were flying Southwest Airlines from Kansas City to Chicago. The son turned from the window to his mother and asked, "If big dogs have baby dogs and big cats have baby cats, why don't big planes have baby planes?"
The mother said, "Well, maybe that's something you could ask the stewardess."
So the boy asked the stewardess, "If big dogs have baby dogs and big cats have baby cats, why don't big planes have baby planes?"
The stewardess responded, "Did your mother tell you to ask me?"
The boy admitted that this was the case. "Well, then, tell your mother that there are no baby planes because Southwest always pulls out on time. You can ask your mother to explain it to you."
#joke
How many children...
Some newly married friends were visiting us when the topic of children came up. The bride said she wanted three children, while the young husband said two would be enough for him.
They discussed this discrepancy for a few minutes until the husband thought he`d put an end to things by saying boldly, "After our second child, I'll just have a vasectomy."
Without a moments hesitation, the bride retorted, "Well, I hope you'll love the third one as if it's your own."
#joke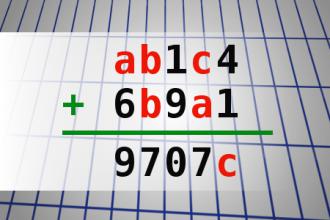 Find number abc
If ab1c4 + 6b9a1 = 9707c find number abc. Multiple solutions may exist.
1000 Points to Get Into Heaven
A man dies and goes to heaven when Peter meets him at the Pearly Gates. Peter says, "You need 1000 points to make it into heaven. You tell me all of the good things you've done, and I give you a certain number of points for each item. When you reach 1000 points, you get in.""Okay," the man says, "I was happily married to the same woman for fifty years and never cheated on her, not even in my mind.""That's wonderful," says Peter, "that's worth two points!""Two points?" he says. "Well, I attended church all my life and gave my ten percent tithe faithfully.""Terrific!" says Peter. "That's definitely worth a point.""One point? My goodness! Well, what about this: I started a soup kitchen in my city and worked in a shelter for the homeless?""Fantastic, that's good for two more points," he says."TWO POINTS!" the man cries. "At this rate the only way I can get into heaven is by the grace of God!""Now that's what we're looking for! Come on in!"From "
The Book of Church Jokes
," published by
Barbour Publishing, Inc.
, Uhrichsville, Ohio. Copyright 2009. Used by permission of Barbour Publishing, Inc.
#joke
Answering Machine Message 260

Now I lay me down to sleep;
Leave a message at the beep.
If I die before I wake,
Remember to erase the tape.


Donald Glover: Serious Black Candidate
When he was coming up, people were like, We have a serious black candidate for president. This is crazy. We have a serious black candidate. And then when he won, they were like, Our first multi-racial president. And I was like, Thats not fair. I mean, lets set the record straight. If you went outside tonight after this show and Barack Obama was stealing your car, you wouldnt yell, Hey, someone stop that mixed guy!
#joke
Pee in Church
A mother took her little boy to church.
While in church the little boy said, "Mommy, I have to pee."
The mother said to the little boy, "It's not appropriate to say the word 'pee' in church. So, from now on whenever you have to 'pee' just tell me that you have to 'whisper'."
The following Sunday, the little boy went to church with his father and during the service said to his father, "Daddy, I have to whisper."
The father looked at him and said, "Okay, why don't you whisper in my ear."
Submitted by Calamjo
Edited by Yisman
#joke
Lost at Sea?
Yossi and Janine, an elderly Jewish couple, are sitting together on an aeroplane flying to the Far East. Suddenly, over the public address system, the Captain announces, "Ladies and Gentlemen, I am afraid I have some very bad news. Our engines have ceased functioning, and this plane will be going down in a few minutes time. The good news is that I can see an island below us that should be able to accommodate our landing. The bad news is that this island appears to be uncharted - I am unable to find it on our maps. So the odds are that we will never be rescued and will have to live on the island for a very long time, if not for the rest of our lives."Yossi turns to Janine and asks, "Janine, dear, did we turn off the oven?" and Janine replies, "Of course."
"Janine, are our life insurance policies paid up?"
"Of course."
"Janine, did we pay our pledge for the synagogue appeal?"
"Oh my God, I forgot to send off the cheque."
"Thank Heaven! They'll find us for sure!"
#joke
Number Jokes
A man is sent to prison for the first time. At night, the lights in the cell block are turned off, and his cellmate goes over to the bars and yells, "Number twelve!" The whole cell block breaks out laughing. A few minutes later, somebody else in the cell block yells, "Number four!" Again, the whole cell block breaks out laughing.
The new guy asks his cellmate what's going on. "Well," says the older prisoner, "we've all been in this here prison for so long, we all know the same jokes. So we just yell out the number instead of saying the whole joke."
So the new guy walks up to the bars and yells, "Number twenty-nine!" This time the whole cell block rocks with the loudest laughter, prisoners rolling on the floor laughing hysterically.
When the guffaws die down, the bewildered new guy turns to the older prisoner and asks, "How come you guys were laughing so hard this time?"
"Oh," says the older man wiping tears from his eyes, "we'd never heard that one before."
#joke
1-iron
What should you do if your round of golf is interrupted by a lightning storm?
Walk around holding your 1-iron above your head, because even God can't hit a 1-iron!
Submitted by Calamjo
Edited by Tantilazing
Join us on WhatsApp