Jokes of the day for Friday, 11 August 2017
Funny jokes, funny photo and funny video collected from the internet on Friday, 11 August 2017
A tourist in Vienna is going t
A tourist in Vienna is going through a graveyard and all of a sudden he hears some music. No one is around, so he starts searching for the source. He finally locates the origin and finds it is coming from a grave with a headstone that reads "Ludwig van Beethoven, 1770-1827". Then he realizes that the music is the Ninth Symphony and it is being played backward!
Puzzled, he leaves the graveyard and persuades a friend to return with him. By the time they arrive back at the grave, the music has changed. This time it is the Seventh Symphony, but like the previous piece, it is being played backward.
Curious, the men agree to consult a music scholar. When they return with the expert, the Fifth Symphony is playing, again backward. The expert notices that the symphonies are being played in the reverse order in which they were composed, the 9th, then the 7th, then the 5th.
By the next day the word has spread and a crowd has gathered around the grave. They are all listening to the Second Symphony being played backward. Just then the graveyard's caretaker ambles up to the group.
Someone in the group asks him if he has an explanation for the music.
"Don't you get it?" the caretaker says incredulously. "He's decomposing."
#joke
"The organic herb far
"The organic herb farmer was accused of dilly dallying around by his wife Rosemary, when he spent too much thyme trying to become a sage."
Consuming tree foliage can
Consuming tree foliage can a leafy ate digestive problems.
Google Ads
A woman's perogative...
Little Mary was at her first wedding and gaped at the entire ceremony.
When it was over, she asked her mother, "Why did the lady change her mind?"
Her mother replied, "What do you mean?"
"Well, she went down the aisle with one man, and came back with another one."
#joke
Airlines Running Operating Systems
Here are some basic descriptions of what may happen if airplanes had different operating systems running them.
DOS: Everybody pushes it till it glides, then jumps on and lets it coast till it skids, then jumps off, pushes, jumps back on, etc.
DOS with QEMM: Same as DOS, but with more leg room for pushing.
Macintosh: All the flight attendants, captains and baggage handlers look the same, act the same and talk the same. Every time you ask a question, you are told you don't need to know, don't want to know and everything will be done for you without your knowing, so just shut up.
OS/2: To get on board, you have to have your ticket stamped 10 different times by standing in 10 different lines. Then you fill out a form asking how you want your seating arranged--with the look and feel of an ocean liner, a passenger train or a bus. If you get on board and off the ground, you will have a wonderful trip, except when the rudder and flaps freeze, in which case you have time to say your prayers before you crash.
Windows: Colorful airport terminal, friendly flight attendants, easy access to a plane, and an uneventful takeoff. Then, all in a sudden, boom! You blow up without any warning whatsoever.
NT: The terminal and flight attendants all look like those the Windows plane uses, but the process of checking in and going through security is a nightmare. Once aboard, those passengers with first class tickets can go anywhere they want and arrive in half the time, while the vast majority of passengers with coach tickets can't even get aboard.
Unix: Everyone brings one piece of the plane. Then they go on the runway and piece it together, all the while arguing about what kind of plane they're building.
CAIRO: The airplane is distributed among 47 different hangars in 13 airports scattered over 8 states, 4 Canadian provinces, and a remote mountain hideaway in Nicaragua. But you don't need to know where the airplane is or who it belongs to in order to fly it. Actually, you don't fly the airplane itself; you fly a simulation that behaves just like the real thing except that you don't go anywhere. But that's okay, because when the world is at your fingertips you never need to leave home.
#joke
Behavior Modification Re-enforcers
The HMO account manager noticed that nearly every bill from a certain pediatrician's office included the line item "Behavior modification re-enforcers".
Alarm that the pediatrician was engaging in some unapproved, experimental psychological treatment, she called the physician's office to inquire,
"What on earth are behavior modification re-enforcers?"
"Lollipops," was the reply.
#joke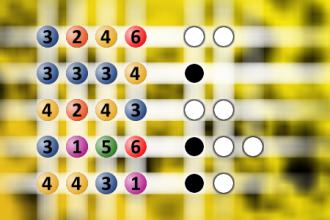 Which is a winning combination of digits?
The computer chose a secret code (sequence of 4 digits from 1 to 6). Your goal is to find that code. Black circles indicate the number of hits on the right spot. White circles indicate the number of hits on the wrong spot.
While attending a Marriage Sem
While attending a Marriage Seminar dealing with communication,
Tom and his wife Grace listened to the instructor,
'It is essential that husbands and wives know each other's likes and dislikes.'
He addressed the man, 'Can you name your wife's favorite flower?'
Tom leaned over, touched his wife's arm gently and whispered, 'It's Pillsbury, isn't it?
#joke
A father asked his little...
A father asked his little boy if he knew how a person gets saved."We'll be saved by going to our church every Sunday," the boy said without hesitation.His father explained that going to their church each week would not save them."Well, then, we better find another church!" replied the boy.
#joke
On a tropical island
On a beautiful deserted island in the middle of nowhere, the following people are stranded:
Two Italian men and one Italian woman
Two French men and one French woman
Two German men and one German woman
Two Greek men and one Greek woman
Two English men and one English woman
Two Polish men and one Polish woman
Two Japanese men and one Japanese woman
Two American men and one American woman
Two Australian men and one Australian woman
Two New Zealand men and one New Zealand woman
Two Irish men and one Irish woman
One month later the following things have occurred:
One Italian man killed the other Italian man for the Italian woman.
The two French men and the French woman are living happily together having loads of sex.
The two German men have a strict weekly schedule of when they alternate with the German woman.
The two Greek men are sleeping with each other and the Greek woman is cleaning and cooking for them.
The two English men are waiting for someone to introduce them to the English woman.
The two Polish men took a long look at the endless ocean and one look at the Polish woman and they started swimming.
The two American men are contemplating the virtues of suicide, while the American woman keeps on bitching about her body being her own, the true nature of feminism, how she can do everything that they can do, about the necessity of fulfillment, the equal division of household chores, how her last boyfriend
respected her opinion and treated her much nicer and how her relationship with her mother is improving - but at least the taxes are low and it's not raining.
The two Japanese men have faxed Tokyo and are waiting for further instructions.
The two Australian men beat each other senseless for the Australian woman, who is checking out all the other men after calling them both 'bloody wankers'.
Both the New Zealand men are searching the island for sheep.
The Irish began by dividing the island into North and South and by setting up a distillery. They do not remember if sex is in the picture because it gets sort of foggy after the first few bottles of coconut whisky, but they are satisfied in that at least the English are not getting any.
#joke

A cocky State Highways em...
A cocky State Highways employee stopped at a farm and talked with an old farmer. He told the farmer, "I need to inspect your farm for a possible new road."
The old farmer said, "OK, but don't go in that field." The Highways employee said, "I have the authority of the State Government to go where I want. See this card? I am allowed to go wherever I wish on farm land."
So the old farmer went about his farm chores.
Later, he heard loud screams and saw the State Highways employee running for the fence and close behind was the farmer's prize bull. The bull was madder than a nest full of hornets and the bull was gaining on the employee at every step!!
The old farmer called out, "Show him your card!!"
#joke
Brendon Walsh: Bathroom Break
Ever been at your job and you get so bored and sick of doing it that you just go to the bathroom to hang out? You dont even need to go. You just want a change of scenery for a little bit.
Walrus and Tupperwar
What do a walrus and Tupperware have in common? They both like a tight seal.