A man is talking to his best f
A man is talking to his best friend about married life.
"You know," he says, "I really trust my wife, and I think she has always been faithful to me. But there's always that doubt."
His friend says, "Yeah, I know what you mean."
A couple of weeks later the man has to go out of town on business. Before he goes, he gets together with his friend. "While I'm away, could you do me a favor? Could you watch my house and see if there is anything fishy going on? I mean, I trust my wife but there's always that doubt."
The friend agrees to help out, and the man leaves town. Two weeks later he comes back and meets his friend.
"So did anything happen?"
"I have some bad news for you," says the friend.
"The day after you left I saw a strange car pull up in front of your house. The horn honked and your wife ran out and got into the car and they drove away. Later, after dark, the car came back. I saw your wife and a strange man get out. They went into the house and I saw a light go on, so I ran over and looked in the window. Your wife was kissing the man. Then he took off his shirt. Then she took off her blouse. Then they turned off the light."
"Then what happened?" says the man.
"I don't know. It was too dark to see."
"Damn, you see what I mean? There's always that doubt."
#joke
If you work in demolition, you deserve a raze.
Life choices...
An older man was married to a younger woman. After several years of a very happy marriage, he had a heart attack. The doctor advised him that in order to prolong his life, they should cut out sex.
He and his wife discussed the matter and decided that he should sleep in the family room downstairs to save them both from temptation.
One night, after several weeks of this, he decided that life without sex wasn't worth living. So he headed upstairs. He met his wife on the staircase and said, "I was coming to die."
She laughed and replied, "I was just coming down to kill you!"
Rookie Is On The Job
A rookie police officer was out for his first ride in a cruiser with an experienced partner. A call came in telling them to disperse some people who were loitering.
The officers drove to the street and observed a small crowd standing on a corner.
The rookie rolled down his window and said, "Let's get off the corner people."
A few glances, but no one moved, so he barked again, "Let's get off that corner... NOW!"
Intimidated, the group of people began to leave, casting puzzled stares in his direction.
Proud of his first official act, the young policeman turned to his partner and asked, "Well, how did I do?"
Pretty good," chuckled the vet, "especially since this is a bus stop."
Behavior Modification Re-enforcers
The HMO account manager noticed that nearly every bill from a certain pediatrician's office included the line item "Behavior modification re-enforcers".
Alarmed that the pediatrician was engaging in some unapproved, experimental psychological treatment, she called the physician's office to inquire,
"What on earth are behavior modification re-enforcers?"
"Lollipops," was the reply.
#joke
"The organic herb far
"The organic herb farmer was accused of dilly dallying around by his wife Rosemary, when he spent too much thyme trying to become a sage."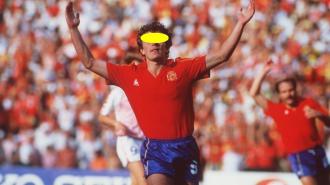 Can you name the athletes by the picture?
Can you name the athletes by the picture?
Chuck Norris got shot. We are ...
Chuck Norris got shot. We are now in the hospital, where the bullet is in critical condition.
Where No Man has gon
Two young brothers, aged 5 and 6, are listening through the keyhole as their older sister is getting it on with her new boyfriend.
They hear her say, "Oh, Jim, you're going where no man has gone before!"
The six-year-old says to his brother, "He must be fucking her up the ass!"
#joke
There used to be a street name...
There used to be a street named after Chuck Norris, but it was changed because nobody crosses Chuck Norris and lives.
Man Talks to God
Man says to God: "God, why did you make woman so beautiful?"
God says: "So you would love her."
"But God," the man says, "why did you make her so dumb?"
God says: "So she would love you."
A major network is planning th...
A major network is planning the show "Survivor" this winter. In response, Texas is planning "Survivor, Texas Style." The contestants will start in Dallas, travel through Waco, Austin, San Antonio, over to Houston, and down to Brownsville. They will proceed up to Del Rio, on to El Paso, then to Midland/Odessa, Lubbock, and Amarillo. From there, they proceed to Abilene, and on to Ft. Worth and back to Dallas.
Each will be driving a pink Volvo with a bumper sticker that reads, "I'm gay, I voted for Al Gore, and I'm here to confiscate your guns."
#joke