2017 Math Class Response
The math teacher saw that Daphne wasn't paying attention in class.
She called on her and said, 'Daphne! What are 7 and 2, and 28 and 44?'
Daphne quickly replied, 'ABC, CBS, HBO and the Cartoon Network!'
Used to being the center of at
Used to being the center of attention, Robbie was a little more than jealous of his new baby sister. The parents sat him down and said that now that she was getting older, the house was too small and they'd have to move.
"It's no use." Robbie said, "She's crawling good now and she'd probably just follow us."
#joke
"Moonshine is distill
"Moonshine is distilled in the still of the night to escape detection?"
I hallucinated that I threw Mr. Poitier off a bridge. I should never have dropped a Sid.
Shingles...
A guy walked into a doctor's office and the receptionist asked him what he had. He said, "shingles." So she took down his name, address, and medical insurance number and told him to have a seat.
Fifteen minutes later a nurse's aide came out and asked him what he had. He said, "shingles." So she took down his height, weight, a complete medical history and told him to wait in the examining room.
A half-hour later, a nurse came in and asked him what he had. He said, "shingles." She gave him a blood test, a blood pressure test, an electrocardiogram, told him to take off all his clothes and wait for the doctor.
An hour later the doctor came in and asked him what he had. He said, "shingles." The doctor said, "Where?" He said, "Outside in the truck. Where do you want them?"
College Writing
A visitor to a certain college paused to admire the new Hemingway Hall that had been built on campus.
"It's a pleasure to see a building named for Ernest Hemingway," he said.
"Actually," said his guide, "it's named for Joshua Hemingway. No relation."
The visitor was astonished. "Was Joshua Hemingway a writer, also?"
"Yes, indeed," said his guide. "He wrote a check."
#joke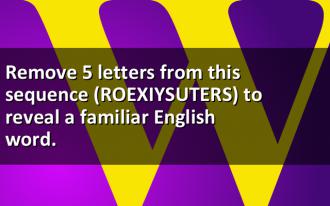 Remove 5 letters from this seq...
Remove 5 letters from this sequence (ROEXIYSUTERS) to reveal a familiar English word.
I am very detail-oreinted.
I am very detail-oreinted.
My intensity and focus are at inordinately high levels, and my ability to complete projects on time is unspeakable.
Thank you for your consideration. Hope to hear from you shorty!
Enclosed is a ruff draft of my resume.
I am sicking and entry-level position.
It's best for employers that I not work with people.
Here are my qualifications for you to overlook.
I am a quick leaner, dependable, and motivated.
If this resume doesn't blow your hat off, then please return it in the enclosed envelope.
My fortune cookie said, "Your next interview will result in a job." And I like your company in particular.
You hold in your hands the resume of a truly outstanding candidate!
I saw your ad on the information highway, and I came to a screeching halt.
Insufficient writing skills, thought processes have slowed down some. If I am not one of the best, I will look for another opportunity.
Please disregard the attached resume—it is terribly out of date.
Seek challenges that test my mind and body, since the two are usually inseparable.
Reason for leaving last job: The owner gave new meaning to the word paranoia. I prefer to elaborate privately.
Previous experience: Self-employed--a fiasco.
Exposure to German for two years, but many words are inappropriate for business.
My experience in horticulture is well-rooted.
Experience: Watered, groomed, and fed the family dog for years.
I am a rabid typist.
Education: College, August 1880 - May 1984.
I have a bachelorette degree in computers.
Excellent memory; strong math aptitude; excellent memory; effective management skills; and very good at math.
Graduated in the top 66% of my class.
Accomplishments: Completed 11 years of high school.
Strengths: Ability to meet deadlines while maintaining composer.
Special skills: Experienced with numerous office machines and can make great lattes.
I worked as a Corporate Lesion.
Special Skills: Speak English.
Served as assistant sore manager.
Reason for leaving last job: Pushed aside so the vice president's girlfriend could steal my job.
Married, eight children. Prefer frequent travel.
Education: B.A. in Loberal Arts.
Objective: To have my skills and ethics challenged on a daily basis
#joke
an explorer in the deepest Ama...
an explorer in the deepest Amazon suddenly finds himself surrounded by a bloodthirsty group of natives. Upon surveying the situation, he says quietly to himself, "Oh God, I'm fucked."
There is a ray of light from heaven and a voice booms out: "No you are NOT fucked. Pick up that stone at your feet and bash in the head of the chief standing in front of you."
So the explorer picks up the stone and proceeds to bash the living shit out of the chief.
As he stands above the lifeless body, breathing heavily and surrounded by 100 natives with a look of shock on their faces, God's voice booms out again: "Okay . . . NOW you're fucked."
#joke
Pete Holmes: The Museum
I dont care about the museum, I only care that people think Im the kind of guy who goes to museums.
Dents
A blonde was driving home after a football game, and got caught in a really bad hailstorm. Her car was covered with dents, so the next day she took it to a repair shop. The shop owner saw that she was a blonde, so he decided to have some fun. He told her just to go home and blow into the tail pipe really hard, and all the dents would pop out. So, the blonde went home, got down on her hands and knees and started blowing into her car's tailpipe. Nothing happened. She blew a little harder, and still nothing happened.
Her roommate, another blonde, came home and said, "What are you doing?"
The first blonde told her how the repairman had instructed her to blow into the tailpipe in order to get all the dents to pop out. Her roommate rolled her eyes and said, ...
"HELLLLO" "You need to roll up the windows"
Chck Norris listens to "Requie...
Chck Norris listens to "Requiem for a Tower" when he eats waffles.
Checking out
A woman rushes into the foyer of a large hotel and sprints up to reception, she hammers on the bell.
Yes, says the receptionist irritably.

Excuse me, says the woman, but I'm in a frightful hurry, could you check me out, please?
The clerk stares at her, looks her up and down.Not bad, he smiles, not bad at all.
#joke