Be rady for Thanksgiving
, check out our latest
Thanksgiving jokes of 2021
on:
Thanksgiving jokes collection
A honeymooning couple had purc
A honeymooning couple had purchased a talking parrot and taken it to their room, where much to the groom's annoyance, the bird kept up a running commentary on their lovemaking.
Finally the groom threw a large towel over the cage and threatened to give the parrot to the zoo if he didn't stop.
The next morning, packing to return home, the couple couldn't close a large suitcase. The groom said, "Darling, you get on top and I'll try."
That didn't work.
Figuring they needed more weight on the lid, she said, "Sweetheart, you get on top and I'll try."
Still no success.
Then he said, "Look. Let's both get on top and try."
At that point the parrot pulled away the towel with his beak and said, "Zoo or no zoo, this I gotta see!"
#joke
Canada's most famous din
Canada's most famous dinosaur? Toronnosaurus Rex.
Drunk test
A police officer pulls over this guy who's been weaving in and out of the lanes. He goes up to the guy's window and says, "Sir, I need you to blow into this breathalyzer tube."
The man says, "Sorry, officer, I can't do that. I am an asthmatic. If I do that, I'll have a really bad asthma attack."
"Okay, fine. I need you to come down to the station to give a blood sample."
"I can't do that either. I am a hemophiliac. If I do that,I'll bleed to death."
"Well, then, we need a urine sample."
"I'm sorry, officer, I can't do that either. I am also a diabetic. If I do that, I'll get really low blood sugar."
"All right, then I need you to come out here and walk this white line."
"I can't do that, officer."
"Why not?"
"Because I'm drunk."
#joke
"Receiving a Nobel Pr
"Receiving a Nobel Prize is, nevertheless, a ringing endorsement."
In California Unleaded gas wen
In California Unleaded gas went to $4.00 a gallon last Thursday.
Sister Mary Ann, who worked for a home health agency, was out making herrounds visiting homebound patients when she ran out of gas. Fortunately, anExxon station was just a block away. She walked to the station to borrow agas can and buy some gas.
The attendant told her that the only gas can he owned had been loaned out,but she could wait until it was returned. Since Sister Mary Ann was on theway to see a patient, she decided not to wait, and walked back to her car.
She looked for something in her car that she could fill with gas, andspotted the bedpan she was taking to the patient. Always resourceful,Sister Mary Ann carried the bedpan to the station, filled it with gasoline,and carried the full bedpan back to her car.
As she was pouring the gas into her tank, two Baptist ladies watched fromacross the street. One of them turned to the other and said, 'If it starts,I'm turning Catholic.'
#joke
There Is A Blind Man Here To See You
A nun in the convent walked into the bathroom where mother superior was taking a shower. "There is a blind man to see you," she says. "Well, if he is a blind man, than it does not matter if I'm in the shower. Send him in."
The blind man walks into the bathroom, and mother superior starts to tell him how much she appreciates him working at the convent for them. She goes on and on and 10 minutes later the man interrupts: "That's nice and all, ma'am, but you can put your clothes on now. Where do you want me to put these blinds?
#joke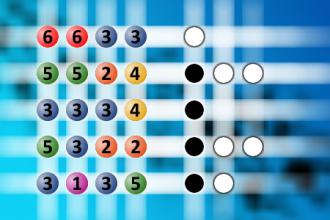 What a winning combination?
The computer chose a secret code (sequence of 4 digits from 1 to 6). Your goal is to find that code. Black circles indicate the number of hits on the right spot. White circles indicate the number of hits on the wrong spot.
Chuck Norris is currently suin...
Chuck Norris is currently suing NBC, claiming Law and Order are trademarked names for his left and right legs.
Lynne Koplitz: Size Zero Roommate
She actually asked me for four grapes once. She counted grapes. What kind of mental patient counts grapes? Do you know anyone who does that? Thats the weirdest thing. I was like, Four grapes... To me grapes arent even a food. Theyre like a palate cleanser. Thats what I eat to get the Big Mac taste out of my mouth.
#joke
Signs You Have a Han
1. You'd rather have a pencil driven through your retina than be exposed to sunlight.
2. Trying to gain control of the situation, you continue to tell your room to "stay still."
3. Looking at yourself in the mirror induces the same reaction as chugging a glass of fresh paint. 4. You're convinced that chirping birds are Satan's pets.
5. You set aside an entire morning to spend some quality time with your toilet.
6. You replaced the traditional praying on your knees with the more feasible praying in a fetal position.
7. The bathroom reminds you of a carnival barker shouting, "Step right up and give it whirl!" 8. All day long your motto is, "Never again."
9. You could purchase a new bike just by recycling the bottles around your bed.
10. Your natural response to "Good morning," is "Shut up!"
#joke
Church Bulletin Bloopers: Weddings and Babies
Irving Benson and Jessie Carter were married on October 24 in the church. So ends a friendship that began in their school days.
The Honeymooners are now having bile studies each Tuesday evening at 7:30 p.m.
The rosebud on the altar this morning is to announce the birth of David Alan Belzer, the sin of Rev. and Mrs. Julius Belzer.
Please join us as we show our support for Amy and Alan who are preparing for the girth of their first child.
Thursday at 5:00 pm, there will be a meeting of the Little Mothers Club. All ladies wishing to be "Little Mothers" will meet with the Pastor in his private study.
(For the group of ladies called Moms Who Care and pray for the children in school). When their meeting was cancelled one week: "There will be no Moms who care this week."
- Joke shared on Beliefnet's Religious Humor page
#joke