A woman, searching for a job,
A woman, searching for a job, inquired about the benefits. The Personnel Manager informed her they had group health and life insurance, but the costs were deducted from the employee's pay.
She said, "My last employer had full health coverage, as well as five years salary for life insurance and a month's sick leave AND they paid the full premiums."
"I can't help but asking madam why you would leave a job with such benefits," the interviewer replied.
The woman shrugged her shoulders and said, "The company went bankrupt."
#joke
Members of the Flat Earth soci
Members of the Flat Earth society would ridicule their opponents as sphere-mongers. 
Hot and cold...
A man walks into a store and he saw a thermos. The clerk walks up to him and asks, "May I help you with anything?"
"Yea! What is that?"
"Why that's a thermos!"
"What's it do?"
"It keeps things hot and it keeps things cold!"
"I'll take it"
The next day the man goes to work carrying this thermos. His co-workers ask him, "What's that!"
"It's a thermos"
"What's it do?"
"It keeps things hot and it keeps things cold!"
"So whatcha got in it?"
"Two popsicles and a cup of coffee."
#joke
Edited Wedding Vows
During the wedding rehearsal, the groom approached the vicar with an unusual offer. 'Look, I'll give you $100 if you'll change the wedding vows. When you get to me and the part where I'm to promise to 'love, honor and obey' and 'forsaking all others, be faithful to her forever,' I'd appreciate it if you'd just leave that part out.'
He passed the clergyman the cash and walked away satisfied. The wedding day arrives, and the bride and groom have moved to that part of the ceremony where the vows are exchanged. When it comes time for the groom's vows, the vicar looks the young man in the eye and says, 'Will you promise to obey her every command and wish, serve her breakfast in bed every morning of your life, as long as you both shall live?'
The groom gulped and looked around, and said in a tiny voice, 'Yes.'
The groom leaned toward the vicar and hissed, 'I thought we had a deal.'
The vicar put the $100 into his hand and whispered back, 'She made me a much better offer.'
#joke
"A harbor master is i
"A harbor master is in charge of berth control."
Funny Q/A about health
Q: I've heard that cardiovascular exercise can prolong life. Is this true?
A: Your heart is only good for so many beats, and that's it. Everything wears out eventually. Speeding up your heart will not make you live longer; that's like saying you can extend the life of your car by driving it faster. Want to live longer? Take a nap.
Q: Should I cut down on meat and eat more fruits and vegetables?
A: You must grasp logistical efficiencies. What does a cow eat? Hay and corn. And what are these? Vegetables. So a steak is nothing more than an efficient mechanism of delivering vegetables to your system. Need grain? Eat chicken. Beef is also a good source of field grass (green leafy vegetable). And a pork chop can give you 100% of your recommended daily allowance of vegetable slop.
Q: Is beer or wine bad for me?
A: Look, it goes to the earlier point about fruits and vegetables. As we all know, scientists divide everything in the world into three categories: animal, mineral, and vegetable. We all know that beer and wine are not animal, and they are not on the periodic table of elements, so that only leaves one thing, right? My advice: Have a burger and a beer and enjoy your liquid vegetables.
Q: How can I calculate my body/fat ratio?
A: Well, if you have a body, and you have body fat, your ratio is one to one. If you have two bodies, your ratio is two to one, etc.
Q: At the gym, a guy asked me to "spot" for him while he did the bench press. What did he mean?
A: "Spotting" for someone means you stand over him while he blows air up your shorts. It's an accepted practice at health clubs; though if you find that it becomes the ONLY reason why you're going in, you probably ought to reevaluate your exercise program.
Q: What are some of the advantages of participating in a regular exercise program?
A: Can't think of a single one, sorry. My philosophy is: No Pain-No Pain.
Q: If I stop smoking, will I live longer?
A: Nope. Smoking is a sign of individual expression and peace of mind. If you stop, you'll probably stress yourself to death in record time.
Q: Aren't fried foods bad for you?
A: You're not listening. Foods are fried these days in vegetable oil. In fact, they're permeated in it. How could getting more vegetables be bad for you?
Q: What's the secret to healthy eating?
A: Thicker gravy.
Q: Will sit-ups help prevent me from getting a little soft around the middle?
A: Definitely not! When you exercise a muscle, it gets bigger. You should only be doing sit-ups if you want a bigger stomach.
I hope this has cleared up any misconceptions you may have had abouttrying to live a longer and healthier life...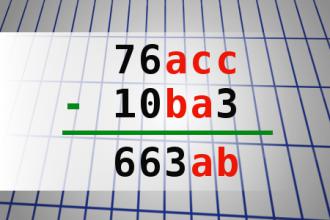 Find number abc
If 76acc - 10ba3 = 663ab find number abc. Multiple solutions may exist.
Humor About Death
OLD WANTS never die, they become needs
OLD WATCHMAKERS never die, they just run out of time
OLD WATCHMAKERS never die, they just unwind
OLD WATCHMAKERS never die, they just wind down
OLD WEATHERMEN never die, they reign forever
OLD WHITE WATER RAFTERS never die, they just get disgorged
OLD WOOL COATS never die, they just become mothballed
OLD WRESTLERS never die, they just lose their grip
OLD YACHTSMEN never die, they just keel over
WALT DISNEY didn't die, he's in suspended animation
There is no conclusive evidence about what happens to old skeptics, -- but their future is doubtful
#joke
Sister in law
I was happy. My girlfriend and I had been dating for over a year, and so we decided to get married.
My parents helped us in every way, my friends encouraged me, and my girlfriend? She was a dream!
There was only one thing bothering me, very much indeed, and that one thing was her younger sister.
My prospective sister-in-law was twenty years of age, wore tight mini skirts and low cut blouses. She would regularly bend down when quite near me and I got many a pleasant view of her underwear. It had to be deliberate. She never did it when she was near anyone else.
One day little sister called and asked me to come over to check the wedding invitations. She was alone when I arrived. She whispered to me that soon I was to be married, and she had feelings and desires for me that she couldn't overcome and didn't really want to overcome.
She told me that she wanted to make love to me just once before I got married and committed my life to her sister. I was in total shock and couldn't say a word.
She said, "I'm going upstairs to my bedroom, and if you want to go ahead with it just come up and get me." I was stunned. I was frozen in shock as I watched her go up the stairs. When she reached the top she pulled down her panties and threw them down the stairs at me.
I stood there for a moment, then turned and went straight to the front door. I opened the door and stepped out of the house. I walked straight towards my car.
My future father-in-law was standing outside. With tears in his eyes he hugged me and said, "We are very happy that you have passed our little test. We couldn't ask for a better man for our daughter. Welcome to the family."
The moral of this story is: Always keep your condoms in your car!
#joke
Chuck Norris once went skydivi...
Chuck Norris once went skydiving, but promised never to do it again. One Grand Canyon is enough.
Kurt Braunohler: Slept Like a Baby
Slept like a baby last night. I woke up every two hours screaming in the dark and then I sh*t my pants and almost died for, like, no reason whatsoever.
Top Ten Questions I Would Have Asked Monica Lewinsky
10. "Are you as completely sick of yourself as the rest of
the planet?"
9. "Technically, I'm President of the Late Show -- is that
anything?"
8. "Can Vernon Jordan help me get my old job back at NBC?"
7. "Could you get Clinton to do something about those weird
Old Navy
commercials?"
6. "Did you ever have sex with the president while he was
talking to me?"
5. "Do you know how much easier you've made my job over the
last 14 months?"
4. "What's this about you possibly running for senator from
New York?"
3. "Where do you see yourself in 10 affairs?"
2. "Who will you be sleeping with in 2000 -- Gore or Bush?"
1. "Did you bring a clip?"
#joke