Please Advise
The School teacher sent home a note with her student.
The note reads, "Your son is an obedient and bright student, but spends too much time talking to girls."
Mother sends a note back the following day, "Please advise a solution. Father has the same problem.'
A boy was assigned a paper on...
A boy was assigned a paper on childbirth and asked his parents, "How was I born?"
"Well honey..." said the slightly prudish parent. "The stork brought you to us."
"Ohh..." said the boy. "Well, how did you and daddy get born?" he asked.
"Oh, your grandparents found us under a rock."
"Well how were grandpa and grandma born?" he persisted.
"Well darling, they were found under a cabbage leaf," said the parent.
Several days later, the boy handed in his paper to the teacher who read with confusion the opening sentence: "This report has been very difficult to write due to the fact that there hasn't been a natural childbirth in my family for three generations."
#joke
"Veterinarians treat
"Veterinarians treat all animals except ducks - that would be quack medicine."
Hungriest sea creature? ron
Hungriest sea creature? Starfish.
Change for a $15 bill
An incompentent counterfeiter spent all day making his funny money. At the end of the day he realizes he spent all his time making $15 bills.
He figures that the only way he's going to get anything from this batch of money, is to find a place where the people aren't too bright and change his phoney money for real cash.
He travels to a small town and walks into a small Mom and Pop grocery store. He goes to the old man behind the counter and asks him, "Do you have change for a $15 bill?"
The old man replies, "I sure do...How would you like that? An eight and a seven or two sixes and a three?"
#joke
Get Me Off This Train
One day a man took the train from Paris to Frankfurt. When he got in he said to the ticket man:
"Sir. I really need you to do me a favor, I have to get down this train in Mannheim, but I'm very tired and it is for sure that I will fall asleep. So what I want you to do is that you wake me up in Mannheim because I have to close a business there and it is very important for me. Here you have 100 francs for the favor. But I warn you sometimes when people wake me up I get really violent, but no matters what I do or say you got to get me out of this train in Mannheim. Is that clear?"
So the ticket man agreed and took the 100 francs. Later as the man had said he fall asleep, and when he woke up he realized that he was in Frankfurt. He was so mad at the ticket man that he ran over and started yelling at the ticket man.
"Are you stupid or something??? I paid you 100 francs so that you wake me up in Mannheim. And you didn't, so I want my money back!"
While the man was yelling at the ticket guy, two other guys that were also in the train were looking at them, so one turns to the other and says to him:
Man 1: "Look at this guy! He is mad!"
Man 2: "Yeah! He's almost as mad as the guy they made get out of the train in Mannheim."
#joke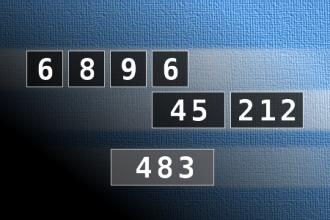 Calculate the number 483
NUMBERMANIA: Calculate the number 483 using numbers [6, 8, 9, 6, 45, 212] and basic arithmetic operations (+, -, *, /). Each of the numbers can be used only once.
How to Make Holy Water
Q: How did the bishop make holy water?
A: He took some tap water and boiled the hell out of it.
Three bulls heard via the grap...
Three bulls heard via the grapevine that the rancher was going to bring another bull onto the ranch, and the prospect raised a discussion among them.
The first bull says, "Boys, we all know I've been here 5 years. Once we settled our differences, we agreed on which 100 of the cows would be mine. Now, I don't know where this newcomer is going to get HIS cows, but I ain't' givin' him any of mine."
The second bull says, "That pretty much says it for me, too. I've been here 3 years and have earned my right to the 50 cows we've agreed are mine. I'll fight 'im till I run him off or kill 'im, but I'M KEEPIN' ALL MY COWS."
The third bull says, "I've only been here a year, and so far you guys have only let me have 10 cows to "take care of". I may not be as big as you fellows yet, but I am young and virile, so I simply MUST keep all MY cows."
They had just finished their big talk when an eighteen-wheeler pulls up in the middle of the pasture with only ONE ANIMAL IN IT: the biggest Son-of-Another-Bull these guys had ever seen! At 4700 pounds, each step he took toward the ground strained the steel ramp to the breaking point.
The first bull says, "Ahem...You know, it's actually been some time since I really felt I was doing all my cows justice, anyway. I think I can spare a few for our new friend."
The second bull says, "I'll have plenty of cows to take care of if I just stay on the opposite end of the pasture from HIM. I'm certainly not looking for an argument."
They look over at their young friend, the third bull, and find him pawing the dirt, shaking his horns, and snorting up a storm.
The first bull says, "Son, let me give you some advice real quick. Let him have some of your cows and live to tell about it."
The third bull says, "Heck, he can have ALL my cows. I'm just making sure he knows I'M a bull!"
#joke
Anthony Jeselnik: Gift for Who?
A couple of months ago, I gave my girlfriend some fancy lingerie, and she actually got mad at me. She said, Anthony, I think this is more of a gift for you than it is for me. And I said, If you want to get technical, it was originally a gift for my last girlfriend.
Jeff Dunham: Sissy-ness of the Law
Walter: I aint afraid of the cops around Santa Ana. You seen some of these guys? What, cops on bicycles? How intimidating is this: Alright buddy, pull it over. Ching-ching-ching? What do they do when they arrest somebody? Alright, get in the basket.
Little Emily was complaining t...
Little Emily was complaining to her mother that her stomach hurt. Her mother replied, "That's because it's empty. Maybe you should try putting something in it." The next day, the pastor was over at Emily's family's house for lunch. He mentioned having his head hurt, to which Emily immediately replied, "That's because it's empty. Maybe you should try putting something in it."
#joke
Dark
Two Rednecks were sitting at the rural area bar, lamenting their lack of a sex life.
One looks out the window, and across the road is a sheep stuck half way through a fence, with its butt facing the tavern.
One drunk says, "I sure wish that sheep was Marilyn Monroe."
The other says, "I just wish it were dark."
Submitted by Calamjo
Edited by Yisman
#joke
Yo Mama so old...
Yo Mama so old her social security # is 1.