Diagnosis Explained
A 90-year-old man goes for a physical and all of his tests come back normal.
The doctor says, "Larry, everything looks great. How are you doing mentally and emotionally? Are you at peace with God?"
Larry replies, "God and I are tight. He knows I have poor eyesight, so He's fixed it so when I get up in the middle of the night to go to the bathroom, poof! The light goes on. When I'm done, poof! The light goes off."
"Wow, that's incredible," the doctor says.
A little later in the day, the doctor calls Larry's wife.
"Bonnie," he says, "Larry is doing fine! But I had to call you because I'm in awe of his relationship with God. Is it true that he gets up during the night, and poof, the light goes on in the bathroom, and when he's done, poof, the light goes off?"
"Oh sweet Jesus", exclaims Bonnie. "He's peeing in the refrigerator again!"
A burglar alarm sent out its p
A burglar alarm sent out its piercing wail in the dark of night in Brooklyn and the police arrived just in time to collar the burglar as he was leaving the premises with a big bag full of loot. Soon, he was in court facing a grim-looking judge.
"Did you have an accomplice?" asked the judge.
"What's an accomplice?" the burglar replied.
"A partner. In other words, did you commit this crime by yourself?"
"What else?" demanded the culprit. "Who can get honest and reliable help these days?"
#joke
"Emergency crews resp
"Emergency crews responded to an accident involving an Ethiopian bread truck. There were multiple injeras."
If you don't drink coffee in
If you don't drink coffee in Starbucks you'll get a have tea fine.
There once was a man who owned
There once was a man who owned a sausage factory, and he was showing his arrogant preppy son around his factory.Try as he might to impress his snobbish son, his son would just sneer.They approached the heart of the factory, where the father thought, "This should impress him!"He showed his son a machine and said "Son, this is the heart of the factory. With this machine here we can put in a pig, and out come sausages.
The prudish son, unimpressed, said "Yes, but do you have a machine where you can put in a sausage and out comes a pig?"
The father, furious, thought and said, "Yes son, we call it your mother."
#joke
Jury duty...
Mrs. Hunter was called to serve for jury duty, but asked to be excused because she didn't believe in capital punishment and didn't want her personal thoughts to prevent the trial from running its proper course.
But the public defender liked her thoughtfulness and quiet calm, and tried to convince her that she was appropriate to serve on the jury.
"Madam," he explained, "this is not a murder trial! It's a simple civil lawsuit. A wife is bringing this case against her husband because he gambled away the $12,000 he had promised to use to remodel the kitchen for her birthday."
"Well, okay," agreed Mrs. Hunter, "I'll serve. I guess I could be wrong about capital punishment after all."
#joke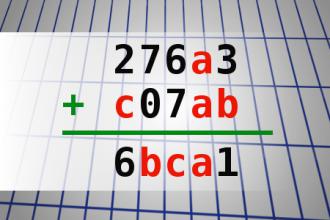 Find number abc
If 276a3 + c07ab = 6bca1 find number abc. Multiple solutions may exist.
Ponderings Collection 13
Everybody lies, but it doesn't matter since nobody listens.
I wished the buck stopped here, as I could use a few.
I started out with nothing, and I still have most of it.
When you go into court you are putting yourself in the hands of 12 people that weren't smart enough to get out of jury duty.
Light travels faster than sound. This is why some people appear bright until you hear them speak.
When sign makers go on strike, is anything written on their picket signs?
When you open a new bag of cotton balls, is the top one meant to be thrown away?
When your pet bird sees you reading the newspaper, does he wonder Why you're just sitting there, staring at carpeting?
Where do forest rangers go to "get away from it all"?
Why Isn't there mouse-flavored cat food?
#joke
I Want to Be a Pastor When I Grow Up
After a church service on Sunday morning, a young boy suddenly announced to his mother, "Mom, I've decided to become a priest when I grow up.""That's OK with us," she said, "but what made you decide that?""Well," said the little boy, "I have to go to church on Sunday anyway, and I figure it will be more fun to stand up and yell than to sit down and listen."
#joke
Two guys were riding in a car,...
Two guys were riding in a car, arguing about how to say the name of the city that they were in. One said "Louieville" and the other "Louiseville." They went on arguing and arguing, until they came upon a fast-food restaurant. The one guy goes inside and says to the waitress, "Tell me the name of the place where I am right now really, really, really slowly." The waitress goes, "Bur-ger-King."
#joke
Exchange
What do you do with a bachelor who thinks he's God's gift to women?
Exchange him.
Submitted by Calamjo
Edited by Yisman