A college student picked up hi
A college student picked up his date at her parent's home. He'd scraped together every cent he had to take her to a fancy restaurant. To his dismay, she ordered almost everything expensive on the menu - appetizers, lobster, champagne... the works.
Finally he asked her, "Does your Mother feed you like this at home?"
"No," she said, "but my Mother's not looking to get laid."
#joke
Hell is on strike. The workers
Hell is on strike. The workers are demon strating.
Knock Knock Collection 0049
Knock Knock
Who's there?
Diploma!
Diploma who?
Diploma to fix the leak!
Knock Knock
Who's there?
Disaster!
Disaster who?
Disaster be my lucky day!
Knock Knock
Who's there?
Disguise!
Disguise who?
Disguise the limit!
Knock Knock
Who's there?
Dishes!
Dishes who?
Dishes a very bad joke!
Knock Knock
Who's there?
Disk!
Disk who?
Disk is recorded message, please leave your message after the beep!
#joke
Playing Your Age
A lady is having a bad day at the roulette tables in Vegas. She's down to her last $50. Exasperated, she exclaims to the whole table, 'What rotten luck I've had today! What in the world should I do now?'
A man standing next to her suggests, 'I don't know, why don't you play your age?'
He walks away, but moments later, his attention is grabbed by a great commotion at the roulette table. Maybe she won! He rushes back to the table and pushes his way through the crowd. The lady is lying limp on the floor, with the table operator kneeling over her. The man is stunned. He asks, 'What happened? Is she all right?'
The operator replies, 'I don't know. She put all her money on 36, and when 47 came up she just fainted!'
#joke
"Since I've quit soc
"Since I've quit soccer, I've lost my goal in life."
Vocabulary
Accountant - Someone who knows the cost of everything and the value of nothing.
Auditor - Someone who arrives after the battle and bayonets all the wounded.
Banker - The fellow who lends you his umbrella when the sun is shining and wants it back the minute it begins to rain. (Mark Twain)
Economist - An expert who will know tomorrow why the things he predicted yesterday didn't happen today.
Statistician - Someone who is good with numbers but lacks the personality to be an accountant.
Actuary - Someone who brings a fake bomb on a plane, because that decreases the chances that there will be another bomb on the plane.
Programmer - Someone who solves a problem you didn't know you had in a way you don't understand.
Mathematician - A blind man in a dark room looking for a black cat which isn't there.
Lawyer - A person who writes a 10,000 word document and calls it a "brief."
Psychologist - A man who watches everyone else when a beautiful girl enters the room.
Schoolteacher - A disillusioned woman who used to think she liked children.
Consultant - Someone who takes the watch off your wrist and tells you the time.
Diplomat - Someone who can tell you to go to hell in such a way that you will look forward to the trip.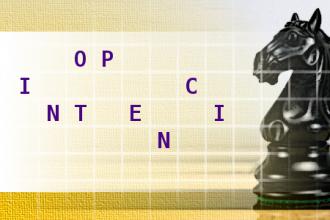 Chess Knight Move
Find the title of movie, using the move of a chess knight. First letter is I. Length of words in solution: 9.
Things to do in an elevator...
When people get on, ask for their tickets.
When there's only one other person in the elevator, tap them on the shoulder and then pretend it wasn't you.
Ask if you can push the button for other people, but push the wrong ones.
Hold the doors open and say you're waiting for your friend. After a while, let the doors close and say, 'Hi Mike. How's your day been?'
Drop a pen and wait until someone reaches to help pick it up, say 'that's mine!'
Push your floor button with your nose.
Stand alone, and when the doors open tell people trying to get on that the car is full and that they should wait for the next one.
Ride naked.
Push the top floor button and announce that you tried to kill yourself yesterday but the other building wasn't high enough.
#joke
A lawyer walks into a bar and ...
A lawyer walks into a bar and sits down next to a drunk who is closely examining something held in his fingers. The lawyer watches the drunk for a while till he finally gets curious enough to ask what it is.
"Well," said the drunk, "it looks like plastic and feels like rubber."
"Let me have it," said the lawyer. Taking it, he began to roll it between his thumb and forefinger, examining it closely. "Yes," he finally said, "it does look like plastic and feel like rubber, but i don't know what it is. Where did you get it?"
"From my nose," the drunk replied.
Free advice at social affairs?
A doctor and a lawyer were attending a cocktail party when the doctor was approached by a man who asked advice on how to handle his ulcer. The doctor mumbled some medical advice, then turned to the lawyer and remarked, "I never know how to handle the situation when I'm asked for medical advice during a social function. Is it acceptable to send a bill for such advice?" The lawyer replied that it was certainly acceptable to do so.
The next day, the doctor sent the ulcer-stricken man a bill. The lawyer also sent one to the doctor.
Beware of dog
Upon entering the little country store, the stranger noticed a sign saying "DANGER! BEWARE OF DOG!" posted on the glass door. Inside he noticed a harmless old hound dog asleep on the floor besides the cash register.
He asked the store manager, "Is THAT the dog folks are supposed to beware of?"
"Yep, that's him," he replied.
The stranger couldn't help but be amused. "That certainly doesn't look like a dangerous dog to me. Why in the world would you post that sign?"
"Because," the owner replied, "before I posted that sign, people kept tripping over him."
#joke
Damon Wayans: Bicycle Cop
I got pulled over by a bicycle cop in L.A. -- not a motorcycle cop, a bicycle cop. And Im in my car, and he gets out -- hes sweating, hes got these little shorts on. You know how fast you were going? Yeah, a lot faster than that bike.
There were two guys working fo...
There were two guys working for the city. One would dig a hole -- he would dig, dig, dig.
The other would come behind him and fill the hole -- fill, fill, fill. These two men worked furiously; one digging a hole, the other filling it up again.
A man was watching from the sidewalk and couldn't believe how hard these men were working, but couldn't understand what they were doing. Finally he had to ask them.
He said to the hole digger, "I appreciate how hard you work, but what are you doing? You dig a hole and your partner comes behind you and fills it up again!"
The hole digger replied, "Oh yeah, must look funny, but the guy who plants the trees is sick today."
#joke