The three old men were sitting...
The three old men were sitting around complaining about how much their hands shook.
The first geezer said, "My hands shake so bad that when I shaved this morning I cut my face!"
The second old fogy one-upped him. "My hands shake so bad that when I trimmed my garden yesterday I sliced all my flowers!"
The third old man laughed and said, "That's nothing. My hands shake so bad that when I took a piss yesterday, I came three times."
#joke
Cross a sloth with a cow? Sorr
Cross a sloth with a cow? Sorry, that's not possum bull.
A husband and wife came for co
A husband and wife came for counseling after 15 years of marriage.When asked what the problem was, the wife went into a passionate,painful tirade listing every problem they had ever had in the 15 yearsthey had been married.
She went on and on and on: neglect, lack of intimacy, emptiness,loneliness, feeling unloved and unlovable, an entire laundry list ofun-met needs she had endured over the course of their marriage.
Finally, after allowing this to go on for a sufficient length of time, thetherapist got up, walked around the desk and, after asking the wife tostand, embraced and kissed her passionately.
The woman shut up and quietly sat down as though in a daze.
The therapist turned to the husband and said, "This is what yourwife needs at least three times a week Can you do this?"
The husband thought for a moment and replied,.. "Well, I can dropher off here on Mondays and Wednesdays, but on Friday's, I fish!

A Midget Fortune Teller
Queen Nyteshade had two claims to fame. She could tell fortunes and she was a midget. The local authorities frowned on her because they thought that fortune telling was fraudulent. They had Queeny arrested. She was placed in a holding cell. Since she was so small she was able to squeeze between the bars of her cell and escape. This to incensed the judge that he ordered the local newspaper to print an article about the culprit. The following was printed in the paper the next day. Small medium at large.
#joke
Playing Your Age
A lady is having a bad day at the roulette tables in Vegas. She's down to her last $50. Exasperated, she exclaims to the whole table, 'What rotten luck I've had today! What in the world should I do now?'
A man standing next to her suggests, 'I don't know, why don't you play your age?'
He walks away, but moments later, his attention is grabbed by a great commotion at the roulette table. Maybe she won! He rushes back to the table and pushes his way through the crowd. The lady is lying limp on the floor, with the table operator kneeling over her. The man is stunned. He asks, 'What happened? Is she all right?'
The operator replies, 'I don't know. She put all her money on 36, and when 47 came up she just fainted!'
#joke
"Since I've quit soc
"Since I've quit soccer, I've lost my goal in life."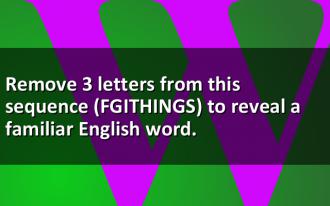 Remove 3 letters from this seq...
Remove 3 letters from this sequence (FGITHINGS) to reveal a familiar English word.
Apple pie....
Little Johnny and his family lived in the country, and as a result seldom had guests. He was eager to help his mother after his father appeared with two dinner guests from the office.
When the dinner was nearly over, Little Johnny went to the kitchen and proudly carried in the first piece of apple pie, giving it to his father who passed it to a guest.
Little Johnny came in with a second piece of pie and gave it to his father, who again gave it to a guest.
This was too much for Little Johnny, who said, "It's no use, Dad. The pieces are all the same size."
#joke
While the bar patron savored a...
While the bar patron savored a double martini, an attractive women sat down next to him. The bartender served her a glass of orange juice, and the man turned to her and said, "This is a special day. I'm celebrating."
"I'm celebrating, too," she replied, clinking glasses with him.
"What are you celebrating?" he asked.
"For years I've been trying to have a child," she answered, "Today my gynecologist told me I'm pregnant!"
"Congratulations," the man said, lifting his glass. "As it happens, I'm a chicken farmer, and for years all my hens were infertile. But today they're finally fertile."
"How did it happen?"
"I switched cocks."
"What a coincidence," she said, smiling.
#joke
A man awoke one evening to dis...
A man awoke one evening to discover prowlers in his storage shed. He immediately called 911, gave his address, to report the prowlers and possible burglary. The operator at the other end said "Are they in your house?" He said they were not, only in his storage shed in back of the house. The operator said there were no cars available at that time. He thanked the operator, hung up the phone and counted to 30 and called again. "I just called you about prowlers in my storage shed. Well you do not have to worry, as I just shot them all dead!" Within seconds there were 3 police cars, an ambulance and fire engine at the scene. After capturing the prowlers red-handed, the policeman asked the caller, "I thought you said you had shot them all!" The man answered, "I thought you said there were no police available!"
Getting to Heaven from the Post Office
A preacher, newly called to a small country town, needed to mail a letter. Passing a young boy on the street, the pastor asked where he could find the post office.
After getting his answer, the minister thanked the boy and said, "If you'll come to the community church this evening, you can hear me tell everyone how to get to heaven."
"I don't know, sir," the boy replied. "You don't even know how to get to the post office!"
From "The Book of Church Jokes," published by Barbour Publishing, Inc., Uhrichsville, Ohio. Copyright 2009. Used by permission of Barbour Publishing, Inc.

#joke