Cleaning – It's all in the details
I asked a friend of mine by phone what he was doing.
He told me he couldn't talk because he was working on "aqua-thermal treatment of ceramics, aluminum, and steel while under a dangerously constrained environment."
I was impressed. Until the following day when I learned that meant he was "washing dishes with hot water under his upset wife's supervision."
#joke
"Carly Simon was in a
"Carly Simon was in a vineyard when she got the idea for the song, 'You're So Vine'."
Irish puns are the most ron
Irish puns are the most O'ffensive.
Jim was annoyed when his blond
Jim was annoyed when his blonde wife told him that a car had backed intoher, damaging a fender, and that she hadn't gotten the license number."What kind of car was he driving?" he asked.
"I don't know," she said. "I never can tell one car from another."
At that, Jim decided the time had come for a learning course, and forthe next few days, whenever they were driving, he made her name each carthey passed until he was satisfied that she could recognize every make.
It worked. About a week later she bounded in with a pleased expressionon her face. "Darling," she said. "I hit a Buick!"
Chatting On The Plane
A man was recently flying to New York. He decided to strike up a conversation with his seat mate.
"I've got a great policeman joke. Would you like to hear it?"
"I should let you know first that I am a policeman."
"That's OK. I'll tell it really slow!"
A police officer responded to...
A police officer responded to a report of a barroom disturbance.
The "disturbance" turned out to be well over six feet tall and weighed almost 300 pounds. What's more, he boasted that he could whip the officer and the "Heavy Weight Boxing Champion of the World."
Said the policeman, "I'll bet that you're also an escape artist too, probably better than Houdini."
The giant nodded.
"If I had some chains," the officer continued, "you could show us how strong you really are. But all I've got is a set of handcuffs. Why don't you see just how quickly you can break out of them?"
Once in the cuffs, the man puffed, pulled and jerked for four minutes.
"I can't get out of these," the giant growled.
"Are you sure?" the officer asked.
The fellow tried again. "Nope," he replied. "I can't do it."
"In that case," said the officer, "you're under arrest."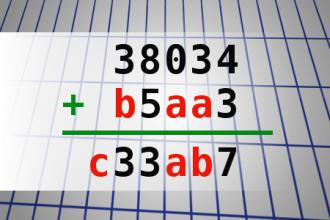 Find number abc
If 38034 + b5aa3 = c33ab7 find number abc. Multiple solutions may exist.
Mom and catsup...
A woman was trying hard to get the catsup to come out of the bottle. During her struggle, the phone rang, so she asked her four-year-old daughter to answer it.
"It's the Minister, Mommy," the child said to her mother. Then she said to him, "Mommy can't come to the phone to talk to you right now. She's hitting the bottle."
#joke
Once upon a time there was a n...
Once upon a time there was a non-conforming sparrow who decided not to fly south for the winter. However, soon the weather turned so cold that he reluctantly decided to fly south. In a short time ice began to form on his wings and he fell to Earth in a barnyard, nearly frozen solid. A cow passed by where he had fallen, and crapped on the little sparrow.The sparrow thought it was the end, but the manure warmed him and defrosted his wings!
Warm and happy, able to breath, he started to sing.
Just then a large cat came by, and hearing the chirping he investigated the sounds. The cat cleared away the manure, found the chirping bird, and promptly ate him.
The Moral of the Story:
Everyone who craps on you is not necessarily your enemy
Everyone who gets you out of crap is not necessarily your friend.
And if you're warm and happy in a pile of crap, you might just want to keep your mouth shut.
#joke
Chuck Norris does the Sunday N...
Chuck Norris does the Sunday New York Times Crossword Puzzle in ink.
Forgive Me Father
About a month ago, a man in Amsterdam felt that he needed to confess, so he went to his priest, "Forgive me Father, for I have sinned. During WWII I hid a refugee in my attic."
"Well," answered the priest, "that's not a sin."'
"But I made him agree to pay me 200 Euros for every week he stayed."
"I admit that wasn't good, but you did it for a good cause."
"Oh, thank you, Father; that eases my mind." He paused for a moment and then said, "I have one more question..."
"What is that, my son?"
"Do I have to tell him the war is over?"
#joke
Benefits of the Revival
After the revival had concluded, the three pastors were discussing the results with one another.
The Methodist minister said, "The revival worked out great for us! We gained 4 new families."
The Baptist preacher said, "We did better than that! We gained 6 new families."
The Presbyterian pastor said, "Well, we did even better than that! We got rid of our 10 biggest trouble makers!"
#joke
Jobs at the food company...
One day, three unemployed factory workers heard that a large food company was enlarging and needed more staff. So they went downtown to see if they could get themselves a job.
After filing out their applications, each one was interviewed and each one managed to get hired. As they were waiting to be assigned their new duties, a foreman came by and spoke to the hiring boss.
The foreman told the boss that he didn't think it was such a good idea as one of the workers had snapped for no apparent reason at his last job.
Also a second was said to have had cracked up after severe mental stress.
The third, he believed was their father who he felt was a bit odd but he couldn't put his finger on it.
The hiring boss reassured the foreman and said that they would start on something easy and after a week, the company would re-assess them to see if they would be kept on.
The foreman reluctantly agreed and asked the boss where he thought they should start.
The boss replied, "Why not take them and put them in our Cereal Division...Snap, Crackle and Pop should work out fine down there."
#joke