Your honour, I am 75 years old
Your honour, I am 75 years old. So here I am, sitting there on my porch on a warm spring evening, when a young man comes creeping up on the porch and sits beside me. He starts to rub my thigh, and it feels good, Your Honour. So I don't stop him, and he begins to rub my old breasts, Your Honour. Why, Your Honour, I haven't felt that good in years! So I just spread my old legs and say to him, "Take me, young man, Take me!"
That's when he yelled, "April Fool" and that's when I shot the F**king Son of a B**ch!!
After getting H1N1, falling il
After getting H1N1, falling ill with H5N1 seems rather Super-fluous.
Married 25 years, I took a loo...
Married 25 years, I took a look at my wife one day and said, "Honey, 25 years ago, we had a cheap apartment, a cheap car, slept on a sofa bed and watched a 10 inch black and white TV, but I got to sleep every night with a hot 25 year old blonde.
Now, we have a nice house, nice car, big bed and plasma screen TV, but I'm sleeping with a 50 year old woman. It seems to me that you are not holding up your side of things."
My wife is a very reasonable woman. She told me to go out and find a hot 25 year old blonde, and she would make sure that I would once again be living in a cheap apartment, driving a cheap car, sleeping on a sofa bed.
Real Advertisements 05
Supposedly, these are actual advertisements that have appeared in papers across the country.
Wanted. Widower with school-age children requires person to assume general housekeeping duties. Must be capable of contributing to growth of family.
Mixing bowl set designed to please a cook with round bottom for efficient beating.
Semi-Annual after-Christmas Sale.
And now, the Superstore--unequaled in size, unmatched in variety, unrivaled inconvenience.
We will oil your sewing machine and adjust tension in your home for $1.00.
Girl wanted to assist magician in cutting-off-head illusion. Blue Cross and salary.
For Sale. Three canaries of undermined sex.
Get rid of aunts: Zap does the job in 24 hours.
Christmas tag-sale. Handmade gifts for the hard-to-find person.
Vow of Silence
A man wanted to become a monk so he went to the monastery and talked to the abbot (the head monk). The abbot said, "You must take a vow of silence and can only say two words every three years." The man agreed.
After the first three years, the abbot came to him and said, "What are your two words?"
– "Food cold!" the man replied. The abbot made sure the meals are not cold.
Three more years went by and the abbot came to him and said, "What are your two words?"
– "Robe dirty!" the man exclaimed. The abbot ordered his robe be washed.
Three more years went by and the abbot came to him and said, "What are your two words?"
– "Bed hard!". The abbot made sure the mattress got re-stuffed.
Three more years went by and the abbot came to him and said, "What are your two words?"
– "I quit!" said the man.
"Well," the abbot replied, "I'm not surprised – you've done nothing but complain since you got here!"
#joke
"2017 would have been
"2017 would have been a great year to open up a unisex haircut place and call it 'Totally Clips'."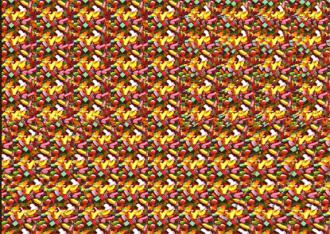 What is hidden in 3D image?
Stereogram - 3D Image
Are you an honest lawyer...
An investment counselor decided to go out on her own. She was shrewd and diligent, so business kept coming in, and pretty soon she realized that she needed an in-house counsel. She began to interview young lawyers.
"As I'm sure you can understand," she started off with one of the first applicants, "in a business like this, our personal integrity must be beyond question." She leaned forward. "Mr. Peterson, are you an honest lawyer?"
"Honest?" replied the job prospect. "Let me tell you something about honest. Why, I'm so honest that my father lent me $15,000 for my education, and I paid back every penny the minute I tried my very first case."
"Impressive. And what sort of case was that?"
The lawyer squirmed in his seat and admitted, "He sued me for the money."
A dentist was getting ready to...
A dentist was getting ready to clean an elderly lady's teeth. He noticed that she was a little nervous, so he began to tell her a story as he was putting on his surgical gloves...
"Do you know how they make these rubber gloves?" She said, "No?"
"Well", he spoofed, "down in Mexico they have this big building set up with a large tank of latex, and the workers are all picked according to hand size. Each individual walks up to the tank, dips their hands in, and then walk around for a bit while the latex sets up and dries right onto their hands! Then they peel off the gloves and throw them into the big 'Finished Goods Crate' and start the process all over again."
And she didn't laugh a bit!!! Five minutes later, during the procedure, he had to stop cleaning her teeth because she burst out laughing.
The old woman blushed and exclaimed, "I just suddenly thought about how they must make condoms!"
#joke
Why parents go grey
The boss of a big company needed to call one of his employees about an urgent problem with one of the main computers. He dialed the employees home phone number and was greeted with a child's whispered, "Hello?"
Feeling put out at the inconvenience of having to talk to a youngster the boss asked, "Is your Daddy home?"
"Yes", whispered the small voice.
"May I talk with him?" the man asked. To the surprise of the boss, the small voice whispered, "No."
Wanting to talk with an adult, the boss asked, "Is your Mommy there?"
"Yes", came the answer.
"May I talk with her?" Again the small voice whispered, "no".
Knowing that it was not likely that a young child would be left home alone, the boss decided he would just leave a message with the person who should be there watching over the child. "Is there any one there besides you?" the boss asked the child.
"Yes" whispered the child, "A policeman".
Wondering what a cop would be doing at his employee's home, the boss asked, "May I speak with the policeman"?
"No, he's busy", whispered the child.
"Busy doing what?, asked the boss.
"Talking to Daddy and Mommy and the Fireman", came the whispered answer.
Growing concerned and even worried as he heard what sounded like a helicopter through the ear piece on the phone the boss asked, "What is that noise?"
"A hello-copper", answered the whispering voice. "What is going on there?", asked the boss, now alarmed. In an awed whispering voice the child answered, "The search team just landed the hello-copper"
Alarmed, concerned and more than just a little frustrated the boss asked, "Why are they there"?
Still whispering, the young voice replied along with a muffled giggle:
"They're looking for me"
Marriage - a childs perspective
HOW DO YOU DECIDE WHO TO MARRY? (written by kids)
You got to find somebody who likes the same stuff. Like, if you like sports, she should like it that you like sports, and she should keep the chips and dip coming. -- Alan, age 10
No person really decides before they grow up who they're going to marry. God decides it all way before, and you get to find out later who you're stuck with. -- Kristen, age 10
WHAT IS THE RIGHT AGE TO GET MARRIED? Twenty-three is the best age because you know the person FOREVER by then. -- Camille, age 10
HOW CAN A STRANGER TELL IF TWO PEOPLE ARE MARRIED? You might have to guess, based on whether they seem to be yelling at the same kids. -- Derrick, age 8
WHAT DO YOU THINK YOUR MOM AND DAD HAVE IN COMMON? Both don't want any more kids. -- Lori, age 8
WHAT DO MOST PEOPLE DO ON A DATE? Dates are for having fun, and people should use them to get to know each other. Even boys have something to say if you listen long enough. -- Lynnette, age 8 (isn't she a treasure)
On the first date, they just tell each other lies and that usually gets them interested enough to go for a second date. -- Martin, age 10
WHAT WOULD YOU DO ON A FIRST DATE THAT WAS TURNING SOUR? I'd run home and play dead. The next day I would call all the newspapers and make sure they wrote about me in all the dead columns. -- Craig, age 9
WHEN IS IT OKAY TO KISS SOMEONE? When they're rich. -- Pam, age 7
The law says you have to be eighteen, so I wouldn't want to mess with that. - - Curt, age 7
The rule goes like this: If you kiss someone, then you should marry them and have kids with them. It's the right thing to do. -- Howard, age 8
IS IT BETTER TO BE SINGLE OR MARRIED? It's better for girls to be single but not for boys. Boys need someone to clean up after them. -- Anita, age 9 (bless you child)
HOW WOULD THE WORLD BE DIFFERENT IF PEOPLE DIDN'T GET MARRIED? There sure would be a lot of kids to explain, wouldn't there? -- Kelvin, age 8
And the #1 Favorite is........ HOW WOULD YOU MAKE A MARRIAGE WORK? Tell your wife that she looks pre tty, even if she looks like a dump truck. -- Ricky, age 10
#joke
Stopped By The Police
John and Jessica were on their way home from the bar one night and John got pulled over by the police. The officer told John that he was stopped because his tail light was burned out. John said, "I'm very sorry officer, I didn't realize it was out, I'll get it fixed right away."
Just then Jessica said, "I knew this would happen when I told you two days ago to get that light fixed."
So the officer asked for John's license and after looking at it said, "Sir your license has expired."
And again John apologized and mentioned that he didn't realize that it had expired and would take care of it first thing in the morning.
Jessica said, "I told you a week ago that the state sent you a letter telling you that your license had expired."
Well by this time, John is a bit upset with his wife contradicting him in front of the officer, and he said in a rather loud voice, "Jessica, shut your mouth!"
The officer then leaned over toward Jessica and asked. "Does your husband always talk to you like that?"
Jessica replied, "only when he's drunk."
#joke
Cory Kahaney: Handling Halloween
Halloween is pay day, folks. A lot of parents are strange; they say, Ration the candy. I say, Let them eat as much as they want -- they throw up, the rest is mine. Thats how I handle Halloween.