Colin meets a girl on the stre
Colin meets a girl on the street. He says, "Come on, babe, let's go in the alleyway and get it on. I've got fifteen quid."
She says, "Fifteen pounds? You're crazy. For fifteen quid, I'll let only you look at it."
They go into the alleyway, she pulls down her pants, and he gets down on his knees. But he can't see anything, because it's too dark, so he gets out his lighter. He lights his lighter, and he says, "Oh my, your pubic hair... it's so curly and thick... it's beautiful."
She says, "Thank you."
He says, "You mind if I ask you a personal question?"
She says, "Go ahead."
He says, "Can you pee through all that hair?"
She says, "Of course."
He says, "Well, you better start. You're on fire."
#joke
The safest way to cross a rive
The safest way to cross a river? Well, it deepens.
Senior Guessing
Eighty-year-old Bessie bursts into the recreation room of the retirement home.
She holds her clenched fist in the air and announces, "Anyone who can guess what's in my hand, can take me out to dinner tonight!"
A witty, elderly gentleman in the rear shouts out, "An elephant?"
Bessie thinks a minute and replies, "Close enough!"
#joke
I have learned how t...
"I have learned how to take a compliment because I'm not usually offered any."
Joe Smith started the day earl
Joe Smith started the day early having set his alarm clock (MADE IN JAPAN ) for 6am .While his coffeepot (MADE IN CHINA )Was perking, he shaved with hisElectric razor (MADE IN HONG KONG).He put on a dress shirt (MADE IN SRI LANKA),Designer jeans (MADE IN SINGAPORE) andTennis shoes (MADE IN KOREA)After cooking his breakfast in his newElectric skillet (MADE IN INDIA)He sat down with his calculator (MADE IN MEXICO)To see how much he could spend today.After setting his watch (MADE IN TAIWAN)To the radio (MADE IN INDIA), he got in his car(MADE IN GERMANY) filled it with GAS(from Saudi Arabia) and continued his searchFor a good paying AMERICAN JOB.
At the end of yet another discouragingAnd fruitless day checking his Computer (Made In Malaysia), Joe decided to relax for a while.He put on his sandals (MADE IN BRAZIL)Poured himself a glass of wine (MADE IN FRANCE)And turned on his TV (MADE IN INDONESIA),
And then wondered why he can't find a good paying job in AMERICA.
#joke
Deep Thoughts 10
The memories of my family outings are still a source of strength to me. I remember we'd all pile into the car - I forget what kind it was - and drive and drive. I'm not sure where we'd go, but I think there were some trees there. The smell of something was strong in the air as we played whatever sport we played. I remember a bigger, older guy we called "Dad." We'd eat some stuff, or not, and then I think we went home. I guess some things never leave you.
If a kid asks where rain comes from, I think a cute thing to tell him is "God is crying." And if he asks why God is crying, another cute thing to tell him is "probably because of something you did."
Contrary to what most people say, the most dangerous animal in the world is not the lion or the tiger or even the elephant. It's a shark riding on an elephant's back, just trampling and eating everything they see.
As we were driving, we saw a sign that said, "Watch for Rocks." Martha said it should read "Watch for Pretty Rocks." I told her she should write in her suggestion to the highway department, but she started saying it was a joke - just to get out of writing a simple letter! And I thought I was lazy!
One thing kids like is to be tricked. For instance, I was going to take my little nephew to Disneyland, but instead I drove him to an old burned-out warehouse. "Oh, no," I said, "Disneyland burned down." He cried and cried, but I think deep down he thought it was a pretty good joke. I started to drive over to the real Disneyland, but it was getting pretty late.
If you saw two guys named Hambone and Flipper, which one would you think liked dolphins the most? I'd say Flipper, wouldn't you? You'd be wrong, though. It's Hambone.
I wish a robot would get elected president. That way, when he came to town, we could all take a shot at him and not feel too bad.
As the evening sky faded from a salmon color to a sort of flint gray, I thought back to the salmon I caught that morning, and how gray he was, and how I named him Flint.
#joke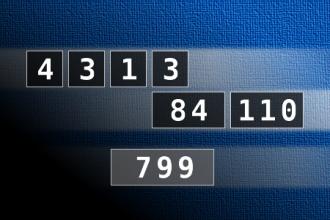 Calculate the number 799
NUMBERMANIA: Calculate the number 799 using numbers [4, 3, 1, 3, 84, 110] and basic arithmetic operations (+, -, *, /). Each of the numbers can be used only once.
Out in the car...
A man had been drinking at the bar for hours when he mentioned something about his girlfriend being out in the car.
The bartender, concerned because it was so cold, went to check on her. When he looked inside the car, he saw the drunk's buddy, Pete, and the man's girlfriend kissing in the back seat. The bartender shook his head and walked back inside. He told the drunk that he thought it might be a good idea to check on his girlfriend.
The drunk staggered outside to the car, saw Pete and his girlfriend kissing, then walked back into the bar, laughing.
"What's so funny?" the bartender asked.
"That darned Pete!" the drunk chortled. "He's so drunk, he thinks he's me!"
#joke
Two Irishmen, Patrick & Michae...
Two Irishmen, Patrick & Michael, were adrift in a lifeboat following a dramatic escape from a burning freighter. While rummaging through the boat's provisions, Patrick stumbled across an old lamp. Secretly hoping that a genie would appear, he rubbed the lamp vigorously. To the amazement of Patrick, a genie came forth.r>r> This particular genie, however, stated that he could only deliver one wish, not the standard three. Without giving much thought to the matter, Patrick blurted out, "Make the entire ocean into Guinness!" The genie clapped his hands with a deafening crash, and immediately the entire sea turned into the finest brew ever sampled by mortals. Simultaneously, the genie vanished. r>r> Only the gentle lapping of Guinness on the hull broke the stillness as the two men considered their circumstances. Michael looked disgustedly at Patrick whose wish had been granted. After a long, tension-filled moment, he spoke: r>r> "Nice going Patrick! Now we're going to have to pee in the boat."
#joke
The End Is Near!
A local priest and a pastor were fishing on the side of the road. They thoughtfully made a sign saying, "The End is Near! Turn yourself around now before it's too late!" and showed it to each passing car. One driver who drove by didn't appreciate the sign and shouted at them, "Leave us alone, you religious nuts!"
All of a sudden they heard a big splash, looked at each other, and the priest said to the pastor, "You think maybe we should have just said 'Bridge Out' instead?"
#joke
Donald Glover: Crazy Men Stories
Why dont women have crazy men stories? I dont really hear them. And then I realized, its because if you got a crazy boyfriend, youre going to die. Just something about men, the second they realize theyre crazy, its like, Time to kill everything I love.
Donald Glover: Gold Star Power
When you get called the n-word, as a black person you can do anything. Its like getting a gold star in Super Mario Brothers and junk. I hear the music when I hear the n-word. I get right into it; I get really into it. You can do anything. You could be in a fancy restaurant -- just start throwing poop at the walls. People be like, What are you doing? Someone called him the n-word.
#joke
First Thing to do after Jail
Bad Bernie was in prison for seven years. The day he got out, his wife and son were there to pick him up. He came through the gates and got into the car.
The only thing he said was, "F.F."
His wife turned to him and answered, "E.F."
Out on the highway, he said, "F.F."
She responded simply, "E.F."
He repeated, "F.F."
She again replied, "E.F."
"Mom! Dad!" their son yelled. "What's going on?"
Bad Bernie answered, "Your mother wants to eat first!"
#joke