The Turkey That Got Away
The patient went to his doctor
The patient went to his doctor for a checkup, and the doctor wrote out a prescription for him in his usual illegible writing. The patient put it in his pocket, but he forgot to have it filled.
Every morning for two years, he showed it to the conductor as a railroad pass. Twice, it got him into the movies, once into the baseball park, and once into the symphony.
He got a raise at work by showing it as a note from the boss.
One day, he mislaid it. His daughter picked it up, played it on the piano, and won a scholarship to a conservatory of music.
Lightning Just Struck
As Bill was approaching mid-life, physically he was a mess. Not only was he going bald, but years of office work had given him a large pot belly. The last straw came when he asked a woman co-worker out on a date, and she all but laughed at him. That does it, he decided. I'm going to start a whole new regimen. He began attending aerobics classes. He started working out with weights. He changed his diet. And he got an expensive hair transplant. In six months, he was a different man. Again, he asked his female co-worker out, and this time she accepted.
There he was, all dressed up for the date, looking better than he ever had. He stood poised to ring the woman's doorbell, when a bolt of lightning struck him and knocked him off his feet. As he lay there dying, he turned his eyes toward the heavens and said, "Why, God, why now? After all I've been through, how could you do this to me?"
From up above, there came a voice, "Sorry. I didn't not recoginize you."
#joke
I live in a leaky German subma
I live in a leaky German submarine. It's my humble uboat.
A large company, feeling it wa
A large company, feeling it was time for a shake-up, hired a new CEO.
The new boss was determined to demonstrate his decision making ability and wanted to immediately take action to rid the company of all slackers.
On a tour of the facilities, the CEO noticed a guy leaning on a wall. The room was full of workers and he wanted to let them know that he meant business.
He walked up to the guy leaning against the wall and asked, 'How much money do you make a week?'
A little surprised, the young man looked at him and replied, 'I make $300 a week. Why?'
The CEO then handed the guy $1,600 in cash and screamed, 'Here's four weeks' pay, now GET THE HELL OUTTA HERE and don't come back.'
Feeling pretty good about himself, the CEO looked around the room and asked, 'Does anyone want to tell me what that goof-ball did here?'
From across the room came a voice, 'Yeah, he's the delivery guy from Domino's Pizza.
#joke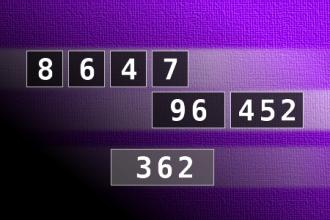 Calculate the number 362
NUMBERMANIA: Calculate the number 362 using numbers [8, 6, 4, 7, 96, 452] and basic arithmetic operations (+, -, *, /). Each of the numbers can be used only once.
Mommy, look at this....
As I was trying to pack for vacation, my 3-year-old daughter was having a wonderful time playing on the bed. At one point, she said, "Mommy, look at this," and stuck out two of her fingers.
Trying to keep her entertained, I reached out and stuck her fingers in my mouth and said, "Mommy gonna eat your fingers!" pretending to eat them before I rushed out of the room again.
When I returned, my daughter was standing on the bed staring at her fingers with a devastated look on her face.
I said, "What's wrong honey?"
"Mommy, where's my booger?"
#joke
A little boy wanted $100.0...
A little boy wanted $100.00 badly and prayed for two weeks but nothing happened. Then he decided to write GOD a letter requesting the $100. When the postal authorities received the letter addressed to GOD USA, they decided to send it to President Clinton. the President was so impressed, touched, and amused that he instructed his secretary to send the little boy a $5.00 bill. President Clinton thought this would appear to be a lot of money to a little boy. The little boy was delighted with the $5.00 and sat down to write a thank you note to GOD, which read: Dear GOD, Thank you very much for sending the money, however, I noticed that for some reason you had to send it through Washington D.C. and, as usual, those jerks deducted $95.00.
#joke
Moshe Reads an Arab Newspaper
A story is told of a Jewish man who was riding on the subway reading an Arab newspaper. A friend of his, who happened to be riding in the same subway car, noticed this strange phenomenon. Very upset, he approached the newspaper reader.
"Moshe, have you lost your mind? Why are you reading an Arab newspaper?"Moshe replied, "I used to read the Jewish newspaper, but what did I find? Jews being persecuted, Israel being attacked, Jews disappearing through assimilation and intermarriage, Jews living in poverty. So I switched to the Arab newspaper. Now what do I find? Jews own all the banks, Jews control the media, Jews are all rich and powerful, Jews rule the world. The news is so much better!"
#joke
The Card Game
Two couples were playing cards. Jeff accidentally dropped some cards on the floor. When he bent down under the table to pick them up, he noticed that Dave's wife, Sandy, was not wearing any underwear! Shocked by this, Jeff hit his head on the table and emerged red-faced. Later when Jeff went to the kitchen to get some refreshments Sandy followed him and asked, "Did you see anything under the table that you liked?"
Jeff admitted, "Well, yes I did."
She said "you can have it, but it will cost you $100."
After a minute or two, Jeff indicates that he is interested. She tells him that since Dave works Friday afternoons and Jeff doesn't, that Jeff should come to their house around 2:00 PM on Friday. Friday came and Jeff went to her house at 2:00 PM. After paying her the $100, they went to the bedroom, had sex for a few hours and then Jeff left. Dave came home about 6:00 PM and asked his wife, "Did Jeff come by this afternoon?"
Totally shocked, Sandy replied, "Yes, he did stop by for a few minutes."
Next Dave asked, "Did Jeff give you $100?"
Sandy thought, 'Oh hell, he knows!' Reluctantly she said, "Yes, he did give me $100."
"Good," Dave says.
"Jeff came by the office this morning and borrowed the $100 from me and said that he'd stop by our house on his way home and pay me back. It's so good to have a friend you can trust."
Waking Up for Church
One Sunday morning, a mother went in to wake her son and tell him it was time to get ready for church, to which he replied, "I'm not going."

"Why not?" she asked."I'll give you two good reasons," he said. "One, they don't like me, and two, I don't like them."
His mother replied, "I'll give YOU two good reasons why you SHOULD go to church. One, you're 54 years old, and two, you're the pastor!"
#joke
A FARMER and his wife decided ...
A FARMER and his wife decided to hold a talent show for their animals in which each contestant would recite a passage from Shakespeare. The prize would be a big marquee with a glitter ball inside. The pig performed a piece from Hamlet; the cow chose Richard III and the sheep picked MacBeth. After much deliberation the farmer and his wife picked the best entry, announcing: "Cow is the winner of our disco tent."
#joke