"What do you call a r
"What do you call a rich barber? A shearholder."
A lady noticed her husband sta...
A lady noticed her husband standing on the bathroom scale, sucking in his stomach.
Thinking he was trying to weigh less with this maneuver, she commented, "I don't think that's going to help."
"Sure it does," he said. "It's the only way I can see the numbers."
You Can Now Eat Your Own Plate
Taipei, Taiwan (AP) - Diners tempted to lick a plate after a delicious meal can now go a step further - eat the plate.
Chen Liang-erh, 50, an amateur inventor, announced Friday that he had perfected an edible plate made from wheat grain, and that he planned to mass-produce it and other edible crockery including cups, bowls and food containers.
Chen spent six years developing the plate, which he said would retail at about 7 cents each.
Diners who don't want to eat the items - which taste like unsalted popcorn - can boil them for a nutritious meal for animals, he said.
Chen said this can help reduce pollution caused by discarded crockery. The only disadvantage, he said, is his crockery cannot be washed and reused.
There should be no tax on stup
There should be no tax on stupidity. It's one of our basic free dumbs.
Questions for Mommy...
A little girl and her mother were out and about. The girl, out of the blue, asked her mother, "Mommy, How old are you?" The mother responded,"Honey, women don't talk about their age. You'll learn this as you get older."
The girl then asked, "Mommy, how much do you weigh?" Her mother responded again, "That's another thing women don't talk about. You'll learn this, too, as you grow up."
The girl, still wanting to know about her mother, fires off another question, "Mommy, why did you and Daddy get a divorce?" The mother, a little annoyed by the line of questioning, responded, "Honey, that is a subject that hurts me very much, and I don't want to talk about it now."
The little girl, frustrated, sulks until she is dropped off at a friend's house to play. She consults with her girlfriend about the conversation she had with her mother. The girlfriend says, "All you have to do is sneak and look at your mother's driver's license. It's just a like a report card from school. It tells you everything.
Later, the little girl and her mother are out and about again. The little girl starts off with, "Mommy, Mommy, I know how old you are. I know how old you are. You're 32 years old."
The mother is very shocked. She asks, "Sweetheart, how do you know that?"
The little girl shrugs and says, I just know. And I know how much you weigh. You weigh 130 pounds."
"Where did you learn that?"
The little girl says, "I just know. And I know why you and daddy got a divorce. You got an 'F' in sex."
#joke
FLEX WORDLE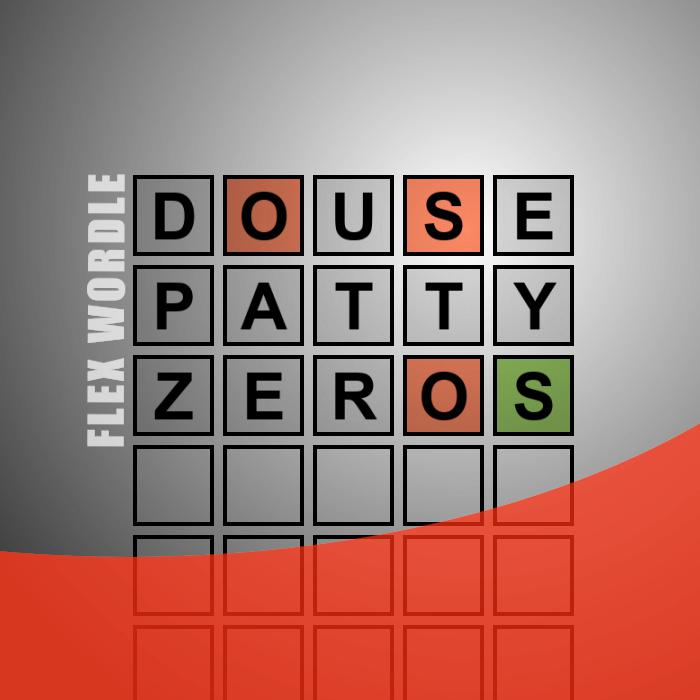 Guess the
WORDLE
in 3 tries. After each guess, the color of the tiles will change to show how close your guess was to the solution.
The new minister's wife had a ...
The new minister's wife had a baby. The minister appealed to the congregation for a salary increase to cover the addition to the family.The congregation agreed that it was only fair, and approved it.
When the next child arrived, the minister appealed again and the congregation approved again.
Several years and five children later, the congregation was a bit upset over the increasing expense. This turned into a rather loud meeting one night with the minister. Finally, the minister stood and shouted out,"Having children is an act of God!!"
An older man in the back stood and shouted back, "Rain and snow are acts of God, too, and we wear rubbers for them."
#joke
Chris Rock: Natural Causes
When you die at 72, no matter what you die of, its natural causes. Even if you get hit by a truck, its natural causes. Cause if you was younger, youd got out of the way.
Bag
Saddam sent his son shopping to get some food.
His son came back with the food on his head.
So Saddam says "Why have you got the shopping on your head?"
The son replies, "Because there is no Baghdad!"
Submitted by Curtis
Edited by Calamjo
End of the earth
BOY : I would go to the end of the world for you!
GIRL : Yes, but would you stay there?
Submitted by sai1ram
Edited by Curtis
Join us on WhatsApp