Jokes of the day for Thursday, 21 December 2017
Funny jokes, funny photo and funny video collected from the internet on Thursday, 21 December 2017
"Is a seventeen-day-o
"Is a seventeen-day-old infertile duck egg an absentee balut?"
Knock Knock Collection 116
Knock Knock
Who's there?
Lime!
Lime who?
Lime bean!
Knock Knock
Who's there?
Lincoln!
Lincoln who?
Lincoln logs!
Knock Knock
Who's there?
Lion!
Lion who?
Lion down on the job again!
Knock Knock
Who's there?
Lionel!
Lionel who?
Lionel bite you if you put your head in its mouth!
Knock Knock
Who's there?
Lisa!
Lisa who?
Lisa a new car from $199 down and $199 a month!
#joke
True love lasts forever
It's the World Cup Final, and a man makes his way to his seat right next to the pitch.
He sits down, noticing that the seat next to him is empty.
He leans over and asks his neighbour if someone will be sitting there. 'No,' says the neighbour. 'The seat is empty.'
'This is incredible,' said the man. 'Who in their right mind would have a seat like this for the Final and not use it?'
The neighbour says, 'Well actually the seat belongs to me. I was supposed to come with my wife, but she passed away.
This is the first World Cup Final we haven't been to together since we got married.'
'Oh, I'm so sorry to hear that.
That's terrible….But couldn't you find someone else, a friend, relative or even a neighbour to take her seat?'
The man shakes his head. 'No,' he says. 'They're all at the funeral.'
#joke
Shania does her thing and...
Shania's estranged husband does another and never the Twains shall meet.
#joke
Louisiana Highway Department e...
Louisiana Highway Department employees stopped at a farm and talkedwith an old farmer. The man in charge told the farmer, 'We need to inspectyour farm for a possible new road.'
The old farmer said, 'OK, but don't get out in that pasture over there.'
The Highway Dept. employee flashed out his identification card andsaid, 'I have the authority of the State of Louisiana to go anywhere I want.See this card? I will go wherever I wish.'
So the old farmer went about his chores.It wasn't too much later when the farmer heard loud screams and yelling.
He looked over and saw several Highway Department employees running fortheir lives and right behind was the farmer's huge prize bull. The bull was madder than a hornet's nest and was gaining on the Highway employees at every step.
The old farmer yelled out, 'Show him your card, Smart Ass.... Show himyour card!!
#joke
The doctor answered the phone...
The doctor answered the phone and heard the familiar voice of a colleague on the other end of the line. "We need a fourth for poker," said the friend.
"I'll be right over," whispered the doctor.
As he was putting on his coat, his wife asked, "Is it serious?"
"Oh yes, quite serious," said the doctor gravely. "In fact, there are three doctors there already!"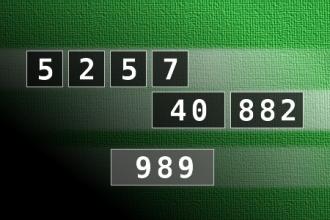 Calculate the number 989
NUMBERMANIA: Calculate the number 989 using numbers [5, 2, 5, 7, 40, 882] and basic arithmetic operations (+, -, *, /). Each of the numbers can be used only once.
Avid golfer...
A couple met at Myrtle Beach and fell in love. They were discussing how they would continue their relationship after their vacations were over.
"It's only fair to warn you, Linda," he said. "I'm a golf nut. I live...eat...sleep...and breathe golf."
"Well,..." Linda said, "Since you're being honest, so will I. You see, I'm a hooker."
"I see," he said pensively. Then, he smiled and said..."It's probably because you're not keeping your wrists straight when you hit the ball."
#joke
A professor of chemistry wante...
A professor of chemistry wanted to teach his 5th grade class a lesson about the evils of liquor, so he produced an experiment that involved a glass of water, a glass of whiskey, and two worms. "Now, class. Observe closely the worms," said the professor putting a worm first into the water. The worm in the water writhed about, happy as a worm in water could be. The second worm, he put into the whiskey. It writhed painfully, and quickly sank to the bottom, dead as a doornail. "Now, what lesson can we derive from this experiment?" the professor asked.
Johnny, who naturally sits in back, raised his hand and wisely, responded, "Drink whiskey and you won't get worms."
#joke
Do you know why Baskin Robbins...
Do you know why Baskin Robbins only has 31 flavors? Because Chuck Norris doesn't like Fudge Ripple.