An old man woke up in the midd
An old man woke up in the middle of the night and found, to his utter astonishment, that his pecker was as hard as a rock for the first time in two years. He shook his wife by the shoulder until she woke up and showed her his enormous boner.
"Check this out!" he happily exclaimed. "What do you think we should do with it?"
With one eye open, his wife replied, "Well, now that you've got all the wrinkles out, now would be a good time to wash it."
#joke
"Lexophile" describes those th
"Lexophile" describes those that have a love for words, such as "you can tune a piano, but you can't tuna fish", or "To write with a broken pencil is pointless." An annual competition is held by the New York Times see who can create the best original lexophile.
This year's winning submission is posted at the very end.
No matter how much you push the envelope, it'll still be stationery.
If you don't pay your exorcist you can get repossessed.
I'm reading a book about anti-gravity. I just can't put it down.
I didn't like my beard at first. Then it grew on me.
Did you hear about the crossed-eyed teacher who lost her job because she couldn't control her pupils?
When you get a bladder infection, urine trouble.
When chemists die, they barium
I stayed up all night to see where the sun went, and then it dawned on me.
I changed my iPod's name to Titanic. It's syncing now.
England has no kidney bank, but it does have a Liverpool .
Haunted French pancakes give me the crepes.
This girl today said she recognized me from the Vegetarians Club, but I'd swear I've never met herbivore
I know a guy who's addicted to drinking brake fluid, but he says he can stop any time.
A thief who stole a calendar got twelve months.
When the smog lifts in Los Angeles U.C.L.A.
I got some batteries that were given out free of charge.
A dentist and a manicurist married. They fought tooth and nail.
A will is a dead giveaway.
With her marriage, she got a new name and a dress.
Police were summoned to a daycare center where a three-year-old was resisting a rest.
Did you hear about the fellow whose entire left side was cut off? He's all right now.
A bicycle can't stand alone; it's just two tired.
The guy who fell onto an upholstery machine last week is now fully recovered.
He had a photographic memory but it was never fully developed.
When she saw her first strands of gray hair she thought she'd dye.
Acupuncture is a jab well done. That's the point of it.
Those who get too big for their pants will be totally exposed in the end.
#joke
"Ski jumpers are incl
"Ski jumpers are inclined to be fast."
Limited Knowledge
As we were putting out cookies for Santa on Christmas Eve, I accidentally dropped one.
'No problem,' I said, picking it up and dusting it off before placing it back on the plate.
'You can't do that,' argued my four-year-old.
'Don't worry. Santa will never know.'
He shot me a look. 'So he knows if I've been bad or good, but he doesn't know the cookie fell on the floor?'
Old Blind Cowboy...
An old blind cowboy wanders into an all-girl biker bar by mistake…
He finds his way to a bar stool and orders a shot of Jack Daniels.
After sitting there for a while, he yells to the bartender, 'Hey, you wanna hear a blonde joke?'
The bar immediately falls absolutely silent.
In a very deep, husky voice, the woman next to him says, 'Before you tell that joke, Cowboy, I think it is only fair, given that you are blind, that you should know five things:
1. The bartender is a blonde girl with a baseball bat. 2. The bouncer is a blonde girl with a 'Billy-Club'. 3. I'm a 6-foot tall, 175-pound blonde woman with a black belt in karate. 4. The woman sitting next to me is blonde and a professional weight lifter. 5. The lady to your right is blonde and a professional wrestler.
'Now, think about it seriously, Cowboy…. Do you still wanna tell that blonde joke?'
The blind cowboy thinks for a second, shakes his head and mutters, 'No…not if I'm gonna have to explain it five times……'
Three convicts were on the way...
Three convicts were on the way to prison. They were each allowed to take one item with them to help them occupy their time whilst stuck behind bars. On the bus, one turned to another and said, "So, what did you bring?"
The second convict pulled out a box of paints and stated that he intended to paint anything he could. He wanted to become the "Grandma Moses of Jail."
Then he asked the first, "What did you bring?"
The first convict pulled out a deck of cards and grinned and said, "I brought cards. I can play poker, solitaire and gin, and any number of games."
The third convict was sitting quietly aside grinning to himself. The other two took notice and asked, "Why are you so smug? What did you bring?"
The guy pulled out a box of tampons and smiled. "I brought these."
The other two were puzzled and asked, "What can you do with those?"
He grinned and pointed to the box and said, "Well according to the box, I can go horseback riding, swimming, roller-skating..."
#joke
FLEX WORDLE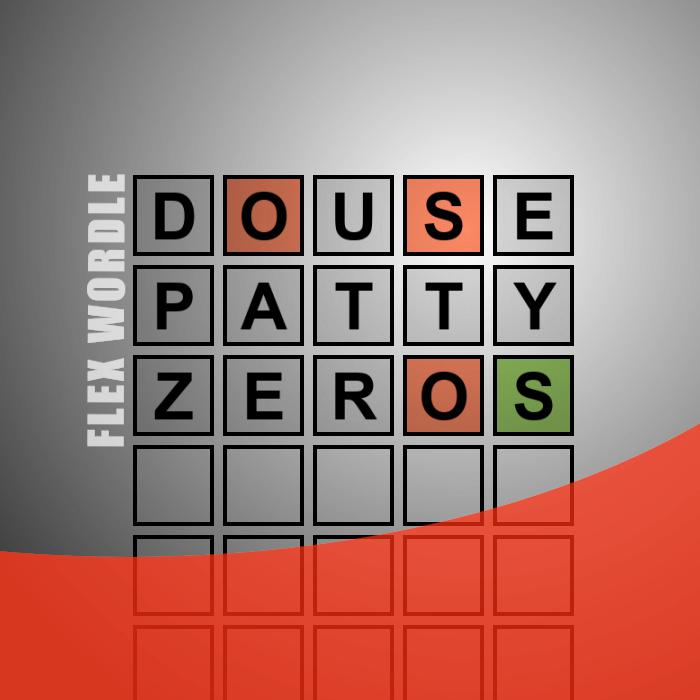 Guess the
WORDLE
in 3 tries. After each guess, the color of the tiles will change to show how close your guess was to the solution.
Charlie Viracola: Believed in Santa
Christmas always sucked when I was a kid because I believed in Santa Claus, and unfortunately, so did my parents.
Robert Schmidt 13
My uncle's an airline pilot ... kinda makes it difficult to hold the bottle though...
When my Dad came home last night, my mom fainted.
Don't tell anyone I said but we're live on national TV.
I broke a leg one time ... spilt coffee all over.
I bought this thing for my car. You put it on your car, it sends out this little noise, so when you drive through the woods, deer won't run in front of your car. I installed it backwards by accident. Driving down the street with a herd of deer chasing me. Those were the days.
That's a good thing to say to the police the next time they stop you. "License and registration, please." "Hermits have no peer pressure." "License and registration, please." "Whenever I think about the past, it just brings back so many memories." "License and registration, please." "There's a fine line between fishing and standing on the shore looking like an idiot. Wouldn't you" say, Officer?" "License and registration, please." "What's another word for Thesaurus?" See the cop have a nervous breakdown. "I was just trying to give him a ticket."
I can't wait to be arrested and go all the way to the witness stand. "Do you swear to tell the whole truth and nothing but the truth so help you, God?" "Yes, you're ugly. See that women in the jury? I'd really like to sleep with her. Should I keep going or are you going to ask me questions?"
In the Roadrunner cartoon, the coyote has been chasing him for 25 years. I'd like to see him finally get right up to him and go "Sorry, I thought you were someone else."
Driving hasn't been the same since I installed the funhouse rearview mirrors. "What is that?"
Driving down the street at 150 miles per hour with a friend of mine on cruise control. Both of us in the back seat. The police pulled us over. They don't know who to arrest, nobody's driving. So, they arrested us both. I'm on the witness stand. You know the rest.
#joke
Would you like me to be your friend?
Kathy began a job as an elementary school counselor and she was eager to help.
One day, during recess, Kathy noticed a young girl standing by herself on one side of the playing field while the rest of the kids were playing a game of soccer.
A while later, Kathy walked over to the young girl and offered, "Would you like me to be your friend?"
The girl looked at Kathy suspiciously, then said hesitantly, "Okay, I guess so..."
"Why are you standing here all alone?" asked Kathy.
"Because," the little girl said with great exasperation, "I'm the goalie!"
#joke
Join us on WhatsApp