"What do you call it
"What do you call it when cafe customers joke about their coffee? A brewhaha."
"I'll never forget that Chris
"I'll never forget that Christmas. I must have spent a week peeling potatoes."
"What happened?"
"Well, the seargant asked what I wanted for Christmas, and I told him the truth."
"What did you want?"
"A new seargant."
Grocery Shopping
A man observed a woman in the grocery store with a three year old girl in her basket. As they passed the cookie section, the child asked for cookies and her mother told her "no." The little girl immediately began to whine and fuss, and the mother said quietly, "Now Ellen, we just have half of the aisles left to go through; don't be upset. It won't be long."
He passed the Mother again in the candy aisle. Of course, the little girl began to shout for candy. When she was told she couldn't have any, she began to cry. The mother said, "There, there, Ellen, don't cry. Only two more aisles to go, and then we'll be checking out."
The man again happened to be behind the pair at the check-out, where the little girl immediately began to clamor for gum and burst into a terrible tantrum upon discovering there would be no gum purchased today. The mother patiently said, "Ellen, we'll be through this check out stand in five minutes, and then you can go home and have a nice nap."
The man followed them out to the parking lot and stopped the woman to compliment her. "I couldn't help noticing how patient you were with little Ellen..."
The mother broke in, "My little girl's name is Tammy... I'm Ellen."
#joke
Good: Your hubby and you agree
Good: Your hubby and you agree, no more kids.
Bad: You can't find your birth control pills.
Ugly: Your daughter borrowed them.
Good: Your son studies a lot in his room.
Bad: You find several porn movies hidden there.
Ugly: You're in them.
Good: Your husband understands fashion.
Bad: He's a cross-dresser.
Ugly: He looks better than you.
Good: Your son's finally maturing.
Bad: He's involved with the woman next door.
Ugly: So are you.
Good: You give the birds and bees talk to your daughter.
Bad: She keeps interrupting.
Ugly: With corrections.
Good: Your wife's not talking to you.
Bad: She wants a divorce.
Ugly: She's a lawyer.
Good: The postman's early.
Bad: He's wearing fatiguesand carrying an AK47.
Ugly: You gave him nothing for Christmas.
Good: Your daughter got a new job.
Bad: As a hooker.
Ugly: Your co-workers are her best clients.
Way ugly: She makes more money than you do.
Good: Your son is dating someone new.
Bad: It's another man.
Ugly: He's you're best friend.
Good: Your wife is pregnant.
Bad: It's triplets.
Ugly: You had a vasectomy five years ago.
Limited Knowledge
As we were putting out cookies for Santa on Christmas Eve, I accidentally dropped one.
'No problem,' I said, picking it up and dusting it off before placing it back on the plate.
'You can't do that,' argued my four-year-old.
'Don't worry. Santa will never know.'
He shot me a look. 'So he knows if I've been bad or good, but he doesn't know the cookie fell on the floor?'
Son of a lawyer...
While two families were waiting in line to see the Washington Monument, their two 5-year-old boys were getting acquainted.
"My name is Joshua. What's yours?" asked the first boy.
"Adam," replied the second.
"My daddy is a doctor. What does YOUR daddy do for a living?" asked Joshua.
Adam proudly replied, "My daddy is a lawyer."
"Honest?" asked Joshua.
"No, just the regular kind," replied Adam.
FLEX WORDLE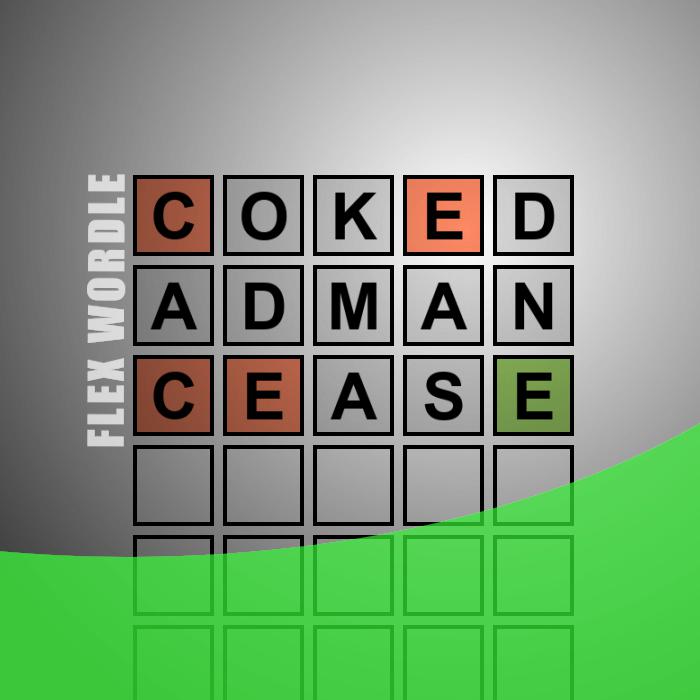 Guess the
WORDLE
in 3 tries. After each guess, the color of the tiles will change to show how close your guess was to the solution.
A Blonde walks into a Restarau...
A Blonde walks into a Restaraunt, and she goes straight to the bulletin board in the back. The blonde is looking at the bulletin board and she sees a piece of paper that sais "Ocean Cruise Only 5$" She pulls the piece of paper off the wall and goes to the address listed on the back of paper. She walks into the building and hands the secretary the piece of paper. The secretary nods and asks if she had the five dollars. The blonde nods and pulls five dollars out of her pocket and hands it to the secretary. The secretary looks over to a burly black guy reading a news paper. She nods to the black guy. He stood up and nocks the blonde unconcious. When the blonde wakes up she's tied to a log and is floating down river. She started to think that this was a bad idea. When she sees one of her freinds (who is also blonde) tied to a log floating right next to her. In a Joking manner blonde she looks at her freind and says "So do you think they're going to serve us some food on this trip?"
The other blonde replies "They didn't serve any last year."
Demetri Martin: Christmas Wrapping
I set a personal record on Christmas. I got my shopping done three weeks ahead of time. I had all the presents back at my apartment, I was halfway through wrapping them, and I realized, Damn, I used the wrong wrapping paper. The paper I used said, Happy Birthday. I didnt want to waste it, so I just wrote Jesus on it.
An Israeli doctor says...
An Israeli doctor says: "Medicine in my country is so advanced that we can take a kidney out of one man, put it in another, and have him looking for work in 6 weeks." A British doctor says: "That is nothing; we can take a lung out of one person, put it in another, and have him looking for work in 4 weeks." A Canadian doctor says: "In my country, medicine is so advanced that we can take half a heart out of one person, put it in another, and have them both looking for work in 2 weeks." A Nigerian doctor, not to be outdone, says: "You guys are way behind...... We just took a man with NO brain, made him President, and now the whole country is looking for work.
Kittens
A three-year-old went with his dad to see a litter of kittens. On returning home, he breathlessly informed his mother there were two boy kittens and two girl kittens.
"How did you know?" his mother asked.
"Daddy picked them up and looked underneath," he replied. "I think it was printed on the bottom."
#joke
Meals in Heaven
Seymour was a good and pious man, and when he passed away,
the Lord himself greeted him at the pearly gates of Heaven.
"Hungry, Seymour?" the Lord asked.
"I could eat," said Seymour. The Lord opened a can of tuna,
and they shared it.
While eating this humble meal, Seymour looked down into Hell
and noticed the inhabitants devouring enormous steaks,
pheasant, pastries and vodka.
The next day, the Lord again asked Seymour if he was hungry,
and Seymour again said, "I could eat." Once again, a can of
tuna was opened and shared, while down below Seymour noticed
a feast of caviar, champagne, lamb, truffles, brandy and
chocolates.
The following day, mealtime arrived and another can of tuna
was opened. Meekly, Seymour said, "Lord, I am very happy to
be in Heaven as a reward for the good life I lived. But, this
is Heaven, and all I get to eat is tuna. But in the
Other Place, they eat like Kings. I just don't understand."
"To be honest, Seymour," the Lord said, "for just two
people, does it pay to cook?"
#joke
Join us on WhatsApp