Jokes of the day for Thursday, 11 January 2018
Funny jokes, funny photo and funny video collected from the internet on Thursday, 11 January 2018
"Moonlighting at stan
"Moonlighting at stand-up comedy, the baker was known for his rye humor."
After twelve years in prison...
After twelve years in prison, a man finally escapes.
When he gets home, filthy and exhausted, his wife says, "Where have you been? You escaped eight hours ago!"
One day a farmer's donkey fel
One day a farmer's donkey fell down into a well. The animal cried piteously for hours as the farmer tried to figure out what to do.Finally, he decided the animal was old, and the well needed to be covered up anyway; it just wasn't worth it to retrieve the donkey. He invited all his neighbors to come over andhelp him. They all grabbed a shovel and began to shovel dirt into the well.
At first, the donkey realized what was happening and cried horribly. Then,to everyone's amazement he quieted down. A few shovel loads later, thefarmer finally looked down the well. He was astonished at what he saw. With each shovel of dirt that hit his back, the donkey was doing somethingamazing. He would shake it off and take a step up. As the farmer's neighbors continued to shovel dirt on top of the animal, he would shake it off and take a step up. Pretty soon, everyone was amazed as the donkey stepped up over the edge of the well and happily trotted off!
Life is going to shovel dirt on you, all kinds of dirt. The trick to getting out of the well is to shake it off and take a step up. Each of our troubles is a steppingstone. We can get out of the deepest wells just by not stopping, never giving up!Shake it off and take a step up.
Remember the five simple rules to be happy:
1. Free your heart from hatred - Forgive.
2. Free your mind from worries - Most never happen.
3. Live simply and appreciate what you have.
4. Give more.
5. Expect less
NOW --------
Enough of that crap . .
The donkey later came back and bit the sh*t out ofthe farmer who had tried to bury him. The gash from thebite got infected, and the farmer eventually died inagony from septic shock.
MORAL FROM TODAY'S LESSON:
When you do something wrong and try to cover yourass, it always comes back to bite you.
#joke
Giving Up Everything
Eleven people were hanging on a rope under a helicopter, ten men and one woman. The rope was not strong enough to carry them all, so they decided that one has to drop off, otherwise they are all going to fall.
They were not able to choose that person, but then the woman made a very touching speech.
She said that she would voluntarily let go of the rope, because as woman she was used to giving up everything for her husband and kids, and for men in general, without ever getting anything in return. As soon as she finished her speech, all the men started clapping their hands.
#joke
Architect Programmer
If architects had to work like programmers . . .
Dear Mr. Architect,
Please design and build me a house. I am not quite sure of what I need, so you should use your discretion.
My house should have between two and forty-five bedrooms. Just make sure the plans are such that the bedrooms can be easily added or deleted. When you bring the blueprints to me, I will make the final decision of what I want. Also, bring me the cost breakdown for each configuration so that I can arbitrarily pick one.
Keep in mind that the house I ultimately choose must cost less than the one I am currently living in. Make sure, however, that you correct all the deficiencies that exist in my current house (the floor of my kitchen vibrates when I walk across it, and the walls don't have nearly enough insulation in them).
As you design, also keep in mind that I want to keep yearly maintenance costs as low as possible. This should mean the incorporation of extra-cost features like aluminum, vinyl, or composite siding. (If you choose not to specify aluminum, be prepared to explain your decision in detail.)
Please take care that modern design practices and the latest materials are used in construction of the house, as I want it to be a showplace for the most up-to-date ideas and methods. Be alerted, however, that kitchen should be designed to accommodate, among other things, my 1952 Gibson refrigerator.
To insure that you are building the correct house for our entire family, make that you contact each of our children, and also our in-laws. My mother-in-law will have very strong feelings about how the house should be designed, since she visits us at least once a year. Make sure that you weigh all of thses options carefully and come to the right decision. I, however, retain the right to overrule any choices that you make.
Please don't bother me with small details right now. Your job is to develop the overall plans for the house: get the big picture. At this time, for example, it is not appropriate to be choosing the color of the carpet. However, keep in mind that my wife likes blue.
Also, do not worry at this time about acquiring the resources to build the house itself. Your first priority is to develop detailed plans and specifications. Once I approve these plans, however, I would expect the house to be under roof within 48 hours.
While you are designing this house specifically for me, keep in mind that sooner or later I will have to sell it to someone else. It therefore should have appeal to a wide variety of potential buyers. Please make sure before you finalize the plans that there is a consensus of the population in my area that they like the features this house has.
I advise you to run up and look at my neighbor's house he constructed last year. We like it a great deal. It has many features that we would also like in our new home, particularily the 75-foot swimming pool. With careful engineering, I believe that you can design this into our new house without impacting the final cost.
Please prepare a complete set of blueprints. It is not necessary at this time to do the real design, since they will be used only for construction bids. Be advised, however, that you will be held accountable for any increase of construction costs as a result of later design changes.
You must be thrilled to be working on as an interesting project as this! To be able to use the latest techniques and materials and to be given such freedom in your designs is something that can't happen very often. Contact me as soon as possible with your complete ideas and plans.
PS: My wife has just told me that she disagrees with many of the instructions I've given you in this letter. As architect, it is your responsibility to resolve these differences. I have tried in the past and have been unable to accomplish this. If you can't handle this responsibility, I will have to find another architect.
PPS: Perhaps what I need is not a house at all, but a travel trailer. Please advise me as soon as possible if this is the case.
#joke
It's all in the marketing...
An inter-office softball game was held every year between the marketing and support staff of one company. The support staff whipped the marketing department soundly.
To show just how the marketing department earns their keep, they posted this memo on the bulletin board after the game:
"The Marketing Department is pleased to announce that for the 2000 Softball Season, we came in 2nd place, having lost but one game all year. The Support Department, however, had a rather dismal season, winning only one game."
#joke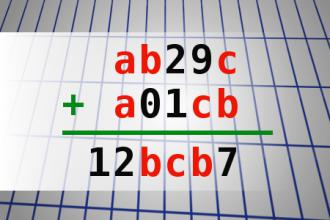 Find number abc
If ab29c + a01cb = 12bcb7 find number abc. Multiple solutions may exist.
One night, as a couple lay ...
One night, as a couple lay down for bed, the husband gently tapped his wife on the shoulder and started rubbing her arm. His wife turned over and said, "I'm sorry honey, I've got a gynecologist appointment tomorrow and I want to stay fresh." Her husband, rejected, turned over and tried to sleep. A few minutes later, he rolled back over and tapped his wife again. This time he whispered in her ear, "Do you have a dentist appointment tomorrow too?"
#joke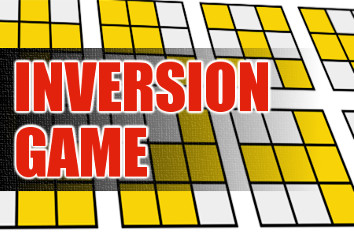 The goal of the game is to color all the 25 squares. Clicking will invert clors of all the sqauers within the shape of pattern.
The game is designed for all ages and stimulate children's creativity and reasoning.
Fun at the zoo!
Little Johnny wanted to go to the zoo and pestered his parents for days. Finally his mother talked his reluctant father into taking him.
"So how was it?" his mother asked when they returned home.
"Great," Little Johnny replied.
"Did you and your father have a good time?" asked his mother.
"Yeah, Daddy especially liked it," exclaimed Little Johnny excitedly, especially when one of the animals came home at 30 to 1!"
#joke
I was out walking with my 4 ye...
I was out walking with my 4 year old daughter. She picked up something off the ground and started to put it in her mouth. I took the item away from her and I asked her not to do that.
"Why?" my daughter asked.
"Because it's been laying outside, you don't know where it's been, it's dirty and probably has germs" I replied.
At this point, my daughter looked at me with total admiration and asked, "Wow! How do you know all this stuff?"
"Uh," I was thinking quickly, "All moms know this stuff. It's on the Mommy Test. You have to know it, or they don't let you be a Mommy." We walked along in silence for 2 or 3 minutes, but she was evidently pondering this new information.
"OH...I get it!" she beamed, "So if you don't pass the test you have to be the daddy."
"Exactly" I replied back with a big smile on my face and joy in my heart.
#joke
Chuck Norris graduated from sc...
Chuck Norris graduated from school with a degree in Chuck Norris.