Be rady for Thanksgiving
, check out our latest
Thanksgiving jokes of 2021
on:
Thanksgiving jokes collection
Kidnapped
Most Friday nights at the naval station in Bermuda, we would assemble at the officer's club after work. Z
One Friday, Rick, a newly married ensign, insisted he had to leave at 6 p.m.
We all tried to talk him into staying, but he'd promised his bride he'd be home by six. I offered to call home for Rick.
When his wife answered the phone, I said, 'Rick has been kidnapped.
Put five dollars in small, unmarked bills in a plain brown paper bag and throw it in the door of the officer's club.' Then I hung up.
A short time later, a waiter brought a grocery bag to our table.
In it were Rick's baseball glove, a tennis racket, and a teddy bear.
Attached to the bear was a note: 'Rick can play kidnapped until 7 p.m. Then he must come home.'
It's been my life l...
"It's been my life long vision to become an optometrist, but I just couldn't see a way to make it happen."
A couple had not been getting...
A couple had not been getting along for years, so the husband buys his wife a cemetery plot for her birthday.
Well, you can imagine her disappointment. The next year, her birthday rolls around again and this time he doesn't get her anything.
"Why didn't you get me a birthday present!?" she asks angrily.
"Are you kidding me?" he replies, "You didn't use what I got you last year!"
#joke
Identify The Problem
A policeman had a perfect spot to watch for speeders, but was not getting many.
Then, he discovered the problem; a 10 year old boy was standing up the road with a hand painted sign which read, "SPEED TRAP AHEAD".
The officer then found a young accomplice down the road with a sign painted "TIPS" and a bucket of change.
Teddy bear and cake
Q: What did the teddy bear say when it was offered some birthday cake?
A: No thanks, I'm stuffed.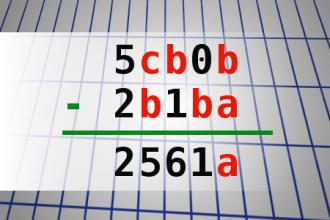 Find number abc
If 5cb0b - 2b1ba = 2561a find number abc. Multiple solutions may exist.
Remember how...
A couple who'd been married for over 50 years was sitting on the sofa, when the wife said, "Dear, do you remember how you used to sit close to me?"
He moved over and sat close to her.
"Dear," she continued, "do you remember how you used to hold me tight?"
He reached over and held her tight.
"And," she went on, "do you remember how you used to hug me and kiss me and nibble on my ear?"
With that, her husband got up and started to walk out of the room.
"Where are you going?" she asked.
"Well," answered the husband, "I have to get my teeth."
#joke
The ABC's of Marriage
After being married for 25 years, a wife asked her husband to describe her.
He looked at her carefully, then said, 'You are A, B, C, D, E, F, G, H, I, J, K.'
'What does that mean?' she asked suspiciously.
He said, 'Adorable, Beautiful, Cute, Delightful, Elegant, Foxy, Gorgeous and Hot!'
She beamed at him happily and said: 'Oh, that's so lovely! But what about I, J and K?'
'I'm Just Kidding!'
(The swelling in his eye is going down and the doctors are fairly optimistic about saving his genitals).
up, comedians, funny videos, d...
up, comedians, funny videos, dane cook, mike birbiglia, eugene mirman, demetri martin, jeff dunham, katt williams, daily joke, joke of the day, funny jokes, yo mama, jokes, redneck, blond, george bush, bush, lawyer, favorite, list, animal, college, dumb
Natasha Leggero: Boston Blackout
This girl comes up to me with this thick Boston accent and shes like, Hey, youve seriously never woke up at a party and some guy was inside you? I never woke up at a party.
Men are like a pack of Cards...
Men are like a pack of Cards:
A "heart" to love them
A "diamond" to marry them
A "club" to smack them and
A "spade" to bury the body...
Superman
This guy walks into a bar. It was on the second floor.
He sits down and another guy walks up to him. He was dead drunk.
He said, "I betcha I can jump out that thar winder and come right back up."
The other guy said, "Yeah right." Well, the guy jumped out the window.
"Oh my god, he actually did it," said the other guy. The drunk guy seemed to float right back up to the top.
"How did you do that?"
"Well, the air currents hitting the building slowly pushed me back up to the top, you wanna try it?"
"Alright, get out of the way!
AHHHHHHHHHHHHHHHHHHH" SPLAT
The drunk guy walked and sat down at the bar. The bartender said, "Damn it Superman, you're mean when you're drunk!
Submitted by Curtis
Edited by Calamjo
#joke #walksintoabar