Jokes of the day for Monday, 12 March 2018
Funny jokes, funny photo and funny video collected from the internet on Monday, 12 March 2018
The Truth About Nutrition
Here is the final word on nutrition and health. It's a relief to know the truth after all those conflicting medical studies.
The Japanese eat very little fat and suffer fewer heart attacks than do the British or Americans.
The French eat a lot of fat and also suffer fewer heart attacks than the British or Americans.
The Japanese drink very little red wine and suffer fewer heart attacks than the British or Americans.
The Italians drink excessive amounts of red wine and also suffer fewer heart attacks than the British or Americans.
The Germans drink a lot of beer and eat lots of sausages and fats and suffer fewer heart attacks than the British or Americans.
CONCLUSION
Eat and drink what you like. Speaking English is apparently what kills you.
Here's a way to spice up your...
Here's a way to spice up your office. Pick two or three colleagues and agree to play the Office Game which awards points as follows:
ONE POINT
Run one lap around the office at top speed. Walk sideways to the photocopier.
Find the vacuum and start vacuuming around your desk.
When they're not looking, pour most of someone's fresh cup of coffee into your mug leaving them with an inch of brew.
Ignore the first five people who say 'good morning' to you.
Phone someone in the office you barely know, leave your name and say "Just called to say I can't talk right now. Bye."
To signal the end of a conversation, clamp your hands over your ears and grimace.
While riding an elevator, gasp dramatically every time the doors open.
THREE-POINTS
Babble incoherently at a fellow employee then ask "Did you get all that, I don't want to have to repeat it." - Double points if you do this to a manager.
Kneel in front of the water cooler and drink directly from the nozzle.
Shout random numbers while someone is counting.
FIVE POINTS
At the end of a meeting, suggest that, for once, it would be nice to conclude with the singing of the national anthem (extra points if you actually launch into it yourself).
Walk into a very busy person's office and while they watch you with growing irritation, turn the light switch on/off 10 times.
For an hour, refer to everyone you speak to as 'Bob'.
Announce to everyone in a meeting that you "really have to go do number two".
After every sentence, say 'mon' in a really bad Jamaican accent. As in, "the report's on your desk, mon". Keep this up for one hour.
While an office mate is out, move their chair into the elevator.
In a meeting or crowded situation, slap your forehead repeatedly and mutter, "Shut up, all of you just shut up!"
In a colleague's diary, write in 10 am: "See how I look in tights".
Carry your laptop over to your colleague and ask "You wanna trade?"
Repeat the following conversation 10 times to the same person: "Do you hear that?" "What?" "Never mind, it's gone now."
Come to work in army fatigues and when asked why, say, "I can't talk about it."
Speak with an accent (French, German, Porky Pig, etc.) during a very important conference call.
Tuck one pant leg into your sock and when queried, answer, "not now" and walk away.
#joke
Wifi password
Me: What's the wifi password?
Bartender: You need to buy a drink first.
Me: Okay, I'll have a coke.
Bartender: Is Pepsi okay?
Me: Sure. How much is that?
Bartender: $3.
Me: There you go. So what's the wifi password?
Bartender: "You need to buy a drink first". No spaces, all lowercase.
Author:ShaidarHaran2
#joke
Sir Ken Dodd's greatest jokes
I haven't spoken to my mother-in-law for 18 months. I don't like to interrupt her.
Tonight when you get home, put a handful of ice cubes down your wife's nightie and say: 'There's the chest freezer you always wanted'.
Age doesn't matter, unless you are a cheese.
My dad knew I was going to be a comedian. When I was a baby, he said, 'Is this a joke?'
I've seen a topl*ss lady ventriloquist. Nobody has ever seen her lips move.
The man who invented cats' eyes got the idea when he saw the eyes of a cat in his headlights. If the cat had been going the other way, he would have invented the pencil sharpener.
How do you make a blonde laugh on a Sunday? Tell her a joke on a Wednesday.
My act is very educational. I heard a man leaving the other night, saying: 'Well, that taught me a lesson'.
Author, Comedy legend Sir Ken Dodd has died 11 March 2018, at age of 90.
What do you call whe...
"What do you call when only one twin survives during pregnancy? Survival of the fetus."
Old Age Humor
OLD CREDIT CARDS never die, they just expire
OLD CRICKETERS never die, they just get bowled over
OLD CRICKETERS never die, they just get smashed for six
OLD DANCERS never die, they just step away
OLD DAREDEVILS never die, they just get discouraged
OLD DEANS never die, they just lose their faculties
OLD DENTISTS never die, they just lose their pull
OLD DIETERS never die, they just waist away
OLD DIVERS never die, they just extend their bottom time
OLD DIVERS never die, they just flop
OLD DIVERS never die, they just get board
OLD DIVERS never die, they just lose their spring
OLD DOCTORS never die, they just lose their patience
OLD EDITORS do it with a red pen
OLD ELECTRICAL ENGINEERS never die, they just have slower rise times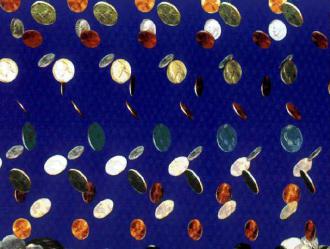 What hides this stereogram?
Stereogram - 3D Image
A man entered the bus with bot...
A man entered the bus with both of his front pockets full ofgolf balls and sat down next to a beautiful (you guessed it) blonde.
The puzzled blonde kept looking at him and hisbulging pockets.
Finally, after many such glances from her, he said, "It'sgolf balls".
Nevertheless, the blonde continued to look at himthoughtfully and finally, not being able to contain her curiosity anylonger, asked, "Does it hurt as much as tennis elbow?"
A trip to the dentist...
A woman phoned her dentist when she received a huge bill.
"I'm shocked!" she complained.
"This is three times what you normally charge."
"Yes, I know," said the dentist. "But you screamed so loudly, you scared away two other patients."
Paul Varghese: Knock Knock Joke
My friends a Jehovahs Witness. He got all pissed at me because he tried to tell me a knock knock joke and I ignored him.
Match Made in Heaven
A young couple were driving down the road one day, happily, deliriously in love and due to be married the next day. Suddenly, a large truck swerved from the oncoming lanes into their car! BOOM! And they both died.
At the Pearly Gates, the young couple confronted St. Peter. "Sir, you have to help us! We were to be married tomorrow. Is there any way we can be married in Heaven?"
"Hmmm," replied St. Peter, "I don't recall there ever being a marriage in Heaven. Well, let's take it up with God and see what he says."
So they approached God with their plea. God sat for a moment, pondering the request. Then he looked down and said, "Come back in five years and ask me again."
Five years later, the couple approached God again, even more in love than ever and pleading that he allow their marriage. God paused for quite a while, musing over their request. Then he spoke, "Come back in five years and ask me again."
And once again, five years later, the couple was again in the presence of God, more in love than ever and begging God's permission for the third time to marry. This time God smiled broadly and thundered, "Yes my children, you may marry!"
Well, the wedding went off beautifully, the reception was huge, everyone thought the bride was simply breathtaking and the groom was soooo handsome, and everyone was happy! Until...
Two years later, the couple was back before God, and things were not looking so good. The couple had come to the realization almost immediately that although marriages were made in heaven, they didn't last very long there! And, in spite of their struggles to come to terms with the situation, they had decided there simply was no alternative but to get a divorce.
Black clouds fractured by lightening rolled across the sky, and the ground shook with explosive thunder. God glared down at the tiny couple before him, his face becoming dark and angry, and he roared, "Divorce?! Impossible!!! It took us TEN years just to find a priest in Heaven! Do you have any idea how long it will take to find a LAWYER?!!"
Where are we?
Two tourists were driving through Louisiana. As they were approaching Natchitoches, they started arguing about the pronunciation of the town. They argued back and forth until they stopped for lunch. As they stood at the counter, one tourist asked the employee,
"Before we order, could you please settle an argument for us? Would you please pronounce where we are...very slowly?"
The employee leaned over the counter and said, "Burrrrrrrr, gerrrrrrr, Kiiiiing."
#joke
School Collection 08
A math joke
If there are ten cats in a boat and one jumps out, how many are left?
None, they were all copycats!
A history joke
What does the 1286BC incribed on the mummy's tomb indicate?
The registration of the car that ran him over!
Father: How do you like going to school?
Son: The going bit is fine, as is the coming home bit too, but I'm not too keen on the time in-between!
A history joke
Who succeeded the first President of the USA?
The second one!
A math joke
Teacher: Now class, whatever I ask, I want you to all answer at once. How much is six plus 4?
Class: At once!
#joke
Natural talents
I have never made a fool of my mother-in-law,
I just leave her to display her natural talents herself.