A stingy old lawyer who had be...
A stingy old lawyer who had been diagnosed with a terminal illness was determined to prove wrong the saying, "You can't take it with you."
After much thought and consideration, the man finally figured out how to take at least some of his money with him when he died. He instructed his wife to go to the bank and withdraw enough money to fill two pillow cases.
He then directed her to take the bags of money to the attic and leave them directly above his bed. His plan: When he passed away, he would reach out and grab the bags on his way to heaven.
Several weeks after the funeral, the deceased lawyer's wife, up in the attic cleaning, came upon the two pillow cases stuffed with cash.
"Oh, that darned old fool," she exclaimed. "I knew he should have had me put the money in the basement."
I applied for a job...
"I applied for a job as a weatherman, but my knowledge of meteorology was a little cloudy."
I Don't Speak Dog
A guy gets a new dog, a nice Jewish dog. He names the dog Einstein and trains Einstein to do a couple of tricks. He can't wait to show Einstein off to his neighbor. A few weeks later when the neighbor finally comes over, the guy calls Einstein into the house, bragging about how smart he is. The dog quickly comes running and stands looking up at his master, tail wagging excitedly, mouth open, tongue hanging out, eyes bright with anticipation. The guy points to the newspaper on the couch and commands "Fetch!"Immediately, the dog climbs onto the couch and sits, his tail wagging furiously. Then all of a sudden, he stops. His doggie smile disappears. He starts to frown and puts on a sour face. Looking up at his master, he whines, "You think this is easy, wagging my tail all the time? Oy vey ... And you think it's easy eating that junk that you call designer dog food? Forget it ... it's too salty and it gives me gas. It's disgusting I tell you!"The neighbor is absolutely amazed ... stunned. In astonishment, he says, "I can't believe it. Einstein can speak. Your dog actually talks. You asked him to fetch the newspaper and he is sitting on the sofa talking to us." "I know, I know," says the dog owner. "He's not yet fully trained. He thought I said kvetch."
#joke
Carlos panhandles just as long
Carlos panhandles just as long as Jose but only collects 2 to 3dollars every day.
Jose brings home a suitcase FULL of $10 bills, drives a Mercedes,lives in a mortgage free house and has a lot of money to spend.
Carlos says to Jose, "I work just as long and hard as you do but how do you bring home a suitcase full of $10 bills every day?".
Jose says, .... "Look at your sign, what does it say?"
Carlos' sign reads, "I have no work, a wife and 6 kids to support."
Jose says, "No wonder you only get $2-3 dollars."
Carlos says, "So what does your sign say?"
Jose shows Carlos his sign......
It reads, "I only need another $10.00 to move back to Mexico
#joke
Business One-liners 24
Eighty percent of all people consider themselves to be above average.
Enough research will tend to support your theory.
Entropy has us outnumbered.
Error is often more earnest than truth.
Even a stopped clock is right twice a day.
Even if the grass is greener on the other side: they, like you, still have to cut it.
Even paranoids have enemies.
Every silver lining has a cloud around it.
Every solution breeds new problems.
Everybody is somebody else's weirdo.
#joke
GPS Cat
There was a man who couldn't stand his wife's cat. So, one day, he decided to get rid of him by dumping him a long way away from the house.
He put the cat in the car and drove about 20 blocks away, then he left him at the park. But when he got home, the cat was there as if nothing had happened.
The next day he decided to take the cat somewhere further away, about 50 blocks. He put him out of the car and drove home. And again, the cat was there waiting for him. 'This is impossible,' said the man to himself. 'tomorrow I'll make sure he can't come back!'
The next day he puts the cat in the car and he drives around, taking turn after turn – right, left, right, right and so on. Eventually, after about an hour of driving, he finally lets the cat out and drives home.
A few hours later, the phone rings at his house and his wife answers it. It's the husband, and he asks: "Is the cat there?" "Why, yes." says the wife, "he's been here quite a while, where are you?"
"Please put himon the phone, I'm lost and I need directions."
#joke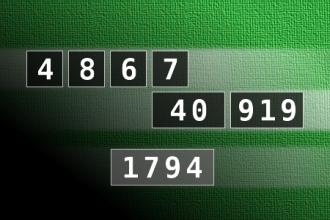 Calculate the number 1794
NUMBERMANIA: Calculate the number 1794 using numbers [4, 8, 6, 7, 40, 919] and basic arithmetic operations (+, -, *, /). Each of the numbers can be used only once.
First time in the big city...
Two small-town merchants were visiting New York City for the first time to attend a conference. There was a large party thrown, with lots of food and drink. At the end of the party, they both staggered outside. One guy crossed the street, while the other stumbled into a subway entrance. When the first guy reached the other side of the street, he noticed the other emerging from the subway stairs.
"Where ya been?" he slurred.
"I don't know," gushed the other guy, "but you should see the train set that guy has in his basement!"
#joke
The children were lined up in...
The children were lined up in the cafeteria of a Catholic elementary school for lunch. At the head of the table was a large pile of apples.. The nun made a note, and posted on the apple tray: 'Take only ONE . God is watching.'
Moving further along the lunch line, at the other end of the table was a large pile of chocolate chip cookies.
A child had written a note, 'Take all you want. God is watching the apples'.
#joke
Feels great...
A fellow wakes up one morning, singing and whistling to himself, "I feel great, just great". Goes down to greet his wife, and tells her, "I feel great, honey!"
She replies,. "Well you look terrible"!
He shakes his head and starts out to work thinking, "She's probably in a bad mood, can't appreciate my good feelings". Meets his best friend, Joe and says, "Joe, I feel great".
Joe looks at him and says "Jeez, you really look terrible"! At this point the fellow is becoming worried and wonders, "Maybe I've got some unusual disease or something." He quickly calls his physician and heads on over for an emergency consult. He tells the physician, "Doc, I feel great, but everyone is telling me I look terrible."
The physician replies, "Well, you do look terrible. Let me look this up." The physician consults his handbook (Merck, of course) and leafing through the pages mutters to himself: "Feels great, looks great, no that's not you". "Feels terrible, looks terrible, no that's not you". "Feels great, looks terrible...Yes that's you... "It says here you're a vagina!"
#joke
An Englishman wanted to become...
An Englishman wanted to become an Irishman, so he visited a doctor to find out how to go about this. "Well" said the doctor, "this is a very delicate operation and there is a lot that can go wrong. I will have to remove half your brain". "That's OK" said the Englishman. "I've always wanted to be Irish and I'm prepared to take the risk".
The operation went ahead but the Englishman woke to find a look of horror on the face of the doctor. "I'm so terribly sorry!!" the doctor said. "Instead of removing half the brain, I've taken the whole brain out". The patient replied, "No worries, mate!!"
Two elderly gentlemen, who had...
Two elderly gentlemen, who had been without sex for several years, decided they needed to visit a cat-house for some tail. When they arrived, the madam took one look at them and decided she wasn't going to waste any of her girls on these two old men. So she used "blow-up" dolls instead. She put the dolls in each man's room and left them to their business.
After the two men were finished, they started for home and got to talking.
The first man said, "I think the girl I had was dead. She never moved, talked or even groaned... how was it for you?"
The second man replied, "I think mine was a witch."
The first man asked, "How's that?"
"Well," said the second man, "when I nibbled on her breast... she farted and flew out the window!"
#joke
Chuck Norris can skip water on...
Chuck Norris can skip water on a rock.