Jokes of the day for Friday, 04 May 2018
Funny jokes, funny photo and funny video collected from the internet on Friday, 04 May 2018
An armless man walked into a b...
An armless man walked into a bar which is empty except for the bartender.
He ordered a drink and when he was served, asked the bartender if he would get the money from his wallet in his pocket, since he has no arms.
The bartender obliged him. He then asked if the bartender would tip the glass to his lips.
The bartender did this until the man finished his drink. He then asked if the bartender would get a hanky from his pocket and wipe the foam from his lips.
The bartender did it and commented it must be very difficult not to have arms and have to ask someone to do nearly everything for him.
The man said, "Yes, it is a bit embarrassing at times. By the way, where is your restroom?"
The bartender quickly replies, "The closest one is in the gas station three blocks down the street."
#joke
The invention of dyn...
"The invention of dynamite sure was ground breaking."
A minister decided that a visu...
A minister decided that a visual demonstration would add emphasis to his Sunday sermon.
Four worms were placed into four separate jars.
The first worm was put into a container of alcohol.
The second worm was put into a container of cigarette smoke.
The third worm was put into a container of chocolate syrup..
The fourth worm was put into a container of good clean soil.
At the conclusion of the sermon, the Minister reported the following results:
The first worm in alcohol - Dead.
The second worm in cigarette smoke - Dead
Third worm in chocolate syrup - Dead
Fourth worm in good clean soil - Alive.
So the Minister asked the congregation -
What did you learn from this demonstration?
Old Maxine was sitting in the back smoking a cigarette along with a shot of Jack Daniels in her hand, quickly raised her other hand and said, 'As long as you drink, smoke and eat chocolate, you won't have worms!'
That pretty much ended the service.
#joke
Eskimos And Weevils
Two Eskimos sitting in a kayak were chilly, but when they lit a fire in the craft it sank - proving once and for all that you can't have your kayak and heat it, too.
Two boll weevils grew up in South Carolina. One went to Hollywood and became a famous actor. The other stayed behind in the cotton fields and never amounted to much. The second one, naturally, became known as the lesser of two weevils.
#joke
The Jewish Boy and the Muslim Boy
David, a Jewish boy, and Ali, a Muslim boy, are having a conversation. Ali: I'm getting operated on tomorrow. David: Oh? What are they going to do? Ali: Circumcise me! David: I had that done when I was just a few days old. Ali: Did it hurt? David: I couldn't walk for a year!
#joke
The penny scale...
After the holidays and all those delightful, seasonal treats, a husband stepped on one of those penny scales that tells your fortune and weight.
He drops in a coin and eagerly reads the results.
"Listen to this," he said to his wife, showing her a small, white card. "It says I'm energetic, bright, resourceful and an absolutely great lover in bed!"
"Yeah," his wife nodded, "and it has your weight wrong, too!"
#joke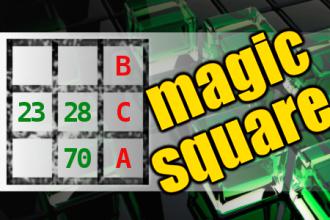 MAGIC SQUARE: Calculate A-B-C
The aim is to place the some numbers from the list (6, 14, 18, 23, 24, 28, 33, 61, 65, 70, 79) into the empty squares and squares marked with A, B an C. Sum of each row and column should be equal. All the numbers of the magic square must be different. Find values for A, B, and C. Solution is A-B-C.
Osama Bin Laden'
One day Osama Bin Laden is thinking: What should I blow up first? Then Osama Bin Laden said: "I have decided! bring the servent girl and tell her to get on her kneesand tell her to sacrifice her self!"
The ocean was once fresh water...
The ocean was once fresh water but Chuck Norris likes his shrimp salty.
An engineer dies and reports t...
An engineer dies and reports to the pearly gates. St. Peter checks his dossier and says, "Ah, you're an engineer -- you're in the wrong place."
So the engineer reports to the gates of hell and is let in. Pretty soon, the engineer gets dissatisfied with the level of comfort in hell, and starts designing and building improvements. After a while, they've got air conditioning and flush toilets and escalators, and the engineer is a pretty popular guy.
One day God calls Satan up on the telephone and says with a sneer, "So, how's it going down there in hell?"
Satan replies, "Hey, things are going great. We've got air conditioning and flush toilets and escalators, and there's no telling what this engineer is going to come up with next."
God replies, "What??? You've got an engineer? That's a mistake -- he should never have gotten down there, send him up here."
Satan says, "No way! I like having an engineer on the staff, and I'm keeping him."
God says, "Send him back up here, or I'll sue."
Satan laughs uproariously and answers, "Yeah, right. And just where are you going to get a lawyer?"
Forgetful...
The man looked a little worried when the doctor came in to administer his annual physical, so the first thing the doctor did was to ask whether anything was troubling him.
"Well, to tell the truth, Doc, yes," answered the patient. "You see, I seem to be getting forgetful. I'm never sure I can remember where I put the car, or whether I answered a letter, or where I'm going, or what it is I'm going to do once I get there -- if I get there. So, I really need your help. What can I do?"
The doctor mused for a moment, then answered in his kindest tone, "Pay me in advance."