Business Ethics – Educational
A father is explaining ethics to his son, who is about to go into business. 'Suppose a woman comes in and orders a hundred dollars worth of material. You wrap it up, and you give it to her. She pays you with a $100 bill. But as she goes out the door you realize she's given you two $100 bills. Now, here's where the ethics come in: should you or should you not tell your partner?'
#joke
Why couldn't the pi...
"Why couldn't the pig see his house? He had a sty in his eye."
A Puzzle for Darwin
On the sixth day, God created the platypus. And God said: Let's see the evolutionists try and figure this one out.
Answering Machine Message 82
Hello, you're caller number nine!
You are listening to 91.5 FM, KXQK. This is the Canadian Broadcorping Castration. I am your host, Fred, and I will be with you for the next 20 seconds. After that we'll play your requests. Leave yours with us, and we'll try to fit it in, given programming constraints. Thank you for listening to our show.
#joke
A farmer walked into a bar and...
A farmer walked into a bar and saw the local tractor salesman sitting there, head hung low, obviouslyupset, drowning his sorrows in his beer.
"What's up, John?" asked the farmer. "Gosh Bob, I'll tell you what ... if I don't sell a tractor soon, I'm gonnahave to close my shop."
"Now John, things could be worse," said Bob.
"How do you figure?" asked John.
"Well, John - you know my 'ornery cow, Bessie? I went to milk her this morning and she just kept flickingher tail in my face. So I grabbed a piece of rope and tied it up to the rafter. Then, the nasty thing wentand kicked the bucket away! So I tied her leg to the wall. Then she kicked my stool right out fromunderneath me!
But I was out of rope. So I took my belt off and used it to tie her other leg to the other side of the stall.Well wouldn't you just know it...my damn pants fell down."
"And John, if you can convince my wife that I was in there to MILK that cow, I'll buy a tractor from you.
Socks...
A young man and a young woman were soon to be married, but they both had a problem they had never told anyone else about. The man approached his father one day before the wedding and told him about his problem. His feet REALLY stunk, even if he washed them constantly, he was worried that this would scare off his new bride, so he needed a solution, fast. His father pondered the situation and finally told his son to wear socks constantly (even to bed) and always wash his feet whenever he got a chance. The son thought about this and went along happy.
The same day the young lady approached her mother and told her about her problem. Her morning breath was horrid. Her mother reassured her and told her everyone had bad morning breath. The young woman told her mother that this was not normal morning breath but easily the worst in the world. The mother thinks about this and comes up with this bright idea. She tells her daughter to get up earlier than everyone else and don't say a thing, go make breakfast and then brush her teeth while the others are eating. The young woman thinks and then runs off to get ready for the wedding, happy.
The couple is married and they are happy, him with his perpetual socks and her with her morning silences. One morning about 5:30 am the young man wakes up to find one sock missing. He starts rustling around in the bed looking for it, which of course wakes up his wife, who without thinking asks what's wrong.
With a look of shock on his face the young man says, "OH MY GOD! You've swallowed my sock!"
#joke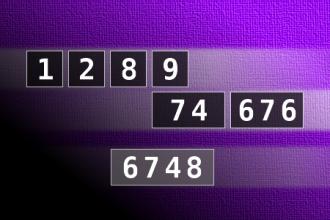 Calculate the number 6748
NUMBERMANIA: Calculate the number 6748 using numbers [1, 2, 8, 9, 74, 676] and basic arithmetic operations (+, -, *, /). Each of the numbers can be used only once.
A man lay spread out over thre...
A man lay spread out over three seats in the second row of a movie theater.
As he lay there breathing heavily, an usher came over and said, "That's very rude of you, sir, taking up three seats. Didn't you learn any manners! Where did you come from?"
The man looked up helplessly and said, "The balcony!"
#joke
A Push Please
A man is in bed with his wife when there is a knock at the door. He rolls over and looks at his clock, and it's 3:30 in the morning. "I'm not getting out of bed at this time," he thinks, and rolls over.
Then a louder knock follows. "Aren't you going to answer that?" says his wife. So he drags himself out of bed and goes downstairs. He opens the door and there is a man standing on the porch. It didn't take the homeowner long to realize the man was drunk.
"Hi there," slurs the stranger. "Can you give me a push??"
"No, get lost! It's half past three. I was in bed," says the man and he slams the door. He goes back up to bed and tells his wife what happened and she says, "That wasn't very nice of you. Remember that night we broke down in the pouring rain on the way to pick the kids up from the babysitter and you had to knock on that man's house to get us started again? What would have happened if he'd told us to get lost?"
"But the guy was drunk," says the husband. "It doesn't matter," says the wife. "He needs our help and it would be the Christian thing to help him."
So the husband gets out of bed again, gets dressed, and goes downstairs. He opens the front door, and not being able to see the stranger anywhere he shouts, "Hey, do you still want a push?" And he hears a voice cry out, "Yeah, please." So, still being unable to see the stranger he shouts, "Where are you?"
And the drunk replies, "Over here, on the swing."
#joke
Off to Vegas
A man came home from work one day to find his wife sitting on the front porch with her bags packed. He asked her where she was going and she replied "I'm going to Las Vegas."
He questioned her as to why she was going and she told him "I just found out that I can make $400.00 a night doing what I give you for free". He pondered that then went into the house and packed his bags and returned to the porch and with his wife. She said "And just where do you think you're going?"
"I'm going too!" he replied.
"Why?" She asked.
"I want to see how you are going to live on $800.00 a year"!   
#joke
Lessons from Comp 4
I recently finished up teaching Comp 4, the computer literacy course here at UNC, during a compressed summer session. Comp 4 is an introductory class that assumes NO knowledge of computers among its students, and believe me when I say that this was often the case. The class was great fun to teach, and one of the facets that made it interesting (day-in and day-out) was the wealth of new knowledge that the students imparted to me on tests and examinations. I thought that I'd share some of these nuggets with you. My comments are in the standard C delimiters (/* and */). *Your* comments are encouraged. Here goes:
Bacchus invented FORTRAN. /* I knew FORTRAN was old, and that it may have been designed under the influence of alcohol, but... */
There are three kinds of program statements: sequence, repetition, and seduction.
There are two types of graphics: vector and rascal. /* Otay... */
Programming languages have specifictions. /* Obviously this student has dealt with a few standards. */
Macs are compatible with each other. /* Imagine the alternative: "What's your Mac's serial number? We'll go back to the warehouse and get your software."
*/
Doctors use computers to create a three demential picture of a person's brain. /* Is this classic, or what? */
One kind of a hostile computer program is a Trojan.
C is a logical programming language. /* */
Heuristics (from the French heure, "hour") limit the amount of time spent executing something. [When using heuristics] it shouldn't take longer than an hour to do something. /* An absolutely terrific "false cognate". */
Having the computer automatically fill in images for animation is called "spleening". /* Derivation: most likely "splines" + "tweening". */
One method of computer security is a phone line. /* She qualified it later by adding, "You have to know the number."
*/
Video games are examples of fault-tolerant systems.
On one test, I gave the students some abbreviations and asked them to tell me what they stood for. You won't believe the creativity of a student in a test situation. For example, one of the abbreviations was "fax", which *really* stands for "facsimile". However, various Comp 4'ers said it stood for: Fiber-optic Aided Xeroxing Frequency Automatic X-rays
/* and my favorite... */
Fast A** Xeroxing
The students also had to hand in term papers, and these were rife with interesting tidbits. I've clipped a few, quoted verbatim:
"The worst thing the Mac has to offer, is that cooperative multitasking is not available to be used."
"... footnotes present an interesting problem, which may be solvable by Hypercad."
/* I assume the last term is the newest rage -- a free-form database for designers. */
"...Linda, a blind girl, was able to attend public school due to the aid of a speaking computer that taught her the basic fundmamentals [sic] of grammar and spelling."
/* Linda may want to lend her computer out... */
"The program is manufactured by Quantel, a Silicon Valley company located in Clearwater, Florida."
/* A *long* valley, as my roommate put it. */
"At the beginning of each season [Edwin] Moses teats himself on computerized weight machines..."
/* Ouch! */
blonde getting a haircut
A blond was rollerblading with her headphones on. she stopped in the hair salon and asked for a hair cut. she instructed that the hair stylist could not take off the headphones.
the stylist replied "no" so the blond left. she went to a different hair salon and said the same thing. the stylist replied "ok".
after a while, the blond fell asleep in the chair. the stylist took off the headphones and the blonde died on the spot. confused at what happened, the stylist put on the headphones. they were saying, "breath in, breath out"