Roads: Specifications & bureaucracies live on forever! 
The US standard railroad gauge (space between the rails) is 4 feet 8½ inches. z
That is a very odd number. Why was that gauge used?
Because that's the way they built them in England and the US railroads were built by English expatriates.
Why did the English build them that way? Because the first rail lines were built by the same people who built the pre-railroad tramways, and that's the gauge they used.
Why did they use that gauge? Because the people who built the tramways used the same jigs and tools that were used for building wagons, which used that wheel spacing.
So why did the wagons have that particular spacing? If they tried to use any other spacing, the wagon wheels would break on some of the old, long distance roads in England because that was the spacing of the wheel ruts.
So who built those old rutted roads? The first long distance roads in Europe (including England) were built by Imperial Rome for their legions and they have been in use ever since.
And the ruts in the roads? The ruts, which everyone had to match for fear of breaking their wagon wheels, were first formed by chariots. Since the chariots were made for (or by) Imperial Rome, they were all alike in the manner of wheel spacing.
The US standard railroad gauge of 4 feet 8½ inches was derived from the original specifications for the Imperial Roman war chariot.
Specifications and bureaucracies live on forever!
So, the next time you are handed a specification and you wonder what bureaucratic horse's ass came up with it, you may be exactly right, because the Imperial Roman war chariots were made just wide enough to accommodate the rear ends of two horses.
There we have the answer to the original question but now for a new twist to the story.
When we see the space shuttle sitting on its launching pad, there are two booster rockets attached to the side of the main fuel tank. These are solid fuel boosters that are made by Thiokol at their plant in Utah.
The engineers who designed the boosters would have preferred to make them larger in diameter but they had to be shipped by rail from the factory to the launch site. The railroad from the factory had to pass through several tunnels in the mountains that are, you guessed it, just slightly wider than the railroad track which is about two horse butts wide.
Incredibly, a major design feature of what is currently the world's most advanced and technologically sophisticated transportation system was determined over two thousand years ago by the width of a horse's ass.
Don't you just love engineering?
#joke
An artist asked the gallery ow
An artist asked the gallery owner if there had been any interest in his paintings on display at that time.
"I have good news and bad news," the owner replied. "The good news is that a gentleman inquired about your work and wondered if it would appreciate in value after your death. When I told him it would, he bought all 15 of your paintings."
"That's wonderful," the artist exclaimed. "What's the bad news?"
"The guy was your doctor..."
A good juice bar alw...
"A good juice bar always puts their customers thirst."
A woman was chatting with her
A woman was chatting with her next-door neighbor."I feel really good today. I started out thismorning with an act of unselfish generosity.I gave a twenty dollar bill to a bum."
"You gave a bum twenty whole dollars? That'sa lot of money to just give away. What did yourhusband say about it?"
"Oh, he thought it was the proper thing todo. He said, 'Thanks.'"
#joke
Dogs Not On Computers
Why Dogs Don't Use Computers


Can't stick their heads out of Windows '95.

Fetch command not available on all platforms.

Hard to read the monitor with your head cocked to one side.

Too difficult to "mark" every website they visit.

Can't help attacking the screen when they hear "You've Got Mail."

Fire hydrant icon simply frustrating.

Involuntary tail wagging is dead giveaway they're browsing www.pethouse.com instead of working.

Keep bruising noses trying to catch that MPEG frisbee.

Not at all fooled by Chuckwagon Screen Saver.

Still trying to come up with an "emoticon" that signifies tail-wagging.

Oh, but they WILL... with the introduction of the Microsoft Opposable Thumb.

Three words: Carpal Paw Syndrome

Cause dogs ain't GEEKS! Now, cats, on the other hand...

Barking in next cube keeps activating YOUR voice recognition software.

SmellU-SmellMe still in beta test.

SIT and STAY were hard enough, GREP and AWK are out of the question!

Saliva-coated mouse gets mighty difficult to manuever.

Annoyed by lack of newsgroup, alt.pictures.master's.leg.

Too Hard To Type With Paws.

#joke
Hunting Season
The Wednesday night church service coincided with the last day of hunting season. During the service, our pastor asked who had bagged a deer. No one raised a hand.Puzzled, the pastor said, "I don't get it. Last week many of you said you wouldn't be at church Sunday because of hunting season. I had the whole congregation pray for your deer."One hunter said, "Well, preacher, it worked. They're all safe."
#joke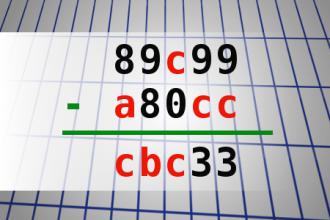 Find number abc
If 89c99 - a80cc = cbc33 find number abc. Multiple solutions may exist.
Poison
A man goes to see the Rabbi. "Rabbi, something terrible is happening and I have to talk to you about it."
The Rabbi asked, "What's wrong?"
The man replied, "My wife is poisoning me."
The Rabbi, very surprised by this, asks, "How can that be?"
The man then pleads, "I'm telling you, I'm certain she's poisoning me. What should I do?"
The Rabbi then offers, "Tell you what. Let me talk to her. I'll see what I can find out and I'll let you know."
A week later the Rabbi calls the man and says. "I spoke to your wife...spoke to her on the phone for three hours. You want my advice?"
The man said yes, and the Rabbi replied, "Take the poison!"    
#joke
The only way down...
Two Roofers, Bob and Dan, were putting a new roof on a barn when a bundle of shingles slid down the slope and knocked the ladder over. Bob and Dan decided since it was early they would continue working because someone would surely come around by quitting time.
It was nearing 5 PM and they hadn't seen hide nor hair of anyone. So, they walked around the roof a few times and finally decided there was only one way down. On the West side of the barn was a big manure pile.
Bob says, "It's the only way down. I will go first." Bob jumped.
Dan heard the squishy landing and yelled, "Hey Bob! How deep did you go?"
Bob yells back, "I went to my ankles Dan, come on JUMP!" Dan jumps and goes clear up to his neck in manure.
He says to Bob, "I thought when you jumped you went up to your ankles?"
Bob replies, "I did, but I landed head first!"
#joke
Google's pizza
- Hello! Gordon's pizza?
- No sir it's Google's pizza.
- So it's a wrong number? Sorry
- No sir, Google bought it.
- OK. Take my order please
- Well sir, you want the usual?
- The usual? You know me?
- According to our caller ID data sheet, in the last 12 times, you ordered pizzawith cheeses, sausage, thick crust.
- OK! This is it ...
- May I suggest to you this time ricotta, arugula with dry tomato.?
- What? I hate vegetables.
- Your cholesterol is not good, sir.
- How do you know?
- We crossed the number of your fixed line with your name, through the subscribers guide.
We have the result of your blood tests for the last 7 years.
- Okay, but I do not want this pizza!,I already take medicine ...
-Excuse me, but you have not taken the medicine regularly, from our commercial database, 4 months ago, you only purchased a box with 30 cholesterol tablets at Drugsale Network.
- I bought more from another drugstore.
- It's not showing on your credit card statement
- I paid in cash
- But you did not withdraw that much cash according to your bank statement
- I have have other source of cash
- This is not showing as per you last Tax form unless you bought them from undeclared income source.
-WHAT THE HELL?
- I'm sorry, sir, we use such information only with the intention of helping you.
- Enough! I'm sick of google, facebook, twitter, WhatsApp. I'm going to an Island without internet, cable TV, where there is no cell phone line and no one to watch me or spy on me
- I understand sir but you need to renew your passport first as it has expired 5 weeks ago
#joke
Chuck Norris can drink an enti...
Chuck Norris can drink an entire gallon of milk in thirty-seven seconds.
Owen Benjamin: Public Restrooms for Guys
Its not an enjoyable place. We get a urinal; we dont get real estate. Its a little, creepy urinal, right? Ladies, you know what it feels like in the elevator when youre in complete silence with a bunch of strangers? Now put your penis in your hand.
What's white and if it fell ou...
What's white and if it fell out of a tree would kill you?
A fridge.
What Is This?
A priest, a minister and a rabbi walk into a bar.
The bartender looks up and says:
- What is this, a joke?