A young banker decided to get...
A young banker decided to get his first tailor-made suit. So he went tothe finest tailor in town and got measured for a suit. A week later hewent in for his first fitting. He put on the suit and he looked fabulous,he felt that in this suit he can do business.
As he was preening himself in front of the mirror he reached down to puthis hands in the pockets and to his surprise he noticed that there were nopockets. He mentioned this to the tailor who asked him, "Didn't you tellme you were a banker?"
The young man answered, "Yes, I did."
To this the tailor said, "Who ever heard of a banker with his hands in hisown pockets?"
#joke
Praying for Coffee Cake
An overweight business associate of mine decided it was time to shed some excess pounds. He took his new diet seriously, even changing his driving route to avoid his favorite bakery. One morning, however, he arrived at work carrying a gigantic coffee cake. We all scolded him, but his smile remained cherubic."This is a very special coffee cake," he explained. "I accidentally drove by the bakery this morning, and there in the window was a host of goodies. I felt this was no accident, so I prayed, 'Lord, if you want me to have one of those delicious coffee cakes, let me have a parking place directly in front of the bakery. And sure enough," he continued, "the eighth time around the block, there it was!"
#joke
American Tourist versus Australian
An Australian man was having coffee and croissants with butter and jam in a cafe when an American tourist, chewing gum, sat down next to him. The Australian politely ignored the American, who, nevertheless, started up a conversation. The American snapped his gum and said, "You Australian folk eat the whole bread?"
The Australian frowned, annoyed with being bothered during his breakfast, and replied, "Of course."
The American blew a huge bubble. "We don't. In the States, we only eat what's inside. The crusts we collect in a container, recycle them, transform them into croissants and sell them to Australia."
The American had a smirk on his face. The Australian listened in silence.
The American persisted. "Do you eat jam with the bread?" Sighing, the Australian replied, "Of course." Cracking his gum between his teeth, the American said, "We don't. In the States, we eat fresh fruit for breakfast, then we put all the peels, seeds, and leftovers in containers, recycle them, transform them into jam and sell it to Australia."
The Australian then asked, "Do you have sex in the States?"
The American smiled and said, "Why of course we do."
The Australian leaned closer to him and asked, "And what do you do with the condoms once you've used them?"
"We throw them away, of course."
Now it was the Australian's turn to smile. "We don't. In Australia we put them in a container, recycle them, melt them down into chewing gum and sell them to the United States."
Why do you think it's called Wrigley's
#joke
"When words newly coi
"When words newly coined are included in the dictionary, it brings about many a change!"
A beautiful, voluptuous woman...
A beautiful, voluptuous woman went to a gynecologist.
The doctor took one look at this woman and all his professionalism went out the window. He immediately told her to undress.
After she had disrobed the doctor began to stroke her thigh. Doing so, he asked her, "Do you know what I'm doing?"
"Yes," she replied, "you're checking for any abrasions or dermatological abnormalities."
"That is right," said the doctor.
He then began to fondle her breasts. "Do you know what I'm doing now?" he asked.
"Yes," the woman said, "you're checking for any lumps or breast cancer."
"Correct," replied the shady doctor.
Finally, he mounted his patient and started having sexual intercourse with her. He asked, "Do you know what I'm doing now?"
"Yes," she said. "You're getting herpes; which is why I came here in the first place."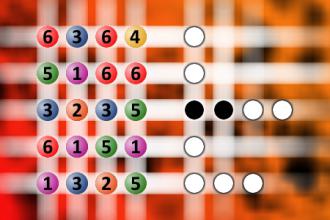 Find the right combination
The computer chose a secret code (sequence of 4 digits from 1 to 6). Your goal is to find that code. Black circles indicate the number of hits on the right spot. White circles indicate the number of hits on the wrong spot.
Thirsty
A very thirsty man goes into a bar.
As he waits to get the bartender's attention, a regular sitting next to him calls out, "I'll have another waterloo."
The bartender gives the regular a tall ice cold drink and asks the newcomer what he would like. The thirsty man points to the man next to him and says, "I guess I'll have what he's having, a waterloo."
So the bartender brings the newcomer a tall ice cold drink. The man takes a long deep drink and calls out, "HEY! This isn't any good. It tastes just like water!"
The regular bar patron sitting next to him says, "It is water. That's all I drink," He turns to the bartender and says, "Right Lou?"
#joke
Volunteer fire department
A fire started on some grasslands near a farm. The county fire department was called to put out the fire. The fire was more than the county fire department could handle. Someone suggested that a nearby volunteer bunch be called. Despite some doubt that the volunteer outfit would be of any assistance, the call was made.
The volunteers arrived in a dilapidated old fire truck. They rumbled straight towards the fire, drove right into the middle of the flames and stopped! The firemen jumped off the truck and frantically started spraying water in all directions. Soon they had snuffed out the center of the fire, breaking the blaze into two easily-controlled parts.
Watching all this, the farmer was so impressed with the volunteer fire department's work and was so grateful that his farm had been spared, that right there on the spot he presented the volunteers with a check for $1,000. A local news reporter asked the volunteer fire captain what the department planned to do with the funds.
"That ought to be obvious," he responded, wiping ashes off his coat. "The first thing we're gonna do is get the brakes fixed on our fire truck!"
#joke
Life insurance premiums are ba...
Life insurance premiums are based on how far you live from Chuck Norris.
Little Miss Muffet sat on her ...
Little Miss Muffet sat on her tuffet, until Chuck Norris roundhouse kicked her into a glacier.
Girls Night Out...
The other night, I was invited out for a night with "the girls." I told my husband that I would be home by midnight. "I promise," were my last words.
The hours passed and the margaritas went down way too easily and around 3 a.m. we piled into a cab and headed to our respective homes, quite inebriated.
Just as I walked through the door, the cuckoo clock in the hall started up and cuckooed 3 times!
Realizing that my husband would probably wake up to this, I quickly cuckooed another 9 times. I was quit pleased with myself for coming up with such a quick witted solution to cover up my tardiness. Even with my impaired judgment, I could count 3 cuckoos plus 9 cuckoos equaled 12 cuckoos!
The next morning, my husband asked me what time I got in, and confidently, I replied, "Midnight...like I promised." He didn't even raise and eyebrow and went on reading the morning paper! Phew! Got away with that one!
After a moment, he then replied, "I think we might need a new cuckoo clock."
A bit nervously, I asked him why, to which he responded:
"Well, last night our clock cuckooed 3 times, then said, 'Oh, crap,' cuckooed 4 more times, cleared it's throat, cuckooed another 3 times, giggled, cuckooed twice more, then tripped over the coffee table and farted."
#joke
Fuzz
Phillip and Phoebe are parked in Lover's Lane.
He embraces her with one arm, and begins to explore with the other hand. Looking over her shoulder, he sees a policeman approaching.
"Awwwww Hell !" he murmured, "Fuzz !"
"What did ya expect ?" Phoebe sez, "A perm?"