A man was driving through west
A man was driving through west Texas one spring evening. The road was deserted and he had not seen a soul for what seemed like hours. Suddenly his car started to cough and splutter and the engine slowly died away, leaving him sitting on the side of the road in total silence.
He popped the hood and looked to see if there was anything that he could do to get it going again. Unfortunately, he had a limited knowledge of cars, so all he could do was look at the engine, feeling despondent As he stood looking at the gradually fading light of his flashlight, he cursed that he had not put in new batteries, like he had promised himself.
Suddenly, through the inky shadows, came a deep voice, "It's your fuel pump."
The man raised up quickly, striking his head on the underside of the hood. "Who said that?" he demanded.
There were two horses standing in the fenced field alongside the road and the man was amazed when the nearest of the two horses repeated, "It's your fuel pump. Tap it with your flashlight, and try it again."
Confused, the man tapped the fuel pump with his flashlight, turned the key and sure enough, the engine roared to life. He muttered a short thanks to the horse and screeched away.
When he reached the next town, he ran into the local bar. "Gimme a large whiskey, please!" he said.
A rancher sitting at the bar looked at the man's ashen face and asked, "What's wrong, man? You look like you've seen a ghost."
"It's unbelievable," the man said and recalled the whole tale to the rancher.
The rancher took a sip of his beer and looked thoughtful. "A horse, you say? Was it by any chance a white horse?"
The man replied to the affirmative. "Yes, it was! Am I crazy?"
"No, you ain't crazy. In fact, you're lucky," said the rancher, "because that black horse don't know shit about cars."
"Whenever the boy fou
"Whenever the boy found himself in hot water his temper would boil."
A Great Fruit Cake Recipie
You'll need the following: a cup of water, a cup of sugar, four large eggs, two cups of dried fruit, a teaspoon of baking soda, a teaspoon of salt, a cup of brown sugar, lemon juice, nuts, and a bottle of whisky.
Sample the whisky to check for quality.
Take a large bowl. Check the whisky again. To be sure it is the highest quality, pour one level cup and drink. Repeat. Turn on the electric mixer, beat one cup of butter in a large fluffy bowl. Add one teaspoon of sugar and beat again.
Make sure the whisky is still okay. Cry another tup. Turn off the mixer. Break two leggs and add to the bowl and chuck in the cup of dried fruit. Mix on the turner. If the fried druit gets stuck in the beaterers pry it loose with a drewscriver.
Sample the whisky to check for tonsisticity. Next, sift two cups of salt. Or something. Who cares? Check the whisky. Now sift the lemon juice and strain your nuts. Add one table. Spoon. Of sugar or something. Whatever you can find.
Grease the oven. Turn the cake tin to 350 degrees. Don't forget to beat off the turner. Throw the bowl out of the window, check the whisky again and go to bed.
#joke
A Recently Spotted Bumper Sticker:
"My other car is a broomstick."
A devoted wife had spent her l...
A devoted wife had spent her lifetime taking care of her husband. Now he had been slipping in and out of a coma for several months, yet she stayed by his bedside every single day.
When he came to senses, he motioned for her to come near him.
As she sat by him, he said, "You know what? You have been with me all through the bad times. When I got fired, you were there to support me. When my business failed, you were there. When I got shot, you were by my side. When we lost the house, you gave me support. When my health started failing, you were still by my side. You know what?"
"What dear?" she asks gently.
"I think you bring me bad luck."
#joke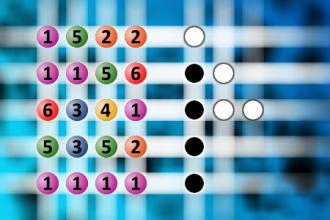 Find the right combination
The computer chose a secret code (sequence of 4 digits from 1 to 6). Your goal is to find that code. Black circles indicate the number of hits on the right spot. White circles indicate the number of hits on the wrong spot.
When can we see the baby?
With all the new technology regarding fertility, an 88-year-old woman was able to give birth to a baby recently.
When she was discharged from the hospital and went home, various relatives came to visit. "May we see the new baby?" one of them asked.
"Not yet," said the mother. "I'll make coffee and we can visit for a while first."
Another half hour passed before another relative asked, "May we see the new baby now?"
"No, not yet," said the mother.
A while later and again the guests asked, "May we see the baby now?"
"No, not yet," replied the mother.
Growing impatient, they asked, "Well, when can we see the baby?"
"When it cries!" she told them.
"When it cries?" they gasped. "Why do we have to wait until it cries?"
"Because, I forgot where I put it."
#joke
Chuck Norris sleeps with a pil...
Chuck Norris sleeps with a pillow under his gun.
AOL Support Call
AOL: America Online, this is Sue speaking.
Caller: Hi, I have some questions about American Online
before I join.
AOL: Okay, ma'am, what's your question?
Caller: Well, some of my friends who have AOL say they get
something called "cybersex". Does this cost extra?
AOL: :::quiet laugh in the background::: Well ma'am... I
don't know how to explain this, but cybersex is not part of
America Online.
Caller: Oh really? My friends said they got it from AOL.
AOL: Well it's something members typically do when they go
to a chat room.
Caller: Hmmmm . . . I don't understand, what is cybersex??
AOL: I'm sorry, I really don't know how to explain it.
Caller: Hmmm . . . well, have you ever had cybersex?
AOL: Ma'am, I don't think that's an appropriate question to
be asking me. Is there anything else you need?
Caller: Sorry, like I said I don't even know what it is.
AOL: That's okay ma'am, anything else?
Caller: Yes, I have one more question.
AOL: Go ahead . . .
Caller: What are you wearing?
AOL:
#joke
Talking Dog For Sale
This guy sees a sign in front of a house "Talking Dog for Sale." He rings the bell and the owner tells him the dog is in the back yard. The guy goes into the back yard and sees a mutt sitting there."You talk?" he asks."Yep," the mutt replies."So, what's your story?"The mutt looks up and says "Well, I discovered this gift pretty young and I wanted to help the government, so I told the CIA about my gift, and in no time they had me jetting from country to country, sitting in rooms with spies and world leader, cause no one figured a dog would be eavesdropping. I was one of their most valuable spies eight years running. The jetting around really tired me out, and I knew I wasn't getting any younger and I wanted to settle down. So I signed up for a job at the airport to do some undercover security work, mostly wandering near suspicious characters and listening in. I uncovered some incredible dealings there and was awarded a batch of medals.Had a wife, a mess of puppies, and now I'm just retired."The guy is amazed. He goes back in and asks the owner what hewants for the dog. The owner says "Ten dollars." The guy says he'll buy him but asks the owner, "This dog is amazing. Why on earth are you selling him?" The owner replies, "He's such a fucking liar."
#joke
Diaper change...
After a young couple brought their new baby home, the wife suggested that her husband should try his hand at changing diapers.
"I'm busy," he said, "I'll do the next one."
The next time came around and she asked again. The husband looked puzzled, "Oh! I didn't mean the next diaper. I meant the next baby...!"
#joke