A guy took his blonde girlfrie
A guy took his blonde girlfriend to her first football game. They had great seats right behind their team's bench. After the game, he asked her how she liked the experience.
"Oh, I really liked it," she replied, "especially the tight pants and all the big muscles, but I just couldn't understand why they were killing each other over 25 cents."
Dumbfounded, her date asked, "What do you mean?"
"Well, they flipped a coin, one team got it and then for the rest of the game, all they kept screaming was: 'Get the quarterback! Get the quarterback!' I'm like...Helloooooo? It's only 25 cents!!!!"
"Soap operas give a g
"Soap operas give a good lather making viewers to froth and bubble!"
Burglar and an Elderly Woman
An elderly woman had just returned to her home from an evening of church services when she was startled by an intruder. She caught the man in the act of robbing her home of its valuables and yelled, "Stop! Acts 2:38!" (Repent and be baptized, in the name of Jesus Christ so that your sins may be forgiven.) The burglar stopped in his tracks. The woman calmly called the police and explained what she had done. As the officer cuffed the man to take him in, he asked the burglar, "Why did you just stand there? All the old lady did was yell a scripture to you." "Scripture?" replied the burglar. "She said she had an ax and two 38's!"
#joke
A man and his wife were celebr
A man and his wife were celebrating 50 years together. Their three kids,all very successful, agreed to a Sunday dinner in their honor
"Happy Anniversary Mom and Dad," gushed son number one... "Sorry I'm running late... had an emergency, you know how it is, didn't have timeto get you both a present."
Not to worry," said the dad.."the important thing is that we're allhere together today."
Son number two arrived and announced, "you and Mom still look great,Dad just flew in from L.A. and didn't have time to get you a present... Sorry."
"It's nothing," said the father, "Glad you were able to be here."
Just then the daughter arrived, "Hello both of you, Happy Anniversary!I'm sorry, but my boss is sending me out of town and I was really busypacking... so I didn't have time to get you guys anything."
Again the father said, "I really don't care, at least the five of usare together today." After they had all finished dessert, the father putdown his knife and fork, looked up and said, "Listen up, all three of you, there's something your mother and I have wanted to tell you for a longtime. You see, we were very poor. Despite this, we were able to raise each of you and send you to college. All through the years your motherand I knew that we loved each other very much but... we just neverfound the time to get married."
The three kids gasp and said, "You mean we're bastards?"
"Yep," said the dad..."and cheap ones too!"
#joke
1st Grader Answers
A first-grade teacher had twenty-five students in her Clarkston, MI class.
She presented each child in her class the first half of a well-known proverb and asked them to come up with the remainder of the proverb.
It's hard to believe these were actually done by first graders. Their insight may surprise you.
While reading, keep in mind that these are just 6-year-olds because the last one is classic… although sad to see it said!
#joke
Redneck Wants To Fight
There were some backwoods hillbillies living across the river from each other, who feuded constantly. John hated Clarence with a passion and never passed up a chance to throw rocks across the river at Clarence. This went on for years until one day the Corps of Engineers came to build a bridge across that river. John was elated; he told his wife that finally he was going to get the chance to cross over and whip Clarence.
He left the house and returned in a matter of minutes. His wife asked what was wrong, didn't he intend to go over the bridge and whip Clarence? He replied that he never had really seen Clarence up close and didn't realize his size until he started over the bridge and saw the sign: "CLEARANCE 8 FT 3 IN"
#joke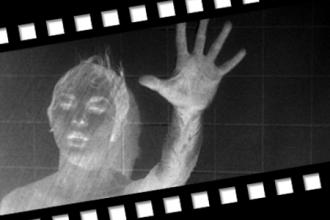 CINEMANIA: Guess the movie title
See negative of movie scene and guess the title. Length of words in solution: 6
Doctor....
One day an old lady walked into the doctor's office and was shown into a room. When the doctor came in and asked what the problem was, she answered, "I have awful gas, but it doesn't bother me. You see, it's completely silent and doesn't smell at all."
The doctor, after examining her thoroughly, gave her some pills and told her to take one everyday and come back in a week. The lady returned, and when the doctor asked if her problem was any better she replied, "Well I don't know what you gave me, but now my gas smells terrible!"
The doctor replied, "Well, now that we've got your sinuses cleared up let's work on your hearing!"
Chuck Norris ordered a Big Mac...
Chuck Norris ordered a Big Mac at Burger King, and got one.
Two Lions
Once upon a time, long, long ago there were two unique lions in the jungles of Africa. Both, it seems, had human-like qualities that made them claim territory, daring the other to cross over the line. Strange as it seems, the boundary between their turf was a well traveled trail through the jungle.
All day every day, both lions lay in the brush staring across the trail at their compatriot, daring him to cross into their territory.
The local natives knew of this animal feud, but all this was unbeknown to African Jack, a well-known and must publicized guide who did not speak Lionese and was unfamiliar with the territory.
While he was leading a safari through the jungle, walking all day and cutting vines with their machetes, all this constant hacking brush had them worn to a frazzle. After seeing two or three of his safari drop from exhaustion, African Jack decided to stop on the trail between these two lions and camp for the night.
After sitting up camp, eating, and getting his safari settled African Jack sat on a stump and began reading. While he was busily engaged in the printed page, the two lions, simultaneously, pounced on African Jack and ate him on the spot.
When the 6 o'clock news heard of the tragedy, they reported, "African Jack killed this evening. The motive is unclear, but it is reported he was reading between the lions."
#joke
Donald Glover: We Get It
Its kind of redundant -- have a black dude wearing an Obama shirt. Everybodys like, Yeah, we know. You like Obama; we get it. Its just like, I would do the same thing. I realize that its kind of redundant. I dont go up to white people wearing Coldplay shirts. You like Coldplay? For how long? Forever?
#joke
Martha Kelly: Preparing for Office Work
Its been a couple of years since I actually worked in an office, so I thought I should do something to prepare to get back into the typing, filing and phone answering, and what not. So what I did was I had a friend of mine go with me down to the local swimming pool, and I had him tie me up in a burlap sack and sink me to the bottom of the pool. And then just as I was about to suffocate, he yanked me up and gave me a lunch break.
#joke
Recently Spotted Bumper Sticker:
"GOD LOVES YOU WHETHER YOU LIKE IT OR NOT!"