Jokes of the day for Monday, 11 June 2018
Funny jokes, funny photo and funny video collected from the internet on Monday, 11 June 2018
I'll Testify To That
Several women appeared in court, each accusing the others of causing the trouble that they were having in the apartment building where they all lived.
The judge, with Solomon-like wisdom, decreed, 'Okay, I'm ready to hear the evidence...I'll hear the oldest first.'
The case was dismissed for lack of testimony.
#joke
"A split taxi fee is
"A split taxi fee is fare."
If Noah Built an Ark in 2011
And lo, in the year 2011, the Lord came unto Noah, who was now living in the United States, and said:"Once again, the earth has become wicked and over-populated, and I see the end of all flesh before me.""Build another Ark and save two of every living thing along with a few good humans."He gave Noah the blueprints, saying, "You have 6 months to build the ark before I will start the unending rain for 40 days and 40 nights."Six months later, the Lord looked down and saw Noah weeping in his yard, but there was no ark."Noah! I'm about to start the rain! Where is the ark?""Forgive me, Lord," begged Noah, "but things have changed.""I needed a building permit.""I've been arguing with the inspector about the need for a sprinkler system.""My neighbors claim that I've violated the neighborhood zoning laws by building the ark in my yard and exceeding the height limitations. We had to go to the Development Appeal Board for a decision.""Then the Department of Transportation demanded a bond be posted for the future costs of moving power lines and other overhead obstructions, to clear the passage for the ark's move to the sea. I told them that the sea would be coming to us, but they would hear nothing of it.""Getting the wood was another problem. There's a ban on cutting local trees in order to save the spotted owl.""I tried to convince the environmentalists that I needed the wood to save the owls, but no go!""When I started gathering the animals, an animal rights group sued me. They insisted that I was confining wild animals against their will. They argued the accommodations were too restrictive, and it was cruel and inhumane to put so many animals in a confined space.""Then the EPA ruled that I couldn't build the ark until they'd conducted an environmental impact study on your proposed flood.""I'm still trying to resolve a complaint with the Human Rights Commission on how many minorities I'm supposed to hire for my building crew.""Immigration and Naturalization are checking the green-card status of most of the people who want to work.""The trades unions say I can't use my sons. They insist I have to hire only Union workers with ark-building experience."To make matters worse, the IRS seized all my assets, claiming I'm trying to leave the country illegally with endangered species.""So, forgive me, Lord, but it would take at least 10 years for me to finish this Ark."Suddenly, the skies cleared, the sun began to shine, and a rainbow stretched across the sky.Noah looked up in wonder and asked, "You mean you're not going to destroy the world?""No," said the Lord. "The government beat me to it."
#joke
Answering Machine Message 23
Hello. You are talking to a machine. I am capable of receiving messages. My owners do not need siding, windows, or a hot tub, and their carpets are clean. They give to charity through the office and don't need their picture taken. If you're still with me, leave your name and number and they will get back to you.
#joke
He has all the virtues I dislike and none...
"He has all the virtues I dislike and none of the vices I admire." -- Winston Churchill
"I have never killed a man, but I have read many obituaries with great pleasure" -- Clarence Darrow
"He has never been known to use a word that might send a reader to the dictionary." -- William Faulkner (about Ernest Hemingway)
"I've had a perfectly wonderful evening. But this wasn't it." -- Groucho Marx
"I didn't attend the funeral, but I sent a nice letter saying I approved of it." -- Mark Twain
"He has no enemies, but is intensely disliked by his friends." -- Oscar Wilde
"I am enclosing two tickets to the first night of my new play, bring a friend. If you have one." -- George Bernard Shaw to Winston Churchill followed by Churchill's response: "Cannot possibly attend first night, will attend second, if there is one."
"I feel so miserable without you; it's almost like having you here." -- Stephen Bishop
"He is a self-made man and worships his creator." -- John Bright
"I've just learned about his illness. Let's hope it's nothing trivial." -- Irvin S Cobb
"He is not only dull himself; he is the cause of dullness in others." -- Samuel Johnson
"He is simply a shiver looking for a spine to run up." -- Paul Keating
"He had delusions of adequacy." -- Walter Kerr
"Why do you sit there looking like an envelope without any address on it?" -- Mark Twain
"His mother should have thrown him away and kept the stork." -- Mae West
"Some cause happiness wherever they go; others, whenever they go." -- Oscar Wilde
#joke
There was a young fellow who w
There was a young fellow who was quite inventive and was always trying out new things. One day he thought he'd see just how fast a bicycle could go before it became uncontrollable. He asked his friend, who owned an old Mustang, if he could tie his bike to the bumper of his car to test his theory. His friend said, "Sure."
So the young man tied his bike to the back of the car and said to his friend:
"I'll ring my bike bell once if I want you to go faster, twice if I want you maintain speed, and repeatedly if I want you to slow down."
With that, off they went. Things were going pretty well, with the car driver slowly speeding up to well over 60 mph. The young fellow on the bike was handling the speed just fine. But, all of sudden, a black Corvette came up beside them and before you knew it the fellow driving the Mustang forgot all about the fellow on the bike and took to drag racing the Corvette.
A little further down the road sat Officer John in his police cruiser, radar gun at the ready. He heard the two cars before his radar flashed 105 mph.
He called into headquarters on his radio: "Hey, you guys aren't going to believe this, but there's a Corvette and a Mustang racing out here on Highway 3, and there's a guy on a bike ringing his bell and waving his arms trying to pass them!"
#joke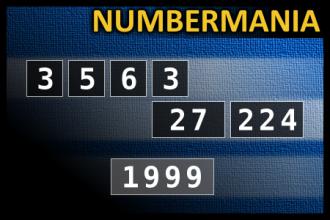 Calculate the number 1999
NUMBERMANIA: Calculate the number 1999 using numbers [3, 5, 6, 3, 27, 224] and basic arithmetic operations (+, -, *, /). Each of the numbers can be used only once.
On safari...
A big game hunter goes on safari with his wife and his mother-in-law. One morning, the wife wakes up to find her mother gone. Immediately, she awakens up her husband and they both set off to find the old woman.
Suddenly, they break into a clearing and there's the mother-in-law, standing face-to-face with a ferocious lion!
"Quick, darling," the wife shouts frantically, "Do something!"
"Oh, no," the husband says, "That lion got himself into this mess. Let him get himself out!"
#joke
The 6th grade science teacher...
The 6th grade science teacher, Mrs. Parks, asked her class, "Which human body part increases to ten times its size when stimulated?"
No one answered until little Mary stood up and said, "You should not be asking sixth-graders a question like that! I'm going to tell my parents, and they will go and tell the principal, who will then fire you!"
Mrs. Parks ignored her and asked the question again, "Which body part increases to 10 times its size when stimulated?"
Little Mary's mouth fell open. Then she said to those around her, "Boy, is she going to get in big trouble!"
The teacher continued to ignore her and said to the class, "Anybody?"
Finally, Billy stood up, looked around nervously, and said, "The body part that increases 10 times its size when stimulated is the pupil of the eye."
Mrs. Parks said, "Very good, Billy," then turned to Mary and
continued. "As for you, young lady, I have three things to say: One, you have a dirty mind. Two, you didn't read your homework. And three, one day you are going to be very, very disappointed."
#joke
Life is like a box of chocolat...
Life is like a box of chocolates. You never know when Chuck Norris is going to kill you.
A woman meets a gorgeous man i...
A woman meets a gorgeous man in a bar. They talk, they connect, they end up leaving together.
They get back to his place, and as he shows her around his apartment, she notices that his bedroom is completely packed with sweet cuddly teddy bears.
Hundreds of cute small bears on a shelf all the way along the floor, cuddly medium-sized ones on a shelf a little higher, and huge, enormous bears on the top shelf along the wall. The woman is kind of surprised that this guy would have a collection of teddy bears, especially one that's so extensive, but she decides not to mention this to him, and is quite impressed by his sensitive side.
She turns to him... they kiss... and then they rip each other's clothes off and make hot steamy love. After an intense night of passion with this sensitive guy, they are lying there together in the afterglow, the woman rolls over and asks, smiling, 'Well, how was it?'
The man says, 'You can have any prize from the bottom shelf.'
#joke
Demetri Martin: Employee of the Month
I think Employee of the Month is a good example of when a person can be a winner and a loser at the same time.